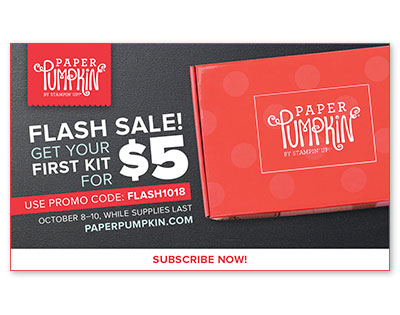 TODAY IS THE LAST DAY TO get your first Paper Pumpkin Kit for just $5!  Each month after is $19.95 plus tax.  Shipping is included in the $19.95 price.
This offer is for New Subscribers only.
ENTER THE PROMO CODE:  FLASH1018 to get the $5 price on your first kit.
The Flash Sale begins October 8th.
Discount applied to one kit per month for the first month of a new subscription. After the first month at $5, the price will return to the normal subscription price of $19.95 plus tax.
The sale runs while supplies last or until October 10th at 11:59 pm Utah time.
If the supply runs out before October 10th, Stampin' Up! will end the sale and automatically begin accepting new subscribers for the November one-of-a-kind Holiday Kit in a specially designed box.
CLICK HERE TO SUBSCRIBE TODAY!