Thinking of joining Stampin' Up!?  Now is a great time to join!  The cost is $99.  You get to choose $125 in merchandise, PLUS you get $50 in Business Supplies to start your own Stamping Business.  PLUS you get to choose an Assortment of Ten Ink Pads!!
This July 1-31 ONLY you will also get to choose a color family of Ink Pads to add to your Starter Kit. This is in addition to the $125 in merchandise!
You MUST join between July 1-31, 2018 for this offer to be valid.
Free Assortment of Classic Stampin' Pads available only to new demonstrators who submit applications within promotion dates.
Each Stampin' Pad Family is an assortment of 10 coordinating ink pads from one of the following color collections: Brights, Neutrals, Regals, Subtles, and 2017–2020 In Colors.
The 2017–2020 In Color Classic Stampin' Pads bundle is exclusive to this promotion and includes all colors in both the 2017–2019 In Colors as well as those in the 2018–2020 In Colors.
The Neutrals assortment has Ten Ink Pads and does not include the three Basic colors: Basic Black, Very Vanilla, and Whisper White.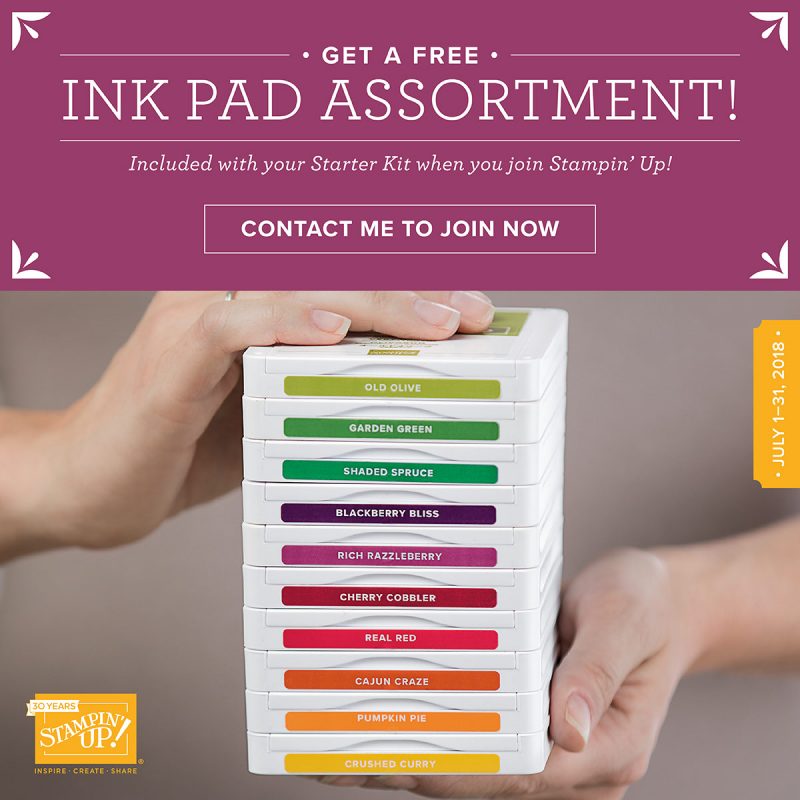 While you are in the signup process, after you have chosen your $125 in merchandise, click next and choose the Ink Pad Assortment you want.  You do not need a product number.  HERE are the colors in each Assortment.  This flyer will hopefully make it easier to choose from the:
~Brights Assortment
~Neutrals Assortment
~Regals Assortment
~Subtles Assortment
~2017-2020 In Color Assortment
Click HERE to find out more about joining my Team and the Stampin' Up! Family.  You will have access to all Stampin' Up! training PLUS as a member of my Team you will also get full FREE access to my Membership Site with lots of techniques, projects, and ideas.  I am working on providing Training on this site too.
Ready to Join Now?  Click HERE to sign up!
Please email me if you have any questions.  I am here to help you.