October 23, 2018, is Stampin' Up!'s 30th Birthday!  Help celebrate with 15% off select Stamps.
These Stamp sets MUST be ordered after 6:50 am Utah Time (MT) and before 11:50 pm MT.  Stamps on the list ordered before the start time OR after the end time cannot be exchanged for the sale price.  So make sure you order during these Utah Times (Mountain Time).
For Example, 11:00 am Utah Time is
~7:00 am in Honolulu, Hawaii
~9:00 am in Anchorage, Alaska
~10:00 am Pacific Time
~10:00 am Arizona Time
~12:00 pm Central Time
~1:00 pm Eastern Time 
So put on your party hats, and get ready to save. It's time for It's Our Birthday Stamp Sale! For 24 HOURS ONLY, you can save 15% on select stamp sets. This sale will be gone in a flash!
30 Stamp Sets to Choose From and get a 15% Discount!

Click on the flyer below to see all the stamps listed.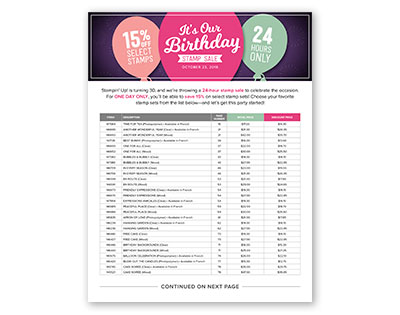 DETAILS
~Only Stamp Sets listed are included in this Sale.
~Bundles are NOT included in this Sale.  Coordinating Framelits, Thinlits, or Punches are NOT included in this Sale.
~Stamp sets on the list bought before October 23rd at 6:50 am MT or after 11:50 pm MT October 23rd cannot be exchanged for the sale priced item.
~You can apply all selected Stamp sets to a Starter Kit when joining Stampin' Up! on October 23rd during the times listed.
~In the event that any stamps sell out, the discounted price will be honored as long as the order is closed within the promotion time deadlines.  You will receive your discounted stamp set as soon as the stamp set is available.
Happy 30th Birthday to Stampin' Up!