I saw a Welcome Sign at Target that inspired me to make this sign.  It is pretty quick to make.  Choose your own colors to match your decor.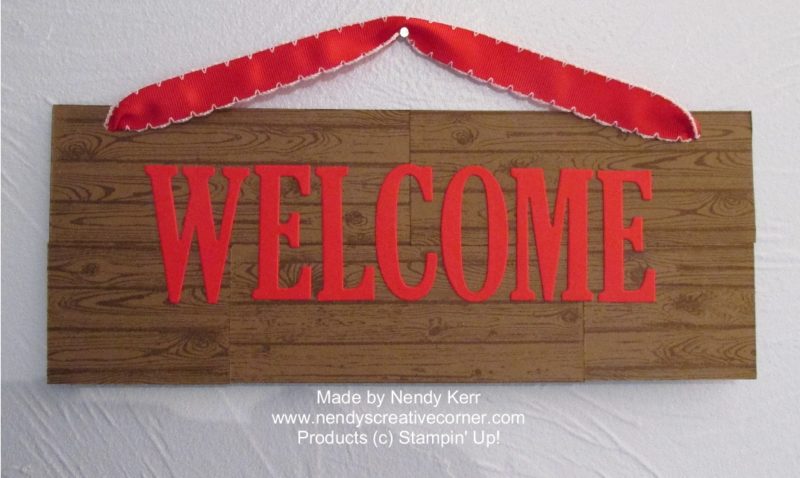 SUPPLIES:
Stamps:  Hardwood  Wood #133032, Clear #133035
Ink:  Soft Suede
Card Stock:  Soft Suede
Real Red
Big Shot:  Large Letters Framelits #141712
Punch:  1/4″ Circle (retired – buy from your local store)
Ribbon:  Real Red 3/4″ Stitched Edge Ribbon #141984  12″
Adhesives:  Fast Fuse or SNAIL
Tombow Glue
Glue Dots
INSTRUCTIONS:
1.  Cut your Soft Suede card stock into one 4-1/4″ x 11″ piece and two 4-1/4″ x 5-1/2″ pieces.
2.  Ink up your stamp and lay Rubber side up.  Lay one 4-1/4″ x 5-1/2″ sheet of card stock on top of the inked stamp.  Rub the stamp with a clear stamp block to transfer the ink evenly to your card stock.
~Repeat with the other piece of card stock.
3.  Now cut each stamped card stock piece 2-1/8″ x 5-1/2″.  Arrange them on the 4-1/4″ x 11″ card stock.  Attach them.  This is your "Wood Sign".
4.  Cut out your Letters with your Big Shot and the Letter Dies.  Arrange the Letters on the "Wood Sign".  Glue on.
5.  Punch a 1/4″ hole towards both top corners.  Thread your Ribbon though the holes.  (I cut 12″ of Ribbon-use more if desired.) I used Glue Dots to hold my Ribbon in place.
6.  Hang up your Wood Welcome Sign and admire it!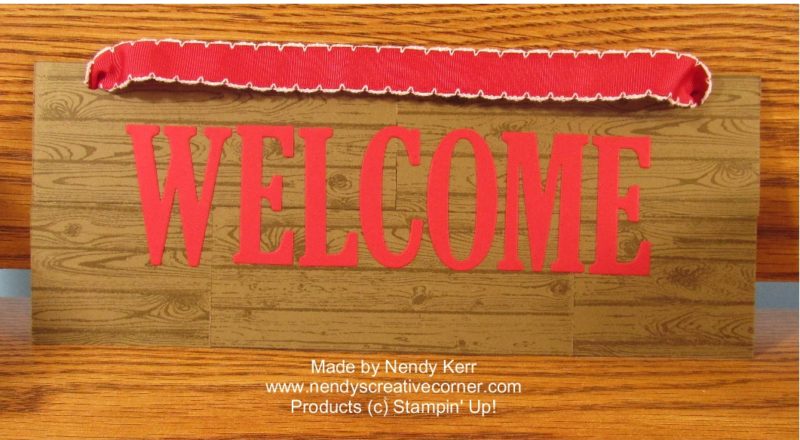 Enjoy Decorating!