June 2018
Last updated: July 3, 2018

July 1-31.  Designer Series Paper Sale

Select $11 DSP will be on sale July 1-31.  CLICK HERE for the Blog Post with large pictures and links to My Online Store.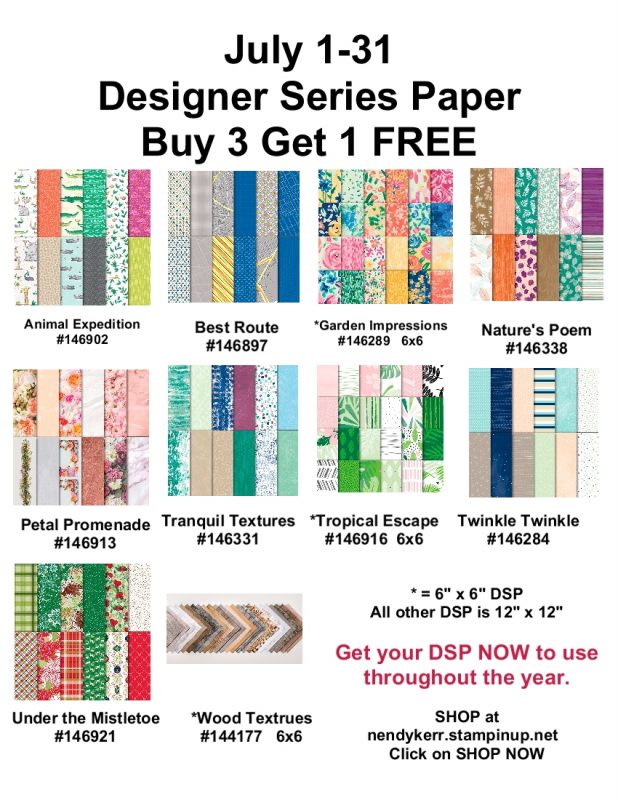 Would you like a flyer to print and look at?  Click HERE for the pdf.  It looks the same as the photo above.
July 1-31.  Join Stampin' Up! and get a FREE set of Ink Pads!


Have you been thinking of Joining Stampin' Up!?  Now is a great time to start your OWN Stamping Business!  Choose up to $125 in current Stampin' Up! products.  Yes, anything you want!  FREE Shipping for this order only.  When you are filling out the form to get your Starter Kit, the option will show up so you can choose your Stamp Pad Color Family.
Would you like more information?  Click HERE.  Please Email Me if you still have questions.  We can also talk on the phone if you want.
Ready to sign up!!!  Click HERE to Join The Fun Today!  I would recommend that you have your products selected first: up to, but not over $125 to make this process quicker.  I will get an email from Stampin' Up! letting me know you signed up.  I will contact you or you can contact me.
Contact me today and I will answer any questions you may have.