Here is a quick and easy Star of Light Christmas Card to make lots of.  Lay out all the stars and the words on top of your card stock in the position you want them, then place the Clear Block F over the stamps.  This means you stamp once then add the swirls if you want.  You can make a lot of these cards quickly.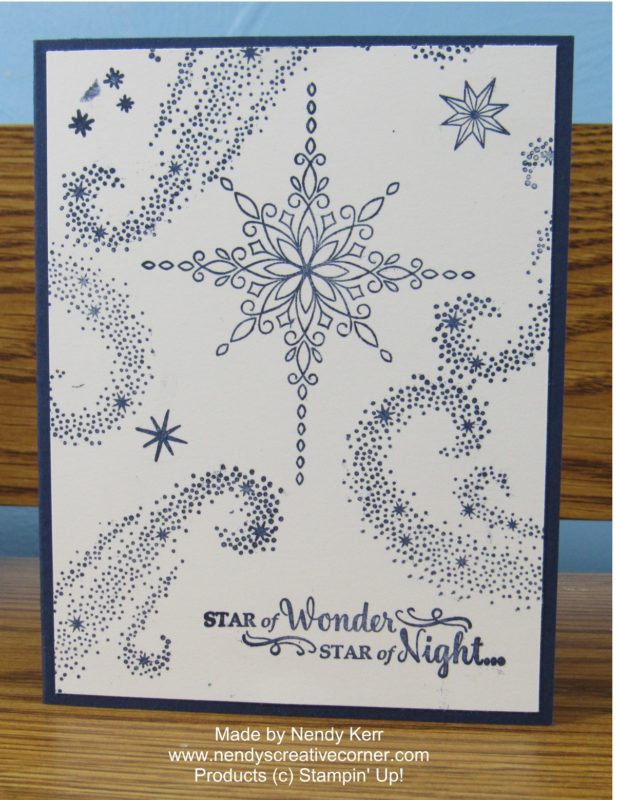 SUPPLIES:
Stamps:  Star of Light Photopolymer #142110
Ink:  Night of Navy
Card Stock:  Whisper White
Night of Navy
Adhesive:  Fast Fuse or SNAIL
INSTRUCTIONS:
1.  Cut your Night of Navy card base at 5-1/2″ x 8-1/2″.  Score and fold at 4-1/4″.
2.  Cut your Whisper White card stock at 3-3/4″ x 5″.
3.  Place the Photopolymer stamps with the stamping side down on your Whisper White card stock in the position you want them stamped.  Choose the words you want and place them at the bottom of your card stock.  Now place the large star in the center.  Place smaller stars as desired.  Lay the large Clear Stamp Block over the stamps trying to make it line up straight for easier straight stamping.
4.  Place the Whisper White card stock on top of the Stampin' Pierce Mat so you will get a great stamped image.  Ink up your stamps with Night of Navy ink and stamp on the Whisper White card stock pressing evenly so the ink shows up well on for all your stamps.
5.  Stamp the Large Swirls around the Stars and words in Night of Navy ink if desired.
6.  Attach to your card base.  And you are finished.
7.  If you need some sparkle add some Basic Rhinestones.  I need to order some more.
Have fun making this quick and easy Christmas Card!