We will be making this Merry Christmas Banner at my Class on Friday.  It is pretty easy to make.  There is a bit of cutting, but it goes quickly as everything but the letters are multiples.  This is a good project to work on while watching a favorite Christmas movie.  You should be able to finish your Banner in about 2 hours.  I will sure miss these Banners as I have had so much fun using them!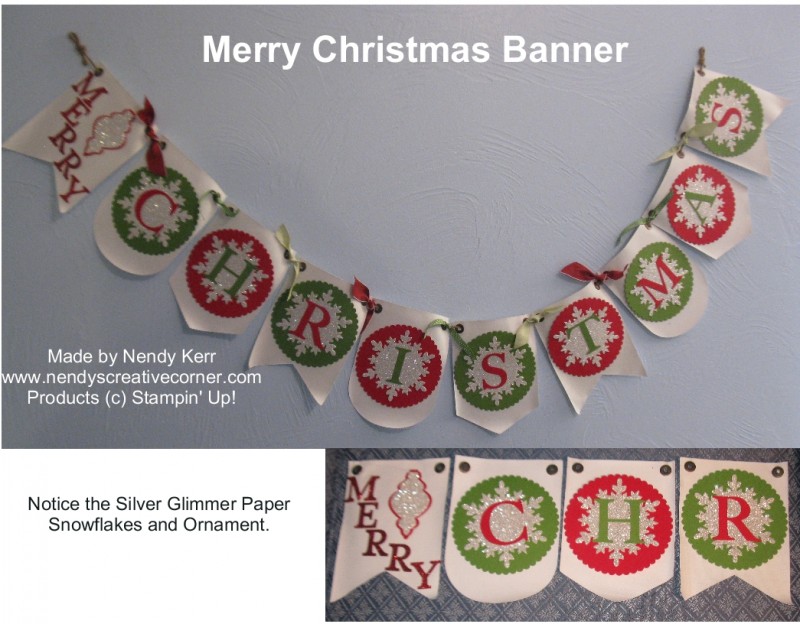 SUPPLIES:
Kit:  Build a Banner Refill Kit #132699
Card Stock:  Real Red (about 6 sheets)
Gumball Green  (about 6 sheets)
Silver Glimmer Paper  (2 sheets with some left over)
Red Glimmer Paper (4″ x 6″ or so)
Big Shot:  Bigz Alphabet Typeset #127553
Festive Flurries Framelits #132193
Circle Collection Framelits #130911
Holiday Ornament Framelits #127816
Bigz Serif Essentials Alphabet (sorry-Retired.  You could use the smaller Typeset Alphabet)
Other:  Tombow Multipurpose Liquid Glue
Cherry Cobbler 1″ Stitched Edge Ribbon #132135
Gumball Green Stitiched Satin Ribbon #126848
Pear Pizzazz  Chevron Ribbon #130011
INSTRUCTIONS:
1.  Choose the order you want your Banner pieces in.
2.  Cutting:
~Merry with Typeset Alphabet dies from Red Glimmer Paper
~Cut one Ornament from Silver Glimmer Paper and two Ornaments (the same shape used before) from Real Red card stock.
~Cut 9 of the largest Festive Flurries Snowflakes
~Cut 5 Gumball Green Scallop Circles from the Circle Framelits.
~Cut 4 Real Red Scallop Circles.
~Real Red Letters:  C R S M S
~Gumball Green Letters:  H I T A
3.  Assembly.
~Merry Banner.  Ornament.  Cut one of the Real Red Ornaments in half lengthwise.  Cut the top and bottom tips off the other one leaving a strip of paper to glue to the back of the Silver Glimmer Paper Ornament.  Glue the top and bottom tips on first to the back of the Silver Glimmer Ornament leaving the desired Red Border showing.  Now glue the two halves of the Red Ornament to the back of the Silver Glimmer Ornament leaving the desired border showing.  Arrange the Merry Letters and the Ornament in the desired Positions.  Glue in place.
~Circles and Snowflakes.  Glue a Snowflake to each Circle.
~Line up your Banners in the order you want them.  Lay one Circle on each Banner in the order shown starting with the Merry, then alternate Gumball Green and Real Red Circles.
~Glue each letter on in order to spell Christmas.
~Thread the Jute Twine (included in your Kit) through all your Banners in the correct order.  Tie a loop at the ends to connect to the nail in your wall or under your Fireplace mantle.  Trim off the excess Jute Twine.
~Cut your Ribbon into 6″ pieces.  Three each of Cherry Cobbler 1″ Ribbon, Gumball Green Stitiched Satin, and Pear Pizzazz Chevron.
~Tie on the Ribbon over the Jute Twine in a knot:  Cherry Cobbler, Gumball Green, Pear Pizzazz.  Repeat two more times.  Tie the knots tight enough to help keep your Banners from scrunching together.
4.  Step back and admire your Merry Christmas Banner!  The sparkly Snowflakes and Ornament look so much better in person than in the photo!
Happy Christmas Decorating!
Nendy Kerr