I saw this Ornament on Paper Crafter's Library and decided to make one for myself.  It is pretty easy, but there is drying time involved.  I probably let it dry longer than I needed to.  It is hard to see but there is Cherry Cobbler Dazzling Details along all the edges.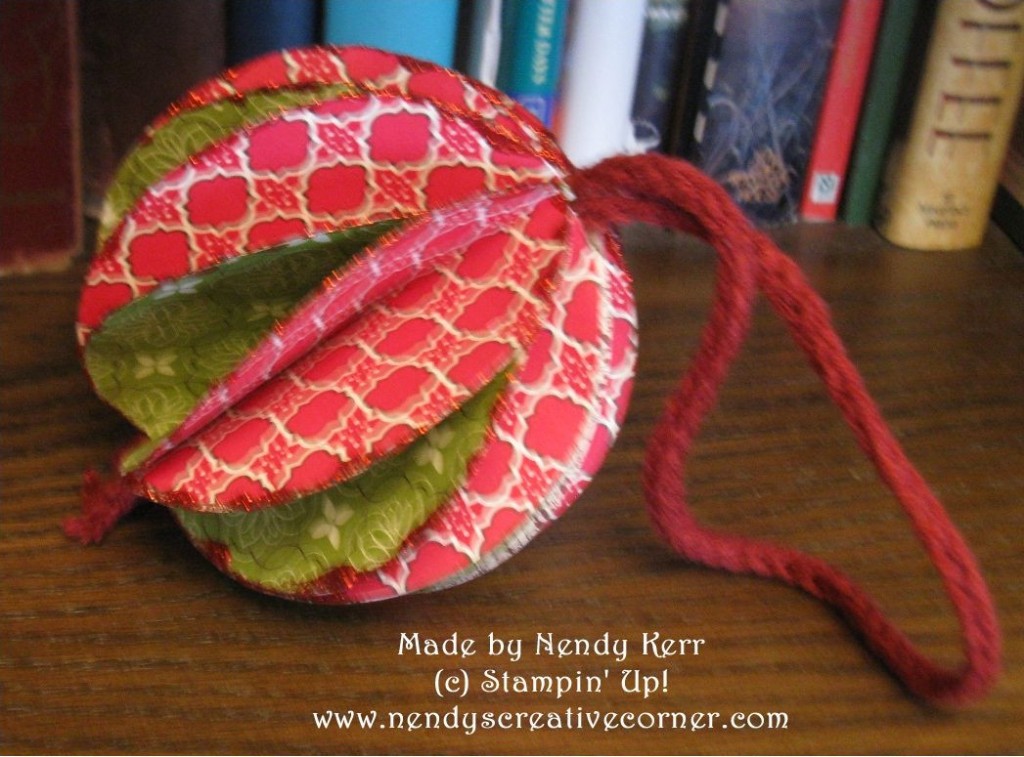 SUPPLIES:
Big Shot:  3-1/2″ Circle Originals Die #121811
Paper:  2 sheets 12″ x 12″ coordinating Designer Series Paper.  I used Candlelight Christmas #126901 from the Holiday 2012 Catalog.
Other:   Tombow Multipurpose Liquid Glue #110755
Cherry Cobbler Sweater Trim #129938
Cherry Cobbler Dazzling Details #125585
Clothespins (The kind I used to hang out clothes with.  Thank goodness for dryers!!!!)
INSTRUCTIONS:
1.  Cut your DSP into 4″ squares.  You will get 9 squares from each sheet.
2.  Cut using your 3-1/2″ Circle Die and your Big Shot.  You can cut several at a time because there are no score lines.
3.  Fold each circle in half.
4.  Glue half of a green circle to half of a red circle aligning the edges so they are even.  Repeat until all circle halves are glued together except the first and last ones.
5.  Cut about 18″ of Cherry Cobbler Sweater Trim or other cord or ribbon and tie a knot at the end.  Spread a thin layer of glue along the center of the ornament.  Lay your Sweater Trim or cord along the center.  If you are using the Sweater Trim or a thick cord, let your knot stick out the bottom of your ornament for a decorative touch, otherwise just keep it close to the bottom so it will hold securely while hanging.
6.  Now glue your last two circle halves together.  You might have to work with them some to squish the center fold lines to match with the other center fold lines.  This part would probably be easier with a thinner cord.  I used clothes pins to hold these last two pieces together.  I quit for the evening and let them dry overnight.  You now have a plain round Ornament.
7.  Now to make it look fancy!  Run a line of Tombow Glue along the bottom edge of a red circle (the knot end) about 1″ to 1-1/2″ long.  Match it with the red circle facing it and glue them together.  I held them together with a clothespin.  Continue until all the red circles are glued together for the 1″ to 1-1/2″ at the ends.  I ended up skipping some so there would be room for the clothes pins and then getting the ones I missed the next night.  They probably only need to dry for 5 minutes or so instead of the "wait until tomorrow night" like I did.
8.  Now glue the top of the green circles (the loop end) in the same manner.
9.  The ornament I copied this from used Crystal Effects and Glass Glitter along the edges.  I wanted something a little quicker and a lot less messy so I used Dazzling Details along all the edges.  Make a little stand by clamping 4 clothes pins to the bottom of your ornament so it will stay in place.  Apply Dazzling Details along as much of each edge as you can.  Let dry.  Move your clothespin stand to the other end so you can apply Dazzling Details to the rest of the edges.  Let dry.
10.  Hang your ornament on your Christmas Tree or someplace for all to admire it!
You can buy all the supplies to make this Ornament at My Online Store!
Happy Christmas Crafting!
Nendy