This Nativity stamp set reminds me of one Stampin' Up! had years ago.  It is perfect for using either Markers or Blendabilities.  This card uses Blendabilities and one Marker.  Enjoy making this fun Christmas card!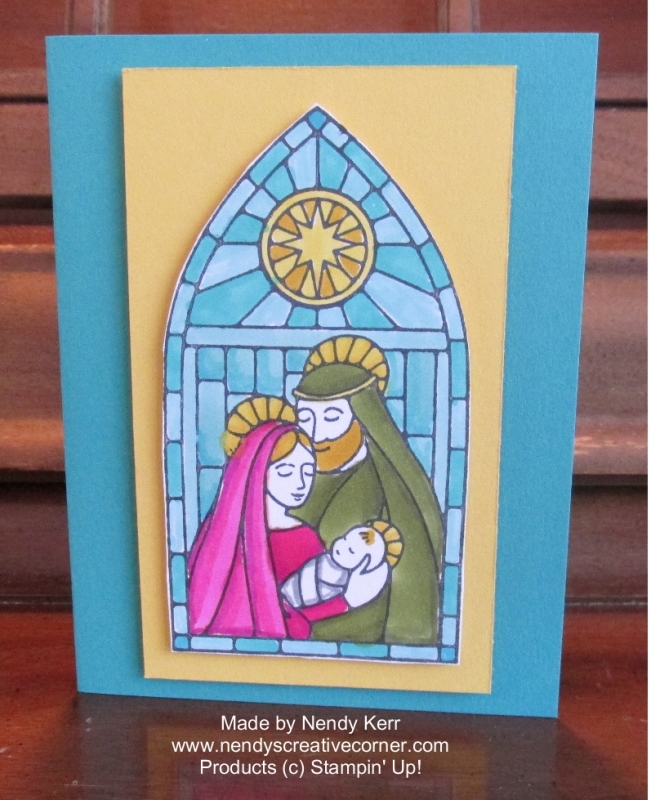 SUPPLIES:
Stamps:  Gentle Peace Photopolymer #139523
Ink:  Tuxedo Black Memento ink pad
Smokey Slate Marker
Coastal Cabana Blendabilities
Daffodil Delight Blendabilities
Melon Mambo Blendabilities
Old Olive Blendabilities
Card Stock: Whisper White
Daffodil Delight
Bermuda Bay
Other:  Dimensionals
Scissors or Paper Snips
INSTRUCTIONS:
1.  Let's do our stamping and coloring first.  Stamp the Nativity on Whisper White card stock with Tuxedo Black Memento Ink.  You can choose any color to start coloring.  Watch the Blendabilities for Beginners video.
Here is a list of what each Blendabilities and Marker are used for:
~Smokey Slate: Swaddling/blanket around Baby Jesus
~Daffodil Delight:  Halos, hair, beard, star.  I used the light and medium to blend the halos.  Hair is the darkest Blendabilities.  Choose which you want for the hair and beard-the darkest was used here.  The star is the lightest.  Around the star alternates the light and medium.  The circle Frame around the star is the lightest.
~Melon Mambo:  Mary's clothes and head covering.  The Blending technique was used here.
~Old Olive: Joseph's clothes and head covering.  The Blending technique was also used here.
~Coastal Cabana:  Stained Glass background and borders.  Background behind Baby Jesus, Mary, and Joseph:  This is the only part of the Stained Glass where I actually used all 3 Blendabilities in each rectangle.  The Frame just around the background is the lighter Blendabilities.  The part behind the star alternates the medium and light Blendabilities.  The outside frame has the darkest Blendabilities in each corner and the alternates the medium and light in between the corners.
2.  Cut your colored image out with scissors.  I tried not to leave any white showing this time.  Put Dimensionals on the back.
3.  Cut your Daffodil Delight card stock at 3″ x 4-3/4″.  Center the cut out colored image on top.  Add Dimensionals to the back.
4.  Cut your Bermuda Bay card base at 5-1/2″ x 8-1/2″.  Score and fold at 4-1/4″.  Add your layered image.  You are done!
Happy Christmas Card Making!
Nendy Kerr