We are putting up our Christmas Tree on Monday so I just had to make another Ornament.  This one uses the largest Apothecary Accents Framelit and one sheet of Designer Series Paper (DSP).  It is a quick and easy project for all crafters.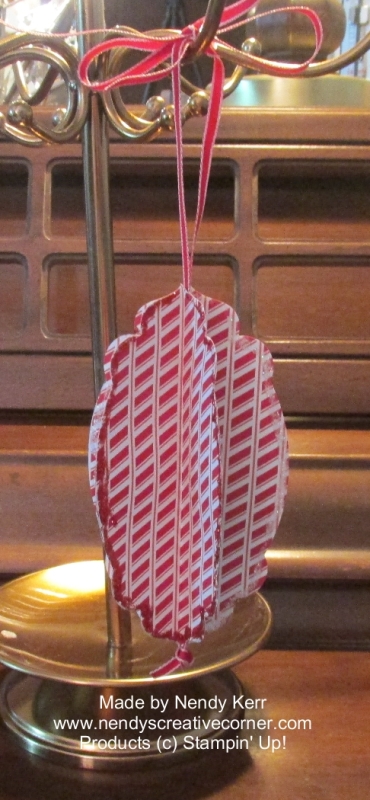 SUPPLIES:
Designer Series Paper.  Nordic Noel #135822  shown
Paper Trimmer with cutting and scoring blades
Tombow Glue
Dazzling Details:  Original Clear,  Cherry Cobbler, Gold Glitz, Silver Sparkle
Real Red 1/8″ Taffeta Ribbon #119251
Big Shot:  Apothecary Accents Framelits #127003
INSTRUCTIONS:
1.  Cut your Designer Series Paper into two 5-1/2″ x 12″ pieces.
2.  Cut out six of the largest Apothecary Accents Framelit.
3.  Use your Paper Trimmer and scoring blade to score your Apothecary Accents Die Cuts in half.  I used the top point and lined it up in the Paper Trimmer's cutting groove.  Fold each one in half along score line.
3a.  Optional:  Put a line of Dazzling Details along the outside edges of each die cut.  It is much easier to do it now than after the Ornament is finished.  You will have to wait for it to dry before completing the rest of the steps though.  NOTE:  I added mine after the Ornament was put together.  You can only do alternate sections, wait for them to dry, then finish the others.  Do whichever way you want.  I need to order more Cherry Cobbler Dazzling Details because the original clear Dazzling Details just doesn't look as good.
4.  Put Tombow Glue on one half of your die cut.  Attach it to another die cut half lining up the outside edges.  Do this with five of your die cuts.
5.  Cut about 12″ to 24″ of Ribbon depending on how long of a hanging cord you want.  Tie the cut ends together in a knot.  This will help prevent the ribbon from slipping through and adds a decorative feature.
6.  Run Tombow Glue along the center fold.  Place your Ribbon along the fold and rub it to make sure it is secure.  I also glued the Ribbon together that is in the Ornament.  Make sure the Ribbon is laying flat and the knot is tight at the bottom of your Ornament.
7.  Now attach the last die cut to the Ornament with Tombow Glue.  The last edge may be harder to line up the edges, but you can do it with only a little extra work.
7.  Let dry for at least 15 minutes or so before hanging on your Christmas Tree.  (Or letting the children play with it.)
Ribbon Note:  I used the full 24″ and decided it was way too long.  So I cut it in half at the top and tied a knot.  Then I used ribbon off the roll to tie a bow on top.  I am much happier with it now.
Variations:
~You can alternate the DSP side which shows so you have two different patterns showing.
~Use Glimmer Paper in either just one color or two colors.
Happy Christmas Crafting!
Nendy Kerr