Here is the card Kiev made for this Three Things Challenge #8. Please use the supplies you already have in your stash so you have room for more! So, look at the list and choose your Three Things.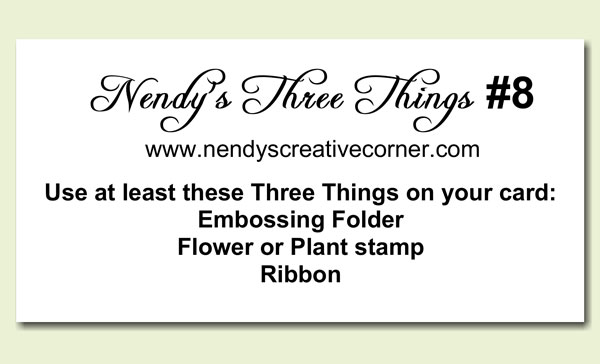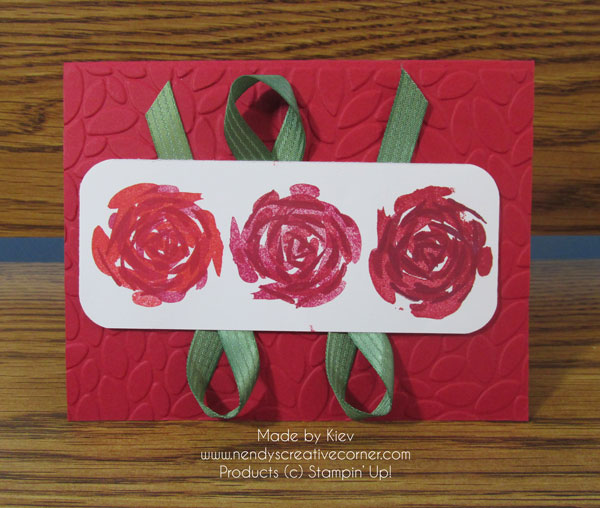 SUPPLIES:
Stamps: Abstract Impressions Photopolymer #147513
Inks: Merry Merlot
Cherry Cobbler
Real Red
Lovely Lipstick
Poppy Parade
Cardstock: Real Red
Whisper White
Big Shot: Petal Burst Embossing Folder #141493
Punch: Detailed Trio #146320
Ribbon: Garden Green Stitched Satin (oops! I guess this ribbon is retired. Use the ribbon of your choice.)
Adhesives: Glue Dots
Stampin' Dimensionals
INSTRUCTIONS:
1. Choose your Three Things.
2. Cut your Real Red card base at 5-1/2″ x 8-1/2″. Score and fold at 4-1/4″.
3. Put your card front in the Embossing Folder lining up the fold line with the edge of your Embossing Folder. Fold the card back under the Embossing folder. Run through your Big Shot. Watch this Video and use the same technique.
4. Cut your Whisper White cardstock at 2″ x 4-7/8″. Round the corners with the Delicate Trio Punch.
5. Stamp edge flowers first, then the center flower. These flowers use three stamps to get this image. The Largest stamp uses the lightest color, the Medium stamp uses the medium color, and the Small stamp uses the darkest color. Colors are listed from lightest to darkest.
~Left Flower: Poppy Parade, Lovely Lipstick, Real Red
~Center Flower: Lovely Lipstick, Real Red, Cherry Cobbler
~Right Flower: Real Red, Cherry Cobbler, Merry Merlot
6. Use Glue Dots to attach the Ribbon behind your stamped Whisper White cardstock.
~Cut about 20″ of Ribbon. Make a loop at 10″. Use Glue Dots to attach it at the top under the center flower.
~Each strip between the loops is about 4″.
~Make a loop and attach it between the left and center flowers on the bottom as shown.
~Have the end come up under the left flower. Attach it.
~Now make the loop between the center and right flowers as shown.
~Have the end of the ribbon come up under the right flower. Attach it.
~Trim the ends of the ribbon about the same height as the center loop.
7. Put Stampin' Dimensionals on the back of your stamped and looped cardstock. I like to put Stampin' Dimensionals so they are on part of the ribbon and part of the cardstock. Attach to your card base.
Your Card is finished.