I remember Sunflowers from my Grandmother's garden and my youngest daughter also loved planting them in her garden plot when she was at home.  So I made a Sunflower card with the Painted Harvest stamp set.  It was pretty quick and easy.  I love the detailed look you get with this stamp set!  Make your OWN Sunflower Card today and start celebrating Autumn early!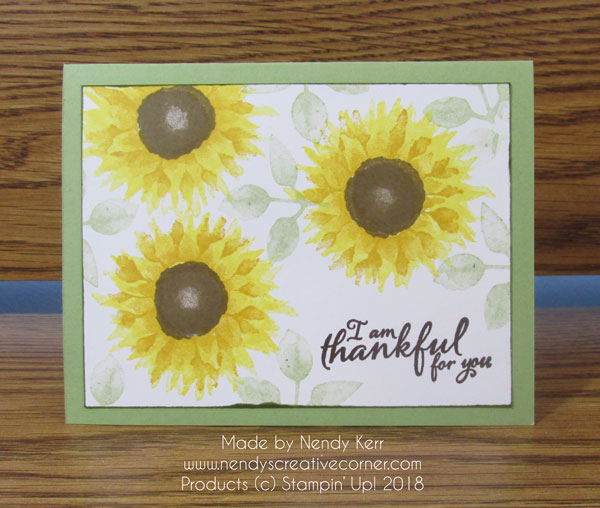 SUPPLIES:
Stamps:  Painter Harvest  Photopolymer #144783
Inks:  Pineapple Punch
Crushed Curry
Soft Suede
Early Espresso
Pear Pizzazz
Cardstock:  Whisper White
Pear Pizzazz
Adhesive:  SNAIL
INSTRUCTIONS:
1.  Cut your Pear Pizzazz card base at 5-1/2″ x 8-1/2″.  Score and fold at 4-1/4″.
2.  Cut your Whisper White card front at 3-3/4″ x 5″.  Now do your stamping.
~Sentiment in Early Espresso ink
~Large Flower stamp in Pineapple Punch ink.  I put the stamp on a D Block.  I stamped the image once, then rotated the Block 180 degrees and inked and stamped again.  This made both sides evenly colored.
~Small Flower stamp in Crushed Curry. Try matching up the center circle hole.  It won't be perfect, Don't worry.
~Circle Stamp for the center of your Sunflower in Soft Suede ink.  If there are white edges around this stamped image, just reink your stamp and stamp to cover up the white lines.  This will also give a darker center.
~Stamp two more flowers as shown in the card photo.
~Leaves in Pear Pizzazz.  I inked the leaf stamp at the edge of the ink pad so I could leave off the stem when stamping the leave to come out from a Sunflower.  Stamp leaves to fill in the white spots.
~Run the Soft Suede ink pad over the edges of your cardstock to outline it.  It does not matter if it is perfect.
3.  Attach stamped card front to your card base.
Your card is finished.
Get your Sunflower Card Supplies from My Online Store and make some Sunflower cards for your family and friends.