Today is the last day to claim your FREE Playful Polka Dots Download if you have "Liked" Stampin' Up! on Facebook.   I have had this download since it came out.  I liked the Scrappin' Kit so I also wanted the download.  Also there is a NEW MDS Promotion starting May 1st.  Check back here for details.
The Downloads today include:  FREE Playful Polka Dots Kit, Delight in the Day II Designer Series Paper, See You Next Year Photobook Template, and Two by Two stamp brush.  Remember, you can recolor any paper or embellishment if you don't like the colors.  The item will be in monochromatic shades of the color you choose.  Photobooks are totally customizable.  You can move, delete, and add what you want to make the Photobook you are happy with.  All the gray squares are for photos.
Tomorrow, Wednesday, April 24th the Retiring List comes out.  Check here for your Downloadable, Printable Copy!
Here is a card I made with the Playful Polka Dots Download.  The sentiment is from the Spring Fever Digital Kit.  The New Downloads for today are below the card.
Happy Digital Stamping!
Nendy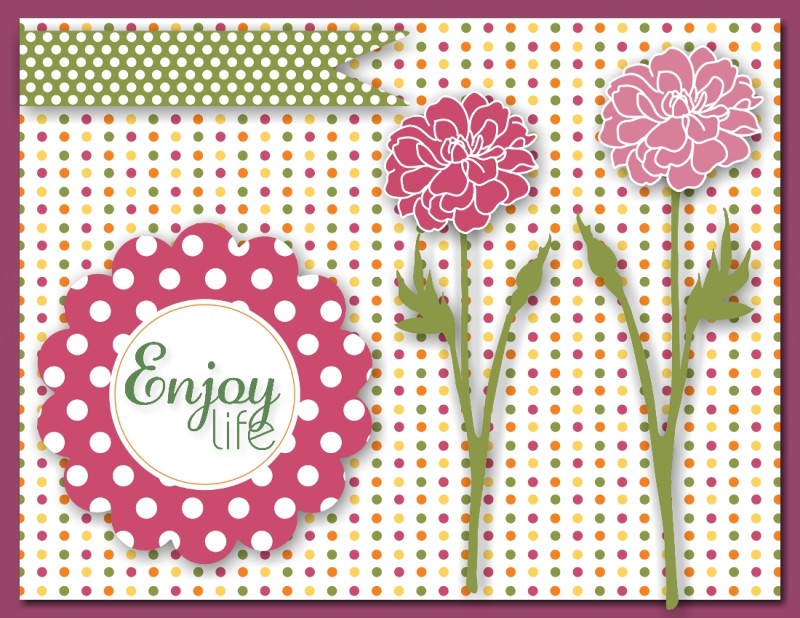 APRIL 23, 2013 MDS DOWNLOADS
FREE Playful Polka Dots Digital Kit  #126027  $FREE
Make your summer memories pop with our Playful Polka Dots Kit. These paper patterns and accents help you achieve flawless coordination with ease. The kit includes four Designer Series paper patterns, 55 embellishments, and a one-page 11″ x 8-1/2″ designer template.
Coordinating colors include: Daffodil Delight, Old Olive, Pumpkin Pie, and Rose Red.

Delight In The Day Ii Designer Series Paper – Digital Download  #134593  $4.95
Download includes:
* 12 Designer Series Papers
Features:
* A fresh new take on our classic paper from the Delight in the Day Photobook
Colors:   Gumball Green, Midnight Muse, Primrose Petals, Raspberry Ripple, Sahara Sand, Summer Starfruit


See Ya Next Year Photobook Template – Digital Download  #134509  $17.95
Download includes:
* 26-page designer photobook template (11″ x 8-1/2″)
* 88-piece SVG stamp brush set
* 6 Designer Series Papers
* 15 embellishments
* 3 punches
Features:
* Digital exclusive
* Make your own yearbook customized with your activities and fun pictures throughout the school year and have your friends autograph it
Colors:   Basic Gray, Calypso Coral, Crushed Curry, Gumball Green, Marina Mist, Midnight Muse, Pool Party, Sahara Sand, Whisper White


Two By Two Stamp Brush – Digital Download  #134537  $1.95
Download includes:  * 1-piece SVG stamp brush