Tis the season for Weddings and I need a few Wedding and Anniversary cards.  It has been a while since a made a White-on-White Card.  This will be one of my swaps for Convention.  I had a couple of friends over yesterday to help me make 50 of them.  We got most of the parts completed, though I need to get a new Boho Blossoms Punch, more Ribbon and Pearls.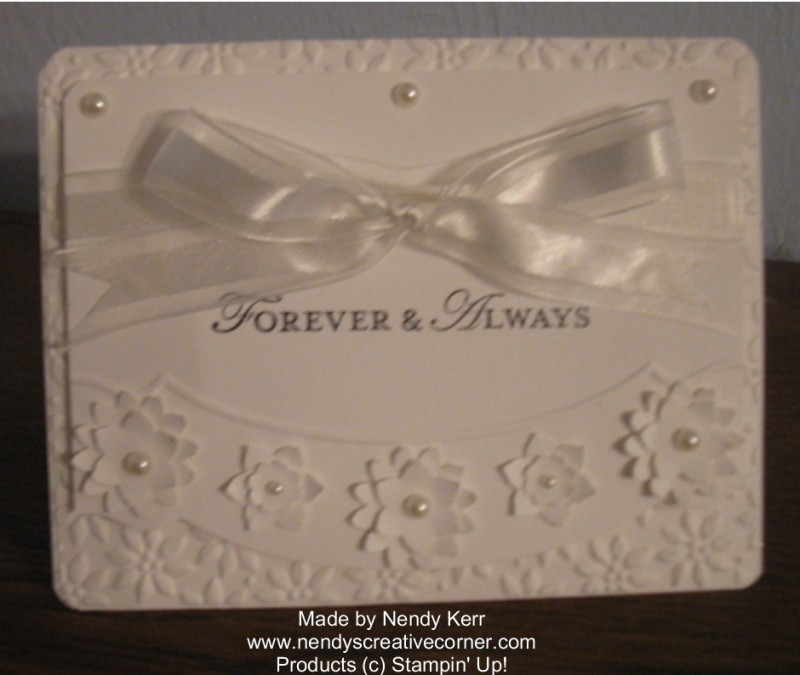 SUPPLIES:
Stamps:  Loving Thoughts  w#128436  c#125845
Ink:  Black StayzOn
Card Stock:  Whisper White
Big Shot:  Petals-a-Plenty Embossing Folder #116824
Adorning Accents Embossing Folder #125601
Adorning Accents Edgelits  #125595
Punches:  Corner Rounder #119871
Boho Blossoms #119858
Punch Pack  #118309
Other:  White Organiza Ribbon #114319
Basic Pearls
Glue Dots
Dimensionals
Tombow Multipurpose Liquid Glue
INSTRUCTIONS:
1.  Cut your Whisper White card base at 5-1/2″ x 8-1/2″.  Score and fold at 4-1/4″.  Round all four corners with the Corner Rounder Punch.
2.  Cut your Whisper White card front at 4-1/4″ x 5-1/2″.  Round all the corners with your Corner Rounder Punch.  Run through your Big Shot using the Petals-a-Plenty Embossing Folder.  Adhere to your card base with Tombow Glue.
3.  Cut your next layer of Whisper White card stock at 4″ x 5″.   Cut the one end using your Big Shot at the desired Adorning Accents Edgelit.  Use the coordinating Adorning Accents Embossing Folder and emboss about 1″ above the cut edge.  This rounded edge will be the bottom.  Round the upper two corners with your Corner Rounder Punch.
4.  Now for the Flowers.  Punch five sets of Boho Blossoms flowers from Whisper White card stock.  Slightly bend the flower petals upwards on each flower as you use it.  This will add some dimension to your project.    Use Glue Dots to adhere a large flower to a medium flower.  Repeat two more times.  Punch two Itty Bitty flowers.  Adhere each of these to another Medium flower.  Lay flowers in desired positions with larger flowers at the ends and in the center and smaller flowers inbetween the larger flowers.
5.  Stamp sentiment in Black StayzOn ink on the flower layer using your Stamp-a-ma-jig.
6.  Cut your Ribbon about 6″ long.  Position your Ribbon about 1/2″ below the top edge of your flower layer and adhere it with either SNAIL or Glue Dots.  (Mine is about 3/4″ below.)  Pinch the flat Ribbon in the center and adhere with a Glue Dot or two.  Tie a Bow.  Attach it to the center of your flat Ribbon using several Glue Dots on the back of the knot.  You may also need to use Glue Dots to position the bow parts and the Ribbon Tails in the desired position.
7.  You can finally adhere the Flower Layer to the embossed card front with Dimensionals.
8.  Now add your Basic Pearls as desired.
9.  Give this to a pair of Newly Wed's or to a couple celebrating their Anniversary.  I will make another and use it for both!  Change the Sentiment and use it for a Birthday or other occasion.
You can buy the supplies to make this card at My Online Store.
Happy Card-Making!
Nendy
Happy Stamping!
Nendy