I taught a Mother's Day card class Thursday for the 8-11 year old Achievement Day girls from Church.  They each received a packet for a Melon Mambo card and a Perfect Plum card.  Here are the samples using the Petal Potpourri Bundle (stamp set and punch).  They had a fun time being creative and did well with cleaning their stamps when they were done using them.  I did explain they were using "Grown-up Glue" and that they did not need to use very much.  We only had two girls that forgot.  Hopefully their mothers can open their cards.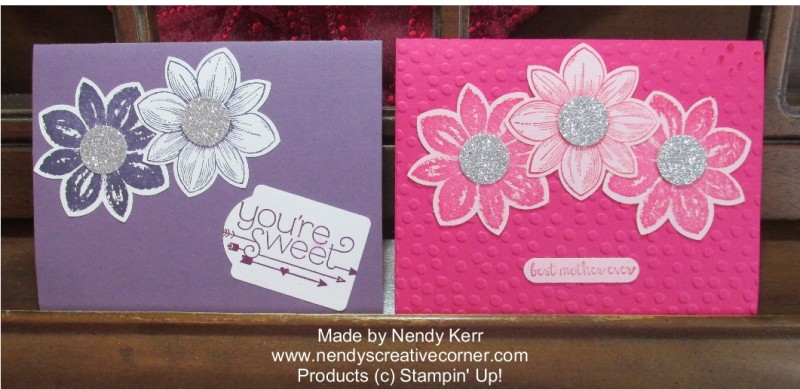 SUPPLIES:
Bundle (stamp set and punch):  Petal Potpourri  Wood #138876, Clear #138877
And Many More  Wood #134273, Clear #134276
You Plus Me  Wood #137133, Clear #138594
Ink:  Melon Mambo
Elegant Eggplant
(Blackberry Bliss was also available for the girls to use)
Card Stock:  Melon Mambo
Pink Pirouette
Perfect Plum
Whisper White
Silver Glimmer Paper #135314
Big Shot Embossing Folder:  Decorative Dots #133520
(There were also several other embossing folders to choose from)
Punches:  Word Window #119857
Note Tag #135860
3/4″ Circle #119873
Other:  Tombow Multipurpose Liquid Glue
BASIC INSTRUCTIONS:
1.  Card stock.  Choose your colors.  A.  Perfect Plum and Whisper White, OR B.  Melon Mambo and Pink Pirouette.  OR C.  Choose your own color combination.
~card base cut at 5-1/2″ x 8-1/2″.  Score and fold at 4-1/4″.
~card front for use with embossing folder is cut at 4-1/4″ x 5-1/2″.
~Pink Pirouette and Whisper White for stamping and Punching.
~Silver Glimmer Paper.  Punch a 3/4″ circle for each flower center if desired.
2.  Run your card front through the Big Shot with an embossing folder if desired.  Glue to your card base.
3.  Stamp the flowers and the sentiment.  Punch them out.  Glue them on your card in the desired positions.  Glue your Silver Glimmer Paper circles to the Flower centers if desired.
Happy Mother's Day Card Making!
Nendy Kerr