Treat Tubes are a nice size to give a small treat to someone to show you are thinking about them.  Treat Tubes are perfect for M&Ms, Skittles, other small candies, and small nuts.  You can also put small office supplies such as paper clips inside.
I was going to do a video of this, but since I will probably have Jury Duty all next week if I am selected, I am just posting it.  I will start doing videos again in January.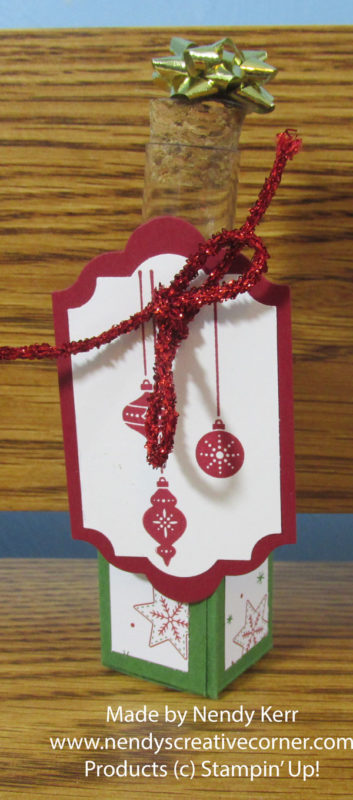 SUPPLIES:
Treat Tubes (12) #144612
Stamps:  Carols of Christmas  Wood Mount #144801, Clear Mount #144804 (Bundled with the Card Front Builder Thinlits:  Wood Mount Bundle #146036, Clear Mount Bundle #146037)
Ink:  Cherry Cobbler
Cardstock:  Garden Green
Cherry Cobbler
Whisper White
Be Merry Designer Series Paper (DSP) #144111
Big Shot:  Lots of Labels Framelits #138281
Punch:  Everyday Label #144668 (Included in Bundle until Jan 2, 2018)
1/8" Circle Punch # 134365 OR ¼" Circle Punch from local store
¾" Circle Punch  # 119873
Embellishments:  Mini Tinsel Trim Combo Pack #144636
Mini Gift Bows #144127
Adhesive:  Tombow Glue
INSTRUCTIONS:
1.  Tag:
~Stamp the desired Ornaments on Whisper White cardstock.  Punch out with the Everyday Label Punch.
~Choose the Lots of Labels Framelit that is just larger than your punched image.  Use it to cut out a Cherry Cobbler Mat.  Glue on the stamped and punched label.
~If desired, your can punch out one more Whisper White Everyday Label and stamp To and From on it and attach it to the back of the tag.  Glue to the back of the Tag.
~Punch a hole at the Tag top.
~Thread you Tinsel Trim though your Tag.
~Wrap your Tinsel Trim around your Treat Tube.  Thread the loose end through the Tag and tie a bow
2.  Cut & Prepare Your Treat Tube Holder:
~Garden Green cardstock:  4-1/24" x 5-1/2".
~Score the 5-1/2" side at ½", 1-1/2", , 4-1/2"
~ Score the 4-1/2" side at 1", 2", 3", 4".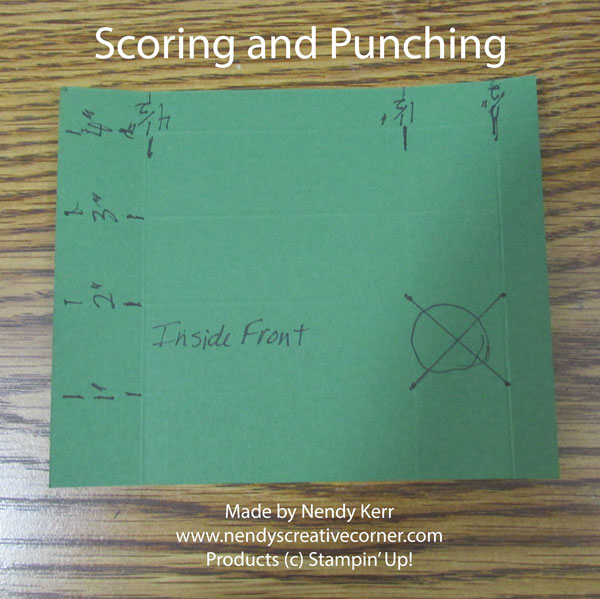 ~Fold all score lines.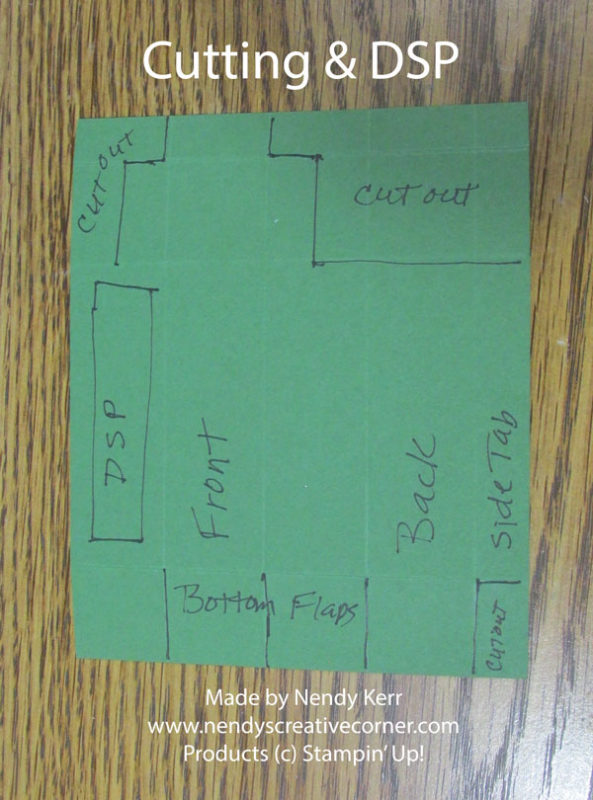 ~Cut score lines and tabs as shown.  Look on both the front and the back.
~Mark the Inside Front Top Flap with an X between the score lines.  Use your ¾" Circle Punch to punch a hole with the X centered in the Punch Hole.
~Cut your DSP:  Four:  ¾" x 2-3/4"
3.  Assemble:
~Attach your four DSP Strips.  This is so much easier to do when the cardstock is flat!
~Put Glue on the Front side of the Side Tab and attach to opposite edge.
~Put Glue on the Bottom Flaps:  on the Outside Back and Side, on the Inside of the Front Bottom Flap.
~Now put Glue on the Top Tabs around your Circle.  Slide them all in at the same time.  Stick your Finger through the Hole and rub the Tabs as well as you can to get the Glue to hold well.
~Whew!  Your Treat Tube Holder is finished!!
4.  Tag and Finishing.
~Put filled Treat Tube in your Treat Tube Holder.
~Thread Mini Tinsel Trim through Tag hole.  Wrap Tinsel around Treat Tube and thread through hole again.  Tie a bow.
~Use Glue to attach your Bow to the cork topper.  My bow kept falling off the cork when I used the adhesive on the bow.
You now have a cute treat to give to someone special!
Get all your Treat Tube Packaging Supplies from My Online Store.