I needed some new challenges for myself.  I used the Lilypad Lake Bundle for the first Love Your Stamps Challenge.  I did not use any of the word/sentiment stamps.  Which stamp set are YOU using for this challenge?  Share your project on my Facebook Challenge Thread for this Challenge or leave a picture of your project in the comments section.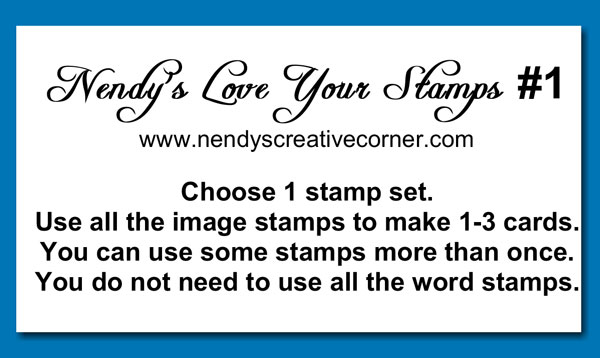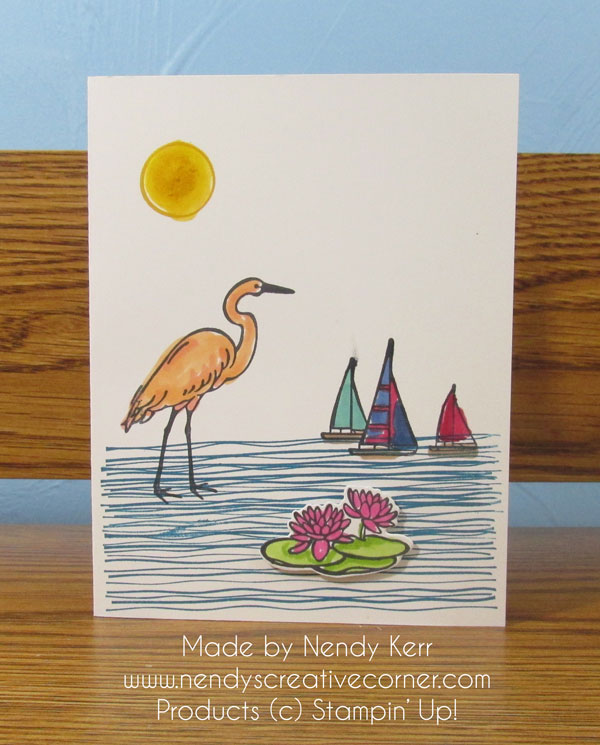 SUPPLIES: 
*=part of the Bundle
*Bundle: Lilypad Lake Rubber stamps + Lakeside Framelits  Wood-Mount Bundle #148365, Clear-Mount Bundle #148366
Stamps:  *Lilypad Lake Wood-Mount stamps #146493, Clear-Mount stamps #146496
Inks:  Memento Black
Pacific Point
Crushed Curry
Pineapple Punch
Coloring:  Color with Stampin' Write Markers or Stampin' Blends or Watercolor Pencils.  I used Stampin' Blends.
Pineapple Punch Dark #147030
Bermuda Bay Light #144580
Cherry Cobbler Combo Pack #144598
Night of Navy Light #144036
Call Me Clover Combo Pack #147282
Calypso Coral Light #144042
Pumpkin Pie Light #144578
Lovely Lipstick Light #147026
Bronze #144607
Cardstock:  Whisper White
Big Shot:  *Lakeside Framelits #146351
Adhesives: Mini Stampin' Dimensionals
INSTRUCTIONS:
1.  Cut your Whisper White card base at 5-1/2″ x 8=1/2″.  Score and fold at 4-1/4″.
2. Stamp:
~Water in Pacific Point ink
~Boats and Flamingo in Memento Black ink
~Sun in Crushed Curry ink. There was a Crushed Curry ink spot in the center of my Sun.
~Lily Pad on a small piece of Whisper White in Memento Black ink.
3. Color with Stampin' Blends:
~Sun with Pineapple Punch Dark.  I colored a little too long trying to get my center ink spot blended in so my cardstock started to peel.  I guess it adds some texture.
~Boats in Bronze
~Right Sailboat Sails:  Cherry Cobbler-one sail Light, one sail Dark
~Center Sailboat Sails: Light Cherry Cobbler, Light Night of Navy
~Left Sailboat Saily: Dark Bermuda Bay
~Flamingo: Use the Calypso Coral Light for your Dark Marker.  Color the left side of the neck, the Wing Line at the top of the body, Feather Tips, and top of legs with the Calypso Coral Light Marker.
~Flamingo: Finish coloring in with the Pumpkin Pie Light.
~Lilypad Flowers: Lovely Lipstick Light
~Lillypads: Color all the Lilypads with Call Me Clover Light.  Make shadows by using the Call Me Clover Dark to color under the Flower edges and under the top two Lilypads as shown.  Cut out with the coordinating Framelit.  Attach to your card front with Mini Stampin' Dimensionals.
Need Stamps, Stampin' Blends, and or other paper crafting supplies in coordinating colors?  You can get them from My Online Store any time 24/7.