We made this fun card at Stamp Class using Shimmer Paint.  Everyone enjoyed painting the Vegas Gold Shimmer Paint and the Bright Copper Shimmer Paint on their embossed cardstock.  Just remember to shake your Shimmer Paint well before using it.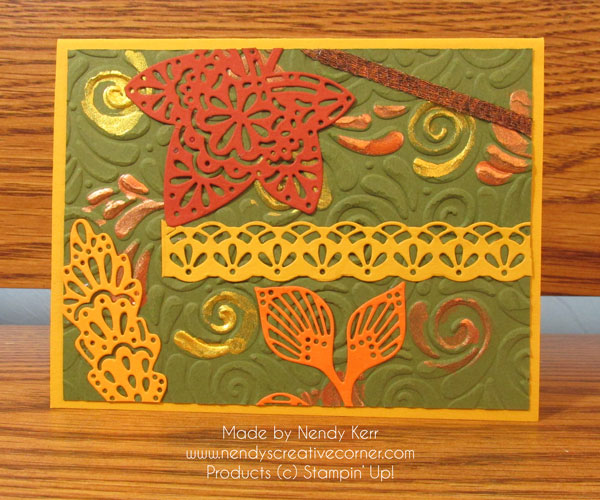 SUPPLIES:
Inks: Bright Copper Shimmer Paint #147045
Vegas Gold Shimmer Paint #146886
Cardstock:  Crushed Curry
Mossy Meadow
Mango Melody
Pumpkin Pie
Cajun Craze
Big Shot:  Swirls & Curls Embossing Folder #147923
Detailed Leaves Thinlits #147921
Precision Base Plate #139684
Other:  1/4″ Copper Trim #144179
One Q-Tip for each color of Shimmer Paint
Adhesives:  Multipurpose Adhesive Sheets #144106
Tombow Glue
INSTRUCTIONS:
1.  Cut your Crushed Curry card base at 5-1/2″ x 8-1/2″.  Score and fold at 4-1/4″.
2.  Cut your Mossy Meadow card front at 4″ x 5-1/4″.  Run through your Big Shot with the Swirls & Curls embossing folder.
~Paint your Swirls & Curls card front with the Shimmer Paint using a Q-Tip for each color.  You can paint as much or as little as you want.  The ladies at stamp class painted more than I did and it looked great!  Set aside.
3.  Cut your Cardstock and a matching piece of Multipurpose Adhesive Sheet for each color.
~Cajun Craze Large Leaf: 3-1/4″ x 3-1/2″
~Pumpkin Pie 3 Leaves: 3″ x 3″
~Mango Melody Long Leaf: 1-1/2″ x 4″
~Crushed Curry strip: 1″ x 4-1/4″
4.  Run over each Multipurpose Adhesive Sheet piece with your Bone Folder.  This helps it to separate from the backing better. Attach your Multipurpose Adhesive Sheets to their matching sized cardstock by peeling off the word paper and sticking it to the cardstock.  It doesn't have to be perfect.
5.  Cut out your Leaves and Strip using your Big Shot and the Precision Base Plate.  You may still need to roll your dies through several times on each side.  Check to see that the cardstock has cut completely through.  The Adhesive Sheet backing may not cut all the way through even though the cardstock has cut all the way through.  This is okay.
6.  Lay out all your pieces on your Mossy Meadow card front.  Remove the adhesive backing from each leaf and the strip and attach them to the card.  Attach a piece of Copper Trim to your card on one corner if desired.  Use SNAIL on the back to attach it.
Your Card is finished.
7.  Optional:  Emboss your Envelope Flap with the Swirls & Curls embossing folder.  Watch this Video to see how easy it is.
Subscribe to my Newsletter by October 2, 2018, to get all 12 Weeks of Christmas projects.  Each project is designed by me and is Exclusive only for my newsletter subscribers.  These 12 Christmas projects will be easy to make multiples of.  There will be 4 cards, 4 gifts, and 4 packages to hold small gifts.