Have you ever wanted to Frame your stamped image? You can when you make Framelit Frames! Just choose the Layering Framelits in the shape you want your Frame to be. Follow the instructions on the Video and in less than 10 minutes you can have a great card made.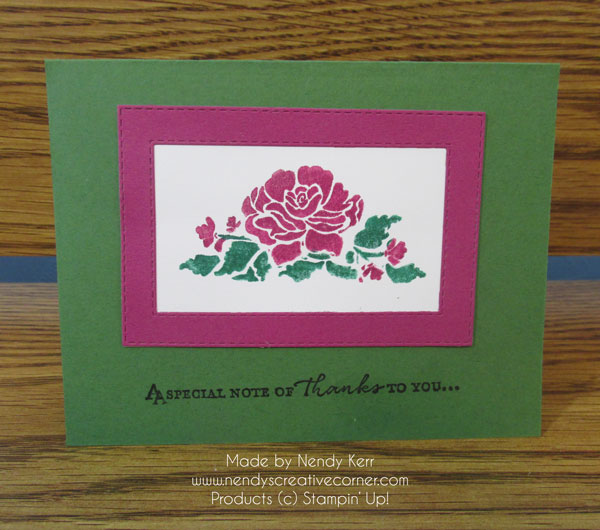 This video is less than 8 minutes long.
SUPPLIES:
Stamps: Floral Phrases Rubber Wood-Mount #
Ink: Memento Black
Markers: Garden Green
Berry Burst
Cardstock: Whisper White
Berry Burst
Garden Green
Big Shot: Rectangle Stitched Framelits # Or any layering or nesting Framelits
Adhesives: SNAIL or Tombow Multipurpose Liquid Glue
TIPS:
*1. Stamp your image on a large enough piece of cardstock so you will have plenty of room for the frame. I usually stamp my image on a 4-1/4″ x 5-1/2″ piece of cardstock.
*2. Get your Layering Framelits. Choose one to go around your stamped image.
~For a Narrow Frame choose the next larger Framelit.
~For a Wider Frame skip one Framelit and choose the next larger size.
*3. Cut out your image with the larger Framelit.
*4. Cut our your Frame using BOTH Framelits. Line them up so the space between the Framelits is equal on all sides. Cut out.
*5. Attach your Frame to your stamped image, Use Tombow Glue for your Narrow Frame. Use either SNAIL or Tombow Glue for your Wide Frame.
INSTRUCTIONS:
*1. Cut your Garden Green card base at 5-1/2″ x 8-1/2″ Score and fold at 4-1/4″.
*2. Stamp your image. Color if necessary. Follow suggestions on Tip #1.
*3. Folow Tip Steps #2-#5 to cut out your stamped image and your Frame. Attach your Frame to your stamped image.
*4. Attach your Framed image to your card base. Stamp a semtiment in Memento Black ink.
Your Framelit Frames Card is finished!
Subscribe to my Weekly Newsletter. You will get THREE Exclusive Projects on the first Tuesday of each month. You will get inspiration and ideas to help improve your crafting skills on the rest of the Tuesdays each month.