This card was made by my Downline Linda for me.  I do love the design and colors.  It is SO beautiful!  Thank You Linda!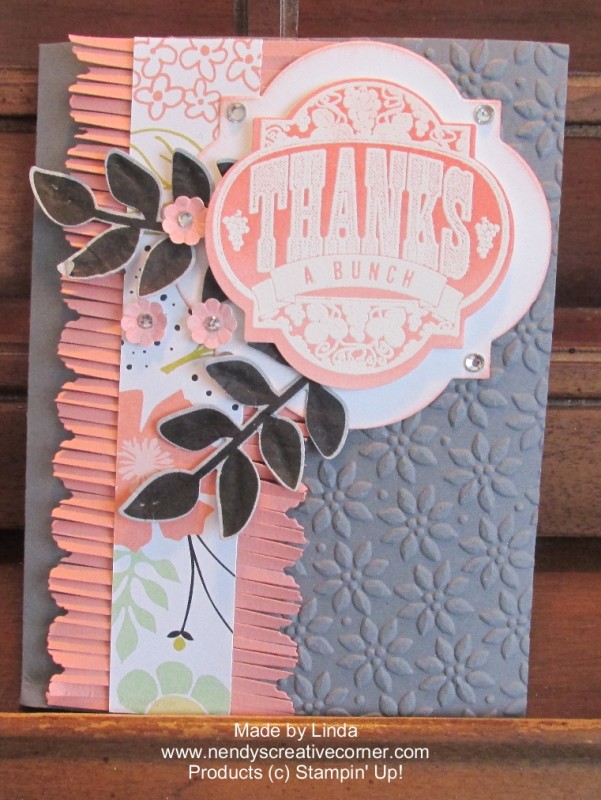 Special Details:
1.  The card base is partially embossed so the edge that opens is embossed and the part next to the fold is not embossed.  She used the retired Petals-A-Plenty embossing folder.  Choose the one you want.
2.  Notice the Scalloped Fringed border!  The Designer Series Paper is 1″ x 5-1/2″ with the Fringed Scallops sticking out 1/2″ on both sides.  Just cut TWO 1″ x 5-1/2″ strips of card stock then punch or die cut your Scallop edges.  Cut your fringes on the Scalloped edges leaving at least 1/4″ at the edge unfringed so you can attach it to the card.
3.  This Friendship Preserves stamp set is retired but you can still get the digital stamp brush set (#131128).  You can use any stamp that fits in the Window Frames Framelit (or other Framelit.
4.  Window Frames Framelit Layers.
~The back layer is Whisper White with a thin edge made with your marker.  This Video shows some Edging Techniques.  Layer your leaves on this layer.
~The middle layer is made using the Framelit Mat Technique as shown in This Video.
~The top layer is the stamped, embossed image.
~Attach the top and middle layers together with SNAIL Adhesive.  Attach these to the bottom layer with Dimensionals. after layering in your leaves.  Attach the whole thing to the card base with either SNAIL, Glue Dots, or Dimensionals.
5.  The small flowers are slightly curved.  You can do this by putting the flower in the palm of your hand, placing the Bone Folder tip in the flower center and turning it in a circle several times to get some dimension.
6.  Add some Rhinestones to the flower centers and the points of the bottom Window Frames layer for just the right amount of bling and sparkle.
Happy Stamping and Card Giving!
Nendy Kerr