Make this fun Candy Bunny with the 1″ x 8″ cello bag and 24 M&Ms.  Add some Baker's Twine and a Circle Punch face for a quick and easy Bunny Treat.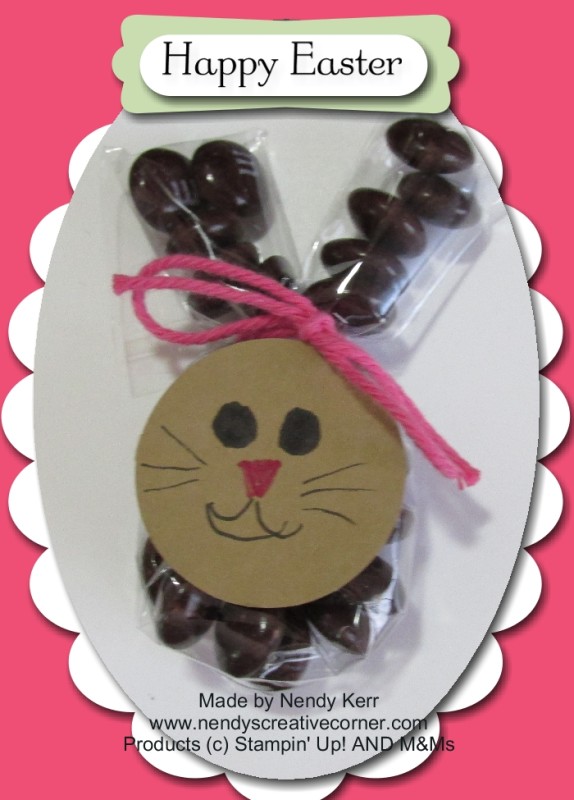 SUPPLIES:
Markers:  Basic Black
Blushing Bride
Card Stock:  Baked Brown Sugar
Punch:  1-3/8″ Circle Punch  #119860
Other:  1″ x 8″ Cellophane Bag #124134
Strawberry Slush Thick Baker's Twine  #135637
24 M&Ms in your choice of color(s) from your local store
1″ x 10″ piece of Printer Paper scored down the middle at 1/2″ x 10″.
INSTRUCTIONS:
1.  Fold your Printer Paper in half and insert into the 1″ x 8″ Cello Bag.  This will make your M&Ms go in quickly and easily if you insert them inside the folded paper.  Try to keep them all going the same direction and close the top carefully over the top M&M.  Tight, but not super tight.
2.  Get your Baker's Twine ready.  I probably used 6-8″.  I cut it after I had tied the Bow.  Count 5 M&Ms from each end and place these ends next to each other.  These will be the Bunny Ears.  Tie your Baker's Twine between the 5th and 6th M&Ms on each end.  Tie tightly so the Bunny Ears separate some.  I tied a knot, then a bow.
3.  Punch your 1-3/8″ Baked Brown Sugar Circle.  Draw on the Face with Markers:  Eyes with Basic Black, Nose with Blushing Bride, Mouth and whiskers with Basic Black fine tip.
4.  Round out the M&Ms under the ears.  Attach your Bunny Face with Glue Dots.
5.  Make this quick Bunny Treat for your family and friends.
Happy Easter!
Nendy Kerr