Fall is almost here and to celebrate here is a Mini Muslin Bag stamped with a Magnificent Maple Leaf for you.  This was actually one of my Convention Make & Takes.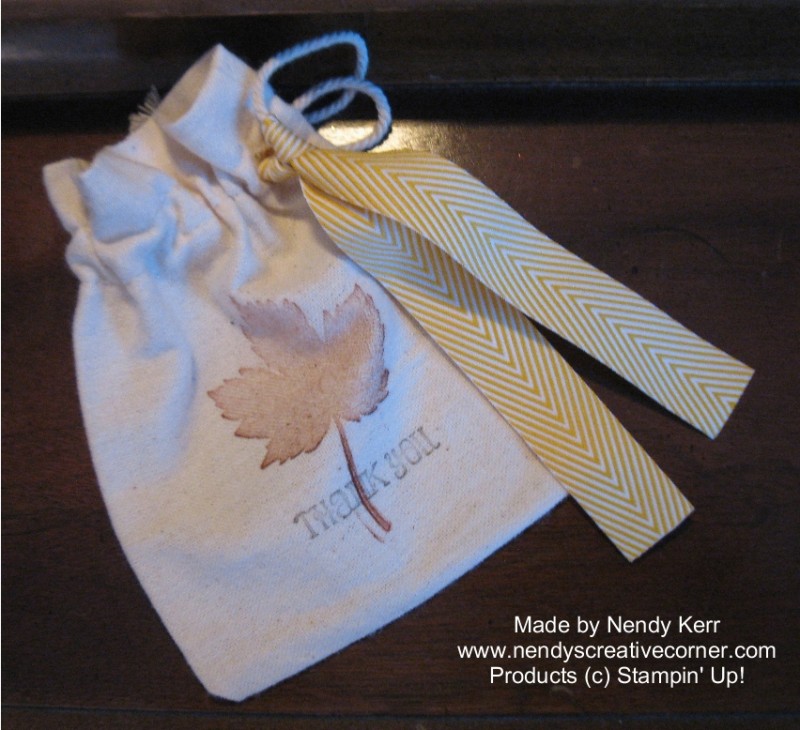 SUPPLIES:
Mini Muslin Bag #132180
Magnificent Maple Stamp w#131868 c# not available
Lots of Thanks Stamp Set w#129687  c#129690
Crushed Curry 3/4″ Chevron Ribbon #130019
Cajun Craze ink
Early Espresso ink
Cardboard
INSTRUCTIONS:
1.  Cut a piece of cardboard about 3-1/2″ x 4-1/2″.  Make sure it is thick enough to provide a hard enough stamping surface to get a clear stamped image.  I did not use one and wish I would have.
2.  Now stamp your Magnificent Maple in Cajun Craze ink on the front of your Mini Muslin Bag.  Stamp Thank You in Early Espresso ink.
3.  Tie about 12″ of Chevron Ribbon onto the front cord using a slip knot (I think that is what knot it is) so the ribbon will slide back and forth for easy opening and closing.
4.  Fill with a small gift or treat.
Happy Fall Gift Making!
Nendy