This time I CASEd the Holiday Catalog page 24 and used a Mini Pizza Box.  This is an All-Occasion Treat or Gift holder.  Enjoy making one of your own.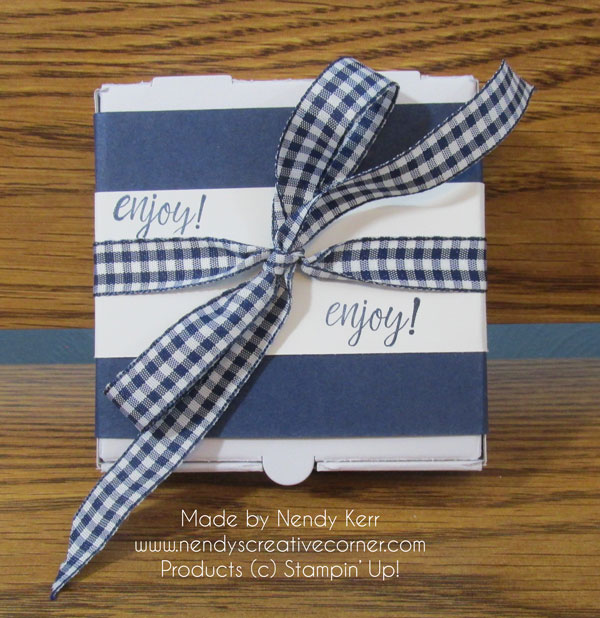 SUPPLIES:
Mini Pizza Box #144645
Stamps:  Takeout Treats Rubber Wood-Mount #147861, Clear-Mount#147858
Ink:  Night of Navy
Cardstock:  Night of Navy
Whisper White
Ribbon:  Night of Navy Gingham #144232
Adhesive:  Tear & Tape
SNAIL
INSTRUCTIONS:
1.  Put your Pizza Box together.  You don't really need adhesives to hold it together.
2.  Cut your Belly Band pieces:
~Night of Navy cardstock:  3″ x 11″
~Whisper White cardstock:  1-1/2″ x 11″
3. Make your Belly Band
~Fold the Night of Navy piece around the center of the box as shown.  Start with one end on the center of the bottom.  Crease each corner with your fingers as you fold it around the box.  You will end with the other end on the bottom of the box.  Now crease each fold line with your Bone Folder.
~Put some SNAIL down the center of your Whisper White strip.  Place it in the center of your Night of Navy strip.  Smooth down with your Bone Folder so it is flat and straight.  Now crease the fold lines with your Bone Folder.
~Wrap the Belly Band around your box again.  Choose which end will be on the top and which will be on the bottom.  The bottom end will have the Tape facing up on top of the edge of the strip.  The top piece will have the Tape on the underside at the edge of the strip.
~Remove the Tape backing and overlap the ends so the tape only attaches to the Belly Band.  Leave the Belly Band a little loose so it can easily slide off.
~Wrap your ribbon around the Belly Band leaving enough at the end to tie a bow.  Sorry, I forgot to measure it.  I am guessing there was about 6″ on each end to tie the bow.
~Put SNAIL down the center of the Belly Band on the top and bottom.
~Fold your ribbon in half and put the center of the ribbon on the center of the SNAIL on the bottom of your Belly Band.  Wrap it around the bottom, sides, and to the center of the top with both sides of the ribbon.  Tie it once, then tie your bow.  Trim the ends if needed.
~Stamp "Enjoy" with Night of Navy ink on your Belly Band if desired.
Your Mini Pizza Box with a Belly Band is finished.
Remember, the Mini Pizza Boxes are food safe and perfect for a cookie or two.