We made this at Stamp Class on Friday in preparation for Father's Day next month.  This is a super quick project!  If your guy doesn't like M&Ms, you can use Skittles or something similar just as long as you can pinch it in the center to make it look like a Bow Tie.  My son said he likes this kind of card!  Don't worry, he will still get a "Real" card from me.  (Unless I change my mind!)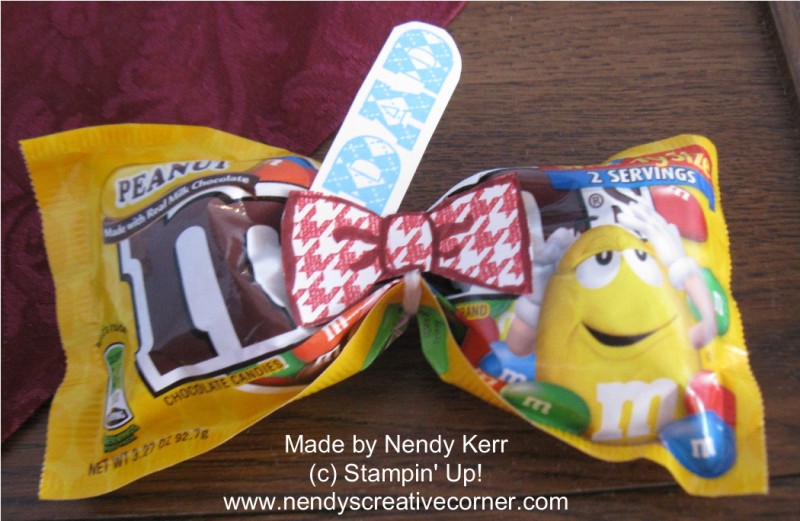 SUPPLIES:
Stamps:  Dapper Dad w#129195  c#129198
Loved Ones (stamp set retired) Digital Stamp Brush Set #130164
(Options in Instructions)
Card Stock:  Whisper White
Ink:  Real Red
Tempting Turquoise
Cherry Cobbler Marker
Other:  Peanut m&m's 3.27 ounce package sold at checkout counter
White Baker's Twine
Glue Dots
Scissors
INSTRUCTIONS:
1.  Stamp the Bow Tie in Real Red on Whisper White and cut it out.  Stamp the "DAD" in Tempting Turquoise ink on Whisper White card stock and cut it out leaving a little extra by the first letter so you can attach it to the tie with Glue Dots or so you could attach it with Baker's Twine.  Now is the time to decide.  (Note:  You can also use this as a "Husband or Boyfriend Appreciation Day.  Use the "Love You" from the Seasonal Sayings stamp set instead of the word Dad.)
1a.  I don't have the Dapper Dad Stamp set but I do have the Beyond Plaid Stamp Set.  So I traced the Bow Tie from the Dapper Dad stamp Set from the Spring 2013 Catalog onto Vellum.  I stamped the desired Beyond Plaid stamp in Real Red.  (A couple of my customers colored the Plaid and Argyle stamps with various Markers which look really great!).  I used some Dotto Removable Adhesive (I am so sad we no longer carry this) on the back of the Vellum Bow Tie and attached it to the stamped image and cut out the Bow Tie.  I then used a coordinating Cherry Cobbler Marker to outline the tie, knot, and the wrinkles by the knot.
2.  Take 6-12″ of Baker's Twine and wrap it rather tightly around the center of your m&m's.  Tie a knot and trim off the extra Baker's Twine.
3.  If you are attaching the DAD to the Bow Tie with Glue Dots do it now.  You can attach it on either side, top or bottom.  If you are attaching it with Baker's Twine lay the Bow Tie in place.  Pierce a hole in the desired corner and thread your Baker's Twine through it.  Tie around the center leaving enough length so it will look good.
4.  Attach the Bow Tie with Glue Dots.  I placed a Glue Dot in the center and at each corner of the Bow Tie and pressed in on well.
5.  Hide this where he won't find it or the candy will "mysteriously" disappear before Father's Day. 
  Or you could make two:  one for now and one for Father's Day.
Variation for Women and Girls.
Tie a ribbon around the center of the candy into a nice bow.  Add Jumbo Rhinestones or Pearls to the corner of the candy bag for some Bling.
Happy Guy Appreciation Day!
Nendy