The January Paper Pumpkin Kit can be used for Valentine's Day.  Cute Pillowbox Treat Holders with all the supplies to make them.  There are 24 Pillow boxes-enough for a small elementary school class.  Starting Wednesday, January 30, my friend Deborah will be making a Paper Pumpkin Alternate project for us.  She really enjoys doing the alternate projects.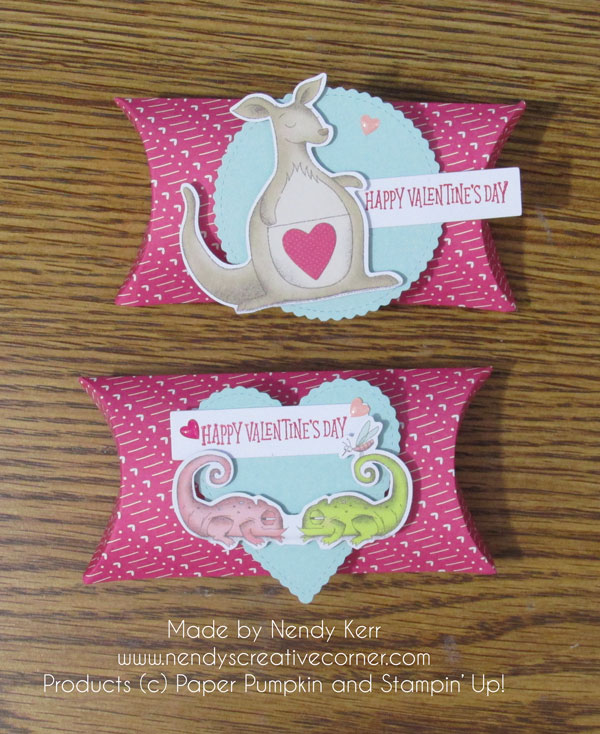 JANUARY PAPER PUMPKIN KIT
SUPPLIES:
January Paper Pumpkin Kit
Stamp Block G

INSTRUCTIONS:
1.  Choose sentiments to stamp on the White die cut Banners.  Stamp using the Melon Mambo ink pad.  Notice there are two sizes of Banner die cuts.
2. Punch out either a Pool Party Circle or a Heart, and either a Kangaroo or the two Chameleons.  Lay out the animal(s) with the sentiment banner to decide where you need to put your adhesive.
3.  Attach your sentiment Banner first to either the Pool Party Heart or Circle die cut with the Glue Dots from the Kit.
4.  Put Stampin' Dimensionals on the back of your animal making sure the Stampin' Dimensionals will only be attached to the Pool Party Heart or Circle die cut.
5.  Decorate the Tag with either the die cut Heart and/or the small enamel Hearts.
6.  Make your Pillowbox.
~Decide whether you want the red or the Pool Party side to show.  Fold all the score lines.
~Attach the adhesive strip to the side flap of the color you want to show.
~Peel off the adhesive backing.  Match the side tab score line with the edge line on the other end.  Press together firmly and rub with your Bone Folder.
~Fold in the bottom flaps: first the half-circle flap, then the flap with the notch cut out.  Put in your treats or small gift.
~Fold in the top flaps: first the half-circle flap, then the flap with the notch cut out.  The notch makes it easier to open the flaps.
7.  Attach your Animal Tag to the top of the Pillowbox with Stampin' Dimensionals.
Would you like your OWN Paper Pumpkin Kit in your mailbox every month?
Choose either the Month-to-Month Subscription OR a PrePaid Subscription for a certain time period.
CLICK HERE to see some past Paper Pumpkin Kits I have posted.