At our Upline Meeting at Sharon's House she had us do a basic single layer card (Stamping 101), then add some elements with Stampin' Dimensionals to give the card some Pop (Stamping 102).  The purpose of this was to help us help teach beginning stampers to design their own cards – which are usually stamped on the card base, then step it up with a few simple additions.  It was a fun experience.  Try it for yourself and have some fun!  It took us about 1-1/2 hours to make the two versions.  We did just use our Stamping 101 card and added to it.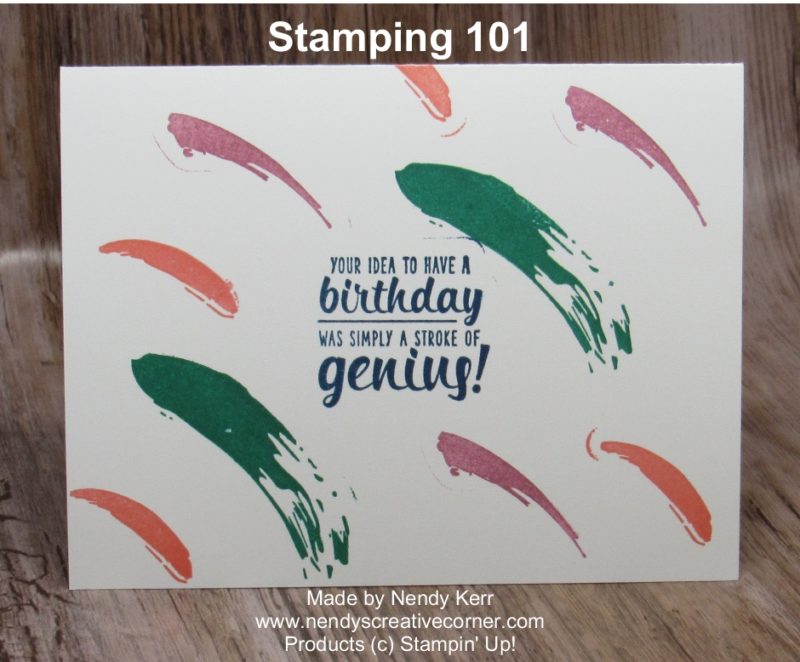 We started out with a NEW Stamp set in front of us.  I even got to assemble it for her since it was Wood Mount.  She had all the NEW In Color ink pads, card stock, and the NEW Ruched Ribbon.  There was also Whisper White card stock, the NEW Duet Banners Punch, and the NEW Layered Squares Framelits.
SUPPLIES -101 & 102:
*=available June 1, 2016
Stamps:  *Painter's Palette  Wood #141907, Clear #141910
Ink:  *Dapper Denim #141394
*Emerald Envy #141396
*Peekaboo Peach #141398
*Flirty Flamingo #141397
*Sweet Sugarplum #141395
Card Stock:  Whisper White
Big Shot:  *Layered Squares Framelits # #141708
Punch:  *Duet Banner #141483
Ribbon:  Peekaboo Peach Ruched Ribbon #141427
Other:  Stamp-a-ma-jig  #101049
Stamping Sponge
Stampin' Dimensionals
Paper Snips
Glue Dots
STAMPING 101 CARD INSTRUCTIONS:
1.  Cut your Whisper White card base at 5-1/2″ x 8-1/2″.  Score and fold at 4-1/4″.  Watch this Video if you need help making a card base.
2.  Lay your card base in the landscape position – with the fold at the top.
3.  Stamp your words in the center of the frame in Emerald Envy ink.  Use your Stamp-a-ma-jig if you want.  Watch this Video to learn how to use your Stamp-a-ma-jig.
4.  Choose the ink stamps and the ink color for each stamp.  Stamp each stamp diagonally in the same direction in at least two places.  Fill in any large spaces with the smaller stamps.  Yes, one stamp will look like it is going backwards.  No one will notice unless you tell them.  Remember to stamp straight down and straight up to avoid getting "Ring around the Rubber".
5.  Your basic Stamping 101 card is finished!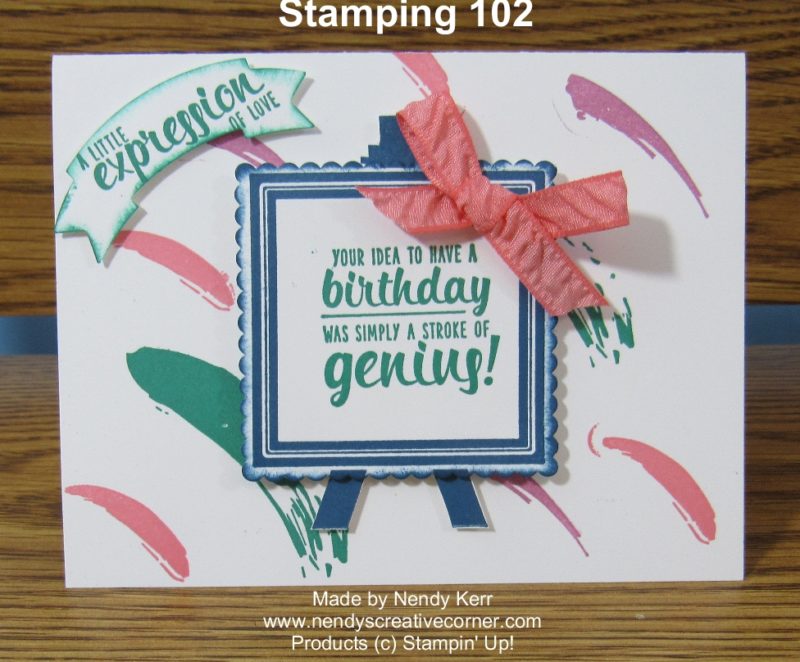 STAMPING 102 CARD INSTRUCTIONS:
1.  Follow all the steps for the Stamping 101 card.  You do NOT need to stamp the words in the center as you will be covering them up.
2.  Stamp the following on a scrap of Whisper White card stock.
~Stamp the Painter's Easel two times in Dapper Denim ink.
~Stamp the words in Emerald Envy inside one of the Frames of a Painter's Easel.
~Stamp "A Little Expression of Love" In Emerald Envy ink.
3.  Use your Paper Snips to cut out around one of your stamped Painter's Easels.  Only the two feet and the top will be showing so cut those pieces extra well and the frame will be covered up.  Attach to the center of your card with either SNAIL, Fast Fuse, or Tombow Glue.
4.  Choose the Layered Square Framelit you like best to cut the Frame out of the other stamped Painter's Easel.  I chose a Scallop one that was slightly larger than the Frame.  Cut it out with your Big Shot.  Sponge around the Scallop edges with a Stamping Sponge wedge and Dapper Denim ink.  Attach over the Frame of your Painter's Easel which is on your card front.
5.  Punch out the "A Little Expression…" with the Duet Banner Punch.  Put your card stock in the punch so you can see the stamped words through the Banner holes in the bottom of the punch.  Line up the words so they are in the position you like and punch.  Sponge some Emerald Envy ink around the edges of the punched banner.  Put some Stampin' Dimensionals on the back of your punched banner.  Attach it to the upper left corner of your card front.
6.  Tie a bow with the Ruched Ribbon.  If you have trouble tying a bow, just tie a knot with about 1-1/2″ on one end and then cut off the other end to match.  Attach to your Painter's Easel on the upper right corner with Glue Dots.
7.  A few extra steps can take your card from cute and nice to impressive.
Have fun making a Stamping 101 Card and then adding some layers to it for your Stamping 102 card!
Nendy Kerr