Here is a card I made with the May Paper Pumpkin Kit.  It came with everything I need to make 4 cards – including Dimensionals.  The tags on the front are really stickers and self-adhesive.  There are 5 photopolymer stamps included in the Kit including Happy Father's Day – which I will be using on my Father's Day cards.
The May 2014 Paper Pumpkin Kit is designed for guys and includes a Happy Father's Day and Happy Birthday stamps.  It even comes with all the adhesive you need!  This card is fun to make and I really like the way it looks.  The large tags are self-adhesive and pre-cut so you just peel and apply to your card front.  I did tweak my card as usual.  I left off the little tag and wrapped the Baker's Twine around the label instead of wrapping it around the top of the card.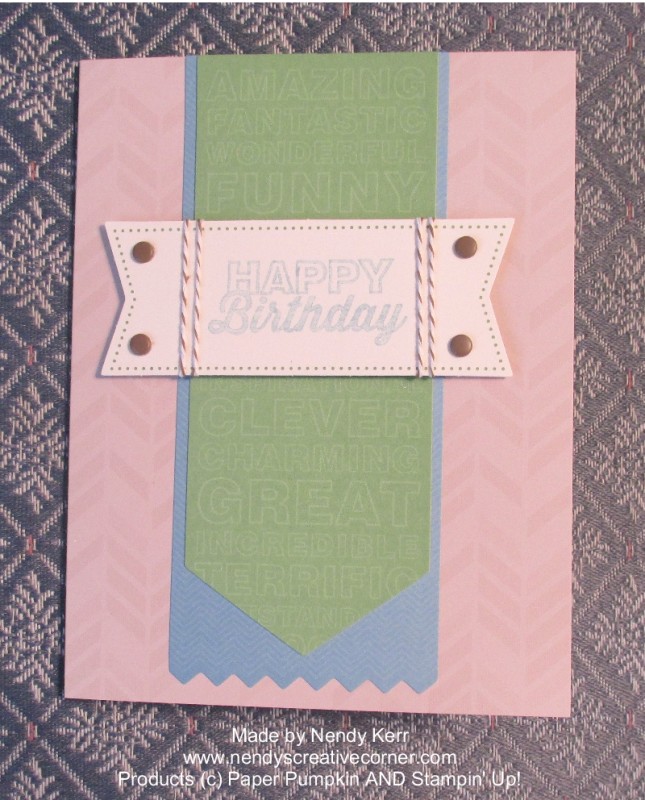 Are you ready for YOUR OWN Paper Pumpkin Kit every month?  You now have two choices on how to pay for it:
~Pay Every month for your Paper Pumpkin subscription.  The cost is $19.95 + tax each month.  Shipping is included in the $19.95.  You can skip a month or cancel at any time.
~Prepaid Paper Pumpkin subscription for 1, 3, 6, or 12 months.  Save $1-2 a month with the 6 and 12 month subscriptions.  I believe you can still skip a month if you will be gone.
~Get a FREE Clear Block "D" with your first month's Kit.  ($8.50 value)
Sign up for your OWN Paper Pumpkin Kit to show up in your mailbox every month.
Happy Creative Escape in your Paper Pumpkin Kit!
Nendy Kerr