I made this card for my Grandson's 4th Birthday.  He was SO Excited to see this stamp set!  He even used it to stamp a gift bag for his friend's birthday gift.  He was really pleased how well it turned out.  Unfortunately, I forgot to take a picture of it.  I did buy this set specifically for the little boys in my life.  It did take some thought on how to make the digger have moving parts that wouldn't tear with the boy moving them a lot.  I laminated them with packing tape on the front and back and secured them to the card with sticky strip.  Little children are very hard on cards so I always use Tombow and Sticky Strip to prevent them taking the card apart in the first 5 minutes.  I am glad they enjoy them though.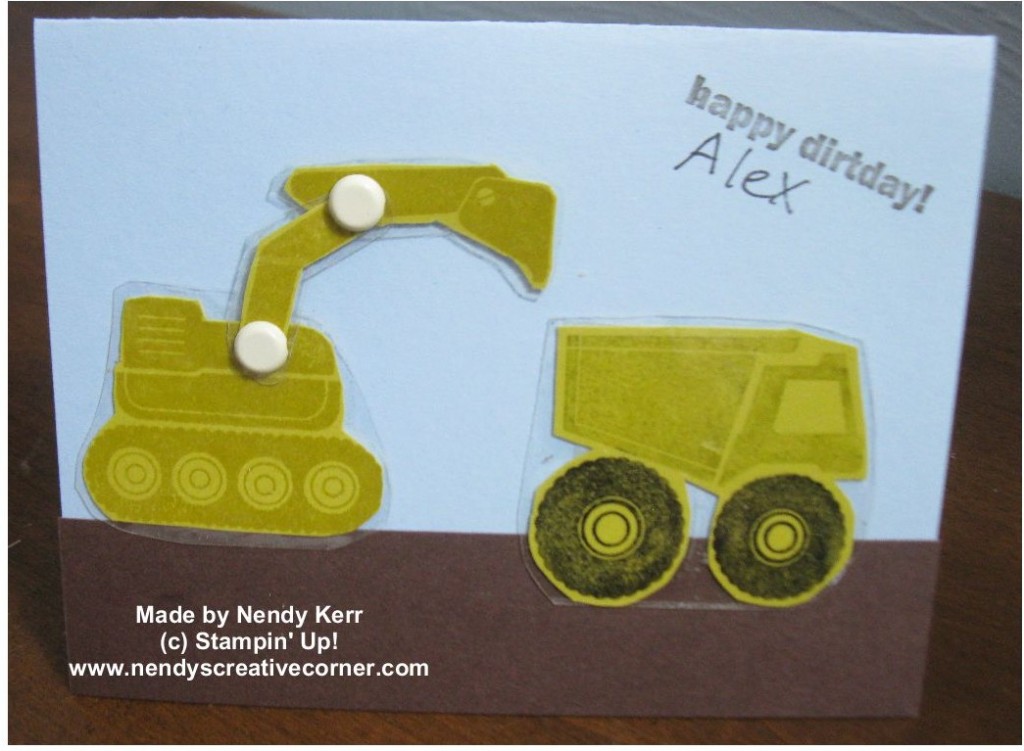 SUPPLIES:
Stamps:  I Dig You  w#122720  c#122722
Card Stock:  Bashful Blue card base
Chocolate Chip-dirt  1-1/2″ x 4-1/4″ strip.
Summer Starfruit #126839
Ink & Markers:  Summer Starfruit #126991
Basic Black Marker
Chocolate Chip-sentiment
Other:  Brads of your choice
Scotch Packing Tape
Paper Piercing Tool  #126189
Sticky Strip #104294
Tombow Multipurpose Liquid Glue

DIRECTIONS:
1.  Stamp 'Digger' truck twice on Summer Starfruit card stock with Summer Starfruit ink.  Cut the bottom and top parts out of one stamped image and the center 'arm' out of the second stamped image.  Cover both sides of all three parts with packing tape and cut them out again.  Use Paper Piercing Tool to poke holes where the parts connect on all three pieces.  Insert brads, but not too tightly.  You want the parts to move easily.  Put Sticky Strip around the bottom part of the 'digger' truck.  Set aside.
2.  Stamp Dump Truck (at least I know the correct name for this one 
 ) on Summer Starfruit card stock with Summer Starfruit ink (or color with Marker), wipe ink off wheels and color them with a Basic Black Marker.  Cut out.  Cover both sides with packing tape.  Cut out again.  Put Sticky Strip on the back around all the sides.  Set aside.
3.  Cut 8-1/2″ x 5-1/2″ Bashful Blue card base.  Score and fold at 4-1/4″.  Add Chocolate Chip 'dirt' strip to bottom edge of card front using Tombow to attach it.   Position trucks as desired and adhere in place with the Sticky Strip.  Test out the moving parts.  Stamp sentiment in Chocolate Chip ink.  Add name, if desired, in Black or Chocolate Chip Marker.
4.  Admire your card before giving it to the little boy of your choice!
Happy Stamping!
Nendy