The Color Challenge for this week is Blushing Bride, Granny Apple Green, and Shaded Spruce.  The Tropical Escape 6×6 Designer Series Paper (DSP) features this color combination so I used it for my Challenge Card.  I also used the beautiful Leaf Ribbon which I just HAD to get!  I am sure you have felt that way about getting something.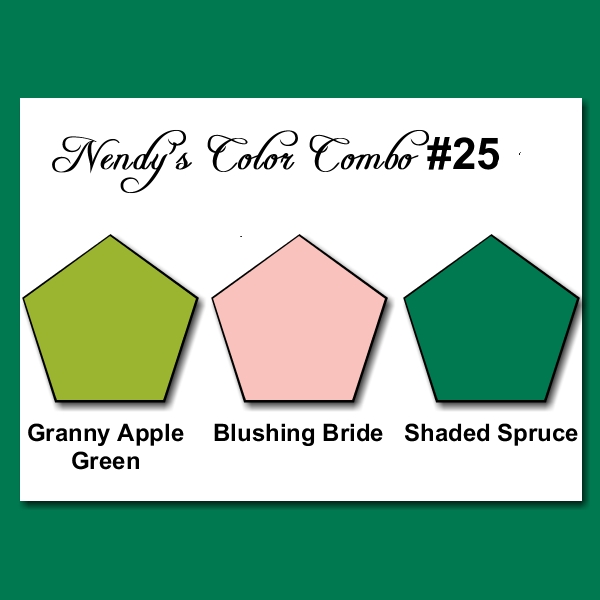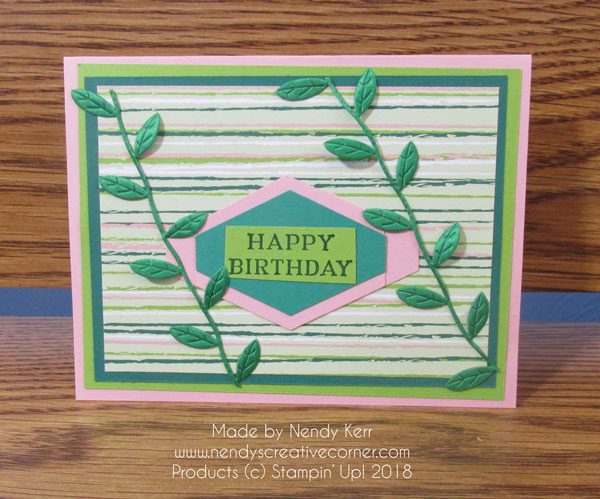 SUPPLIES:
Stamps:  Perennial Birthday Rubber Wood-Mount #145757, Clear-Mount #145760
Ink:  Shaded Spruce
Cardstock:  Blushing Bride
Granny Apple Green
Shaded Spruce
Tropical Escape 6×6 Designer Series Paper (DSP) #146916
Punch:  Tailored Tag #145667
Ribbon:  Leaf Ribbon #146905
Adhesives:  SNAIL
Glue Dots
INSTRUCTIONS:
1.  Cut:
~Blushing Bride card base at 5-1/2″ x 8-1/2″.  Score and fold at 4-1/4″.
~Designer Series Paper (DSP) at 3-1/2″ 4-3/4″
~Shaded Spruce mat at 3-3/4″ x 5″
~Granny Apple Green mat at 4″ x 5-1/4″.
Attach to card base in the order shown.
2. Stamp and Punch:
~Stamp your Happy Birthday in Shaded Spruce ink on Granny Apple Green cardstock.  I hand cut around the sentiment.  Here are the measurements if you want them: 5/8″ x 1-5/8″.  It is hard for me to cut this small of a piece in my Paper Trimmer.
~Punch one Shaded Spruce Tailored Tag.
~Punch two Blushing Bride Tailored Tags.  Cut one lengthwise and one widthwise.  Put SNAIL on the back of your Shaded Spruce Tage.  Attach the lengthwise  Blushing Bride pieces to the back of the Shaded Spruce Tage trying to get them both the same distance from the Shaded Spruce edge.  Add more SNAIL to the back of your layered punch.  Now do the same with the widthwise pieces trying to keep the edges even with the lengthwise pieces.  Attach to your card front.
3.  Ribbon.  Measure two ribbon pieces about 4-1/4″ of Leaf Ribbon.  Put Glue Dots on one of the leaves at each end, and 1-2 more Glue Dots on leaves in between the ends.  Attach at an angle to your card front with some leaves overlapping your tag.  Repeat with the other  Leaf Ribbon.
Your Card is finished.
Do you like a variety of ribbon to add to your handmade cards?  Get some that will coordinate with all your Stampin' Up! inks, papers, and embellishments from My Online Store.  Stampin' Up! adds NEW Ribbons and Embellishments in EVERY NEW Catalog!