This is the Leaf Garland I made with Vintage Leaves left over from my Fall Wreath.  It is pretty quick to put together when the leaves have already been stamped and cut out.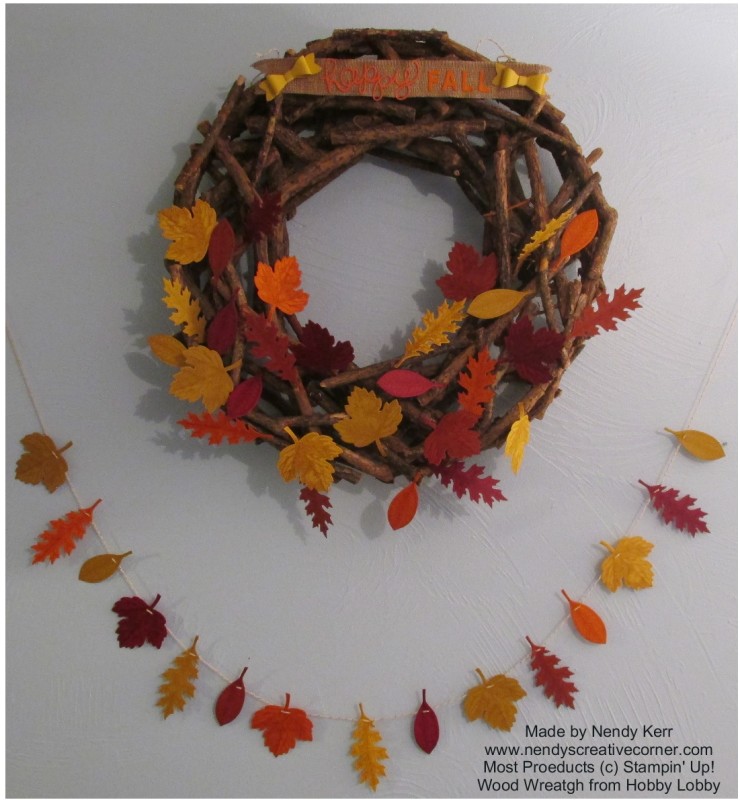 SUPPLIES:
Bundle:  Vintage Leaves stamp set + Leaflets Framelits  Photopolymer #140235
Clear Mount Stamp Blocks: 
Ink & Card Stock:
Crushed Curry
Delightful Dijon
Tangelo Twist
Cajun Craze
Cherry Cobbler
Big Shot:  See Bundle above which includes Leaflets Framelits
Other:  Metal Plastic Canvas Needle  #18 was used
Optional:  1/16″ Hole Punch #134363
Metallic Gold Baker's Twine #132975
Stampin' Pierce Mat #126199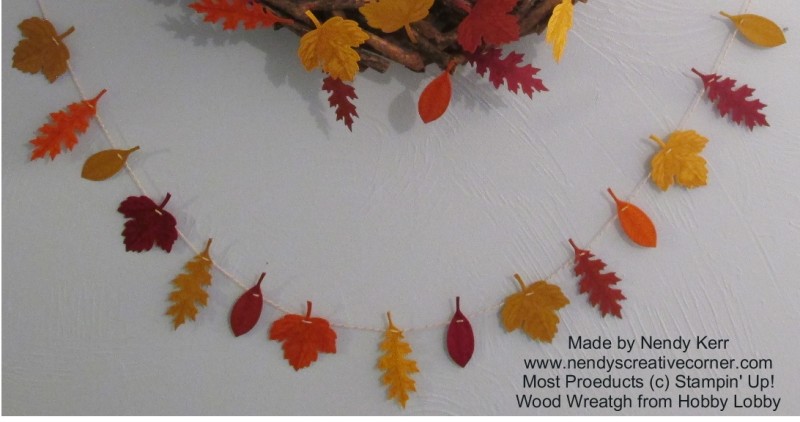 INSTRUCTIONS:
1.  I found it faster to cut out the leaves first. Cut each sheet of card stock into 5-1/2" x 8-1/2" pieces.  You can cut both sheets of the same color at the same time using your Big Shot and magnetic platform.   I used 15 Leaves for my Garland, each leaf shape in each of the five colors.
~Choose the leaves you want and choose the coordinating Framelits to cut out.  The three I chose are shown in the photo above.
~Put on the 3 Leaflet Framelits at the same time as close together as possible.  Run through your Big Shot.
~Keep placing the Framelits on the card stock and cutting them out until you don't have enough space left for another leaf Framelit.
~Repeat with each of the other card stock colors.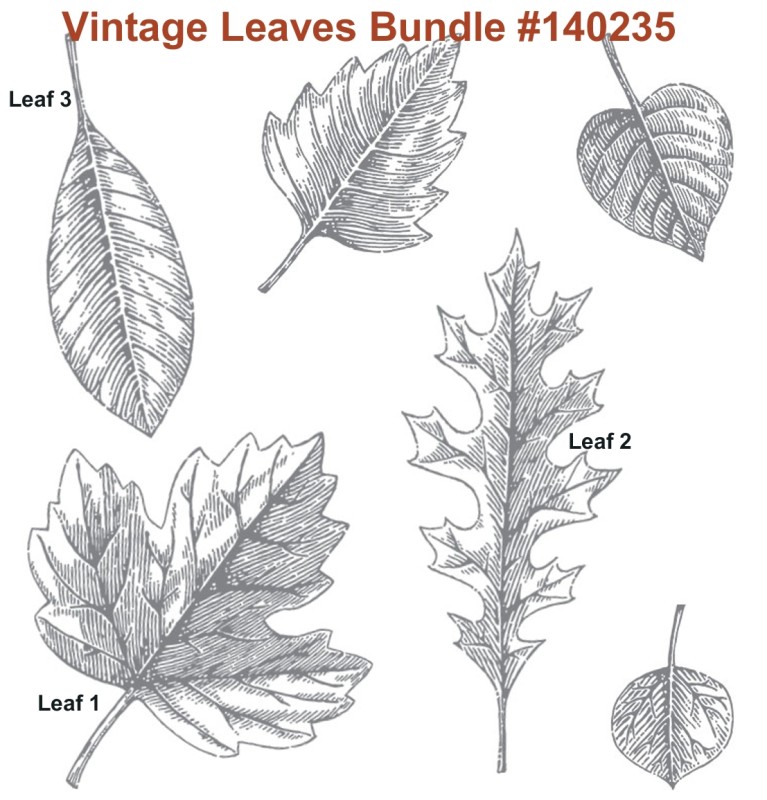 2.  Now stamp your leaves. You can do this either by color or by leaf shape.  Either way it will take you a little while so put on some music or your favorite movie to work to
~Remember to use your Stampin' Pierce Mat to get a great stamp impression.
~OR you can ink up the stamp and lay the stamp on the table with the inked stamp facing up.  Lay your leaf shape on top of the stamp, making sure to line up the edges.  Rub a clear block over the stamp to get a good stamped image.
3.  Lay out your leaves either in patterns or randomly in a line  for your garland.  I placed them in order rotating all three shapes and all five colors.  If desired punch two 1/16″ holes towards the stem of each leaf.  This will be where you thread your Baker's Twine.  I just punched the holes with my Tapestry Needle.  You can use any Needle with an eye large enough for the Baker's Twine.
4.  Decide if you want the Baker's Twine on top of your leaves or under your leaves when threading.  Mine is on top as you can see in the picture.  I just threaded the Leaves onto the whole thing of Baker's Twine and cut it after it was hung up.  OR you can cut about 6 feet of Baker's Twine.  Use the Tapestry Needle to thread the Baker's Twine through the holes in your leaves.  Do not worry about centering the Leaves or making them evenly spaced yet.
5.  Make a loop at one end of the Baker's Twine for hanging on the nail on your wall.  Figure out how low you want the curve of your garland to be and tie a loop at the other end of your Baker's Twine.  Cut off the excess.
6.  Now you can work on positioning your leaves and spacing them evenly or how you want them.
7.  Step back and admire your Fall Garland!
Happy Fall Decorating!
Nendy Kerr