Here is a fun Fall Wreath you can make for your home or for a gift.  It is pretty easy, but takes some time to make.  It seems like it took me a little over three hours to make this, but that includes design and figuring it out time.  I also made a Leaf Garland to hang under it.  I will post those instructions later, so stay tuned.  Have fun making your OWN Fall Wreath!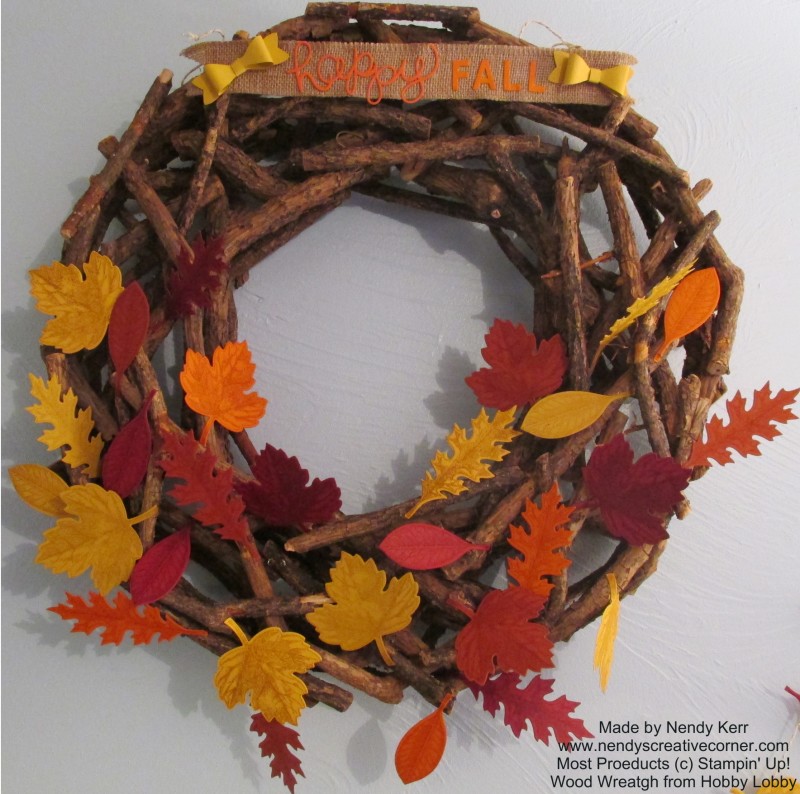 SUPPLIES:
18″ Wood Wreath Form:  Choose the same design as I did or choose a Grapevine Wreath.  This was purchased from Hobby Lobby
Bundle:  Vintage Leaves stamp set + Leaflets Framelits  Photopolymer #140235
Clear Mount Stamp Blocks: 
Ink & Card Stock:
Crushed Curry
Delightful Dijon
Tangelo Twist
Cajun Craze
Cherry Cobbler
Big Shot:  See Bundle above which includes Leaflets Framelits
Hello You Thinlits #137363
Little Letters Thinlits #133730
Punch:  Bow Builder #137414
Other:  Tombow Glue OR Hot Glue Gun
Stampin' Pierce Mat #126199
12" of 1-1/4" Burlap Ribbon #132140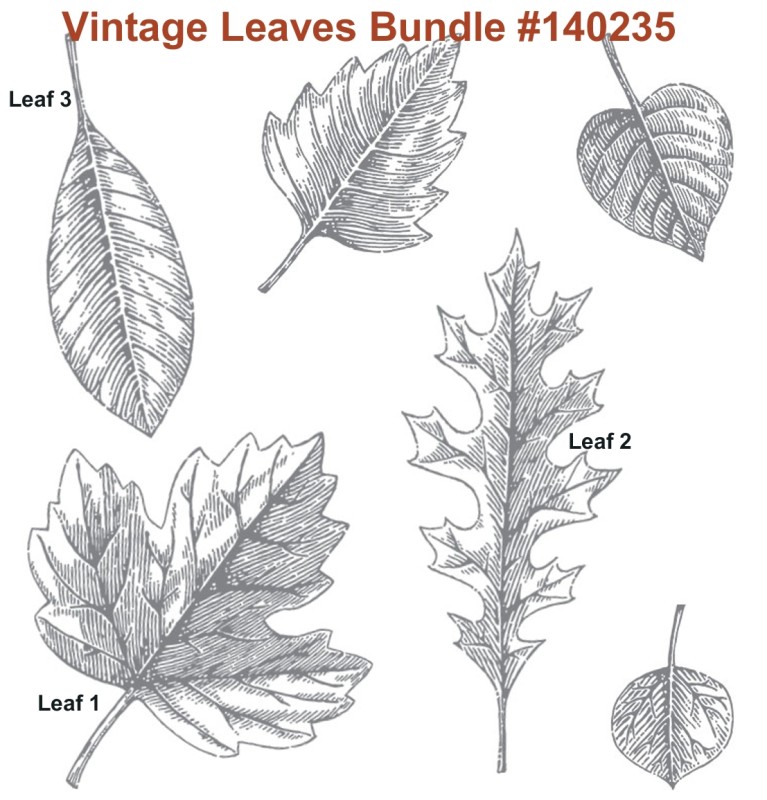 INSTRUCTIONS:
1.  I found it faster to cut out the leaves first. Cut each sheet of card stock into 5-1/2" x 8-1/2" pieces.  You can cut both sheets of the same color at the same time using your Big Shot and magnetic platform.   I used 28 Leaves on my Wreath, just so you know.
~Choose the leaves you want and choose the coordinating Framelits to cut out.  The three I chose are shown in the photo above.
~Put on the 3 Leaflet Framelits at the same time as close together as possible.  Run through your Big Shot.
~Keep placing the Framelits on the card stock and cutting them out until you don't have enough space left for another leaf Framelit.
~Repeat with each of the other card stock colors.
2.  Now stamp your leaves. You can do this either by color or by leaf shape.  Either way it will take you a little while so put on some music or your favorite movie to work to
~Remember to use your Stampin' Pierce Mat to get a great stamp impression.
~OR you can ink up the stamp and lay the stamp on the table with the inked stamp facing up.  Lay your leaf shape on top of the stamp, making sure to line up the edges.  Rub a clear block over the stamp to get a good stamped image.
3.  Lay out your leaves either in patterns or randomly on your wreath form until you are happy with the color and leaf type placement. I would recommend starting at the bottom center and working your way upward.  I placed them randomly all over and there are now a few I would like to switch either the color or the shape.
4.  Now Glue the stems onto the Wreath Form. Remember to let them go different directions.  Real leaves go in many directions and don't lay flat on the tree.  I used Tombow Glue.  You will need to hold each stem on the Wreath form for a few seconds to make sure it sticks well.  Keep your fingers clean and "glueless" so the stems don't stick to your fingers.  🙂  You could also use a glue gun if you want.  Glue gun glue only holds for about a year or so, then things start coming off.  This is why I use Tombow instead of a Glue Gun.  I want it to last.


5.  Cut 12" of Burlap Ribbon. Cut the notches in the ends by folding the ribbon in half and cutting from the center to the tips.  Cut a 1" x 11" piece of card stock to glue to the back of your Burlap Ribbon.  This will keep it from sagging.  I used the Tangelo Twist card stock.  I also strung some Baker's Twine (which the Bow Centers cover) to tie the Banner to the Wreath so I can switch my banner for Halloween, and again for Thanksgiving.
6.  Choose the color you want the words on top of your Wreath to be. Mine are Tangelo Twist and look really good in real life, but don't show up well in the picture.  Cut out the words and letters.  The Happy is cut from the Hello You Thinlits.  The FALL is cut from the Little Letters Thinlits.  (See Product Links above under Supplies)  I used Tombow Glue to attach them.  Make sure and rub your Bone Folder over the Letters so they will stick well to the Burlap.
7.  Punch out the Bow Builder four times to get parts for two bows.  I used Crushed Curry card stock for the bows.  Put the Bows together with Glue Dots.  I attached mine to the Ribbon over the Baker's Twine with Glue Dots.  As you can tell by the bow on the right, it does not hold it securely.  I have since attached them with Tombow Glue and covered all the parts of the bow that are on the Ribbon instead of just a few Glue Dots in the center of the Bows.
8.  Hang on your wall or door and Enjoy!
Happy Wreath Making!
Nendy Kerr