I have been wanting to make a Four Seasons card with the Thoughtful Branches Bundle.  I got this Thoughtful Branches Bundle idea from Daniela Astor.  As usual I tweaked it and made it my own.  It took me about 1 hour to make this card, but it can be displayed all year long.  Yes, it fits in a medium Stampin' Up! envelope so you can mail it!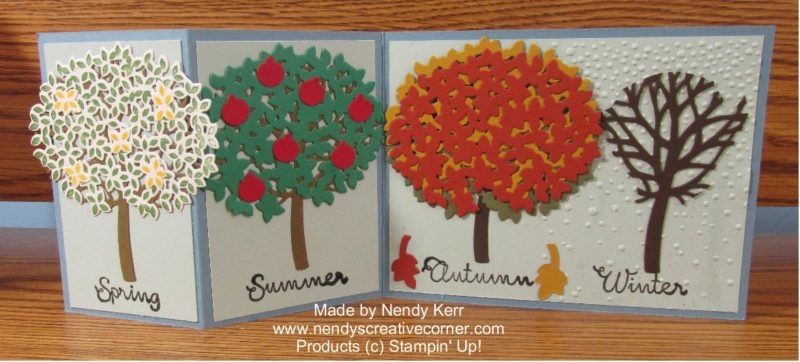 This Thoughtful Branches Bundle is only available until August 31, 2016 so get yours now!  If you buy it from me I will email you a FREE document with lots of ideas I have gleaned from the web.
SUPPLIES:
Bundle:  Thoughtful Branches stamp set + Beautiful Branches Thinlits  #144328
Stamps:  Date It Photopolymer #141563
Ink:  Memento Black
Garden Green
Daffodil Delight
Card Stock:  Marina Mist
Soft Sky
Soft Suede
Early Espresso
Whisper White
Emerald Envy
Always Artichoke
Delightful Dijon
Cajun Craze
Big Shot:  Beautiful Branches Thinlits from Bundle
Softly Falling Embossing Folder #139672
Adhesives:  Tombow Glue or Fine Tip Glue Pen
Fast Fuse or SNAIL
INSTRUCTIONS:
1.  Cut:
~Marina Mist card base:  4-1/4″ x 11″.  Score and fold at 2-1/2″ and 5-1/2″.
~Soft Sky:  2-1/4″ x 4″ for Spring, 2-3/4″ x 4″ for Summer, 4″ x 5-1/4″ for Autumn and Winter.
~Soft Suede and Early Espresso card stock:  Cut two full trees each
~Tree Leaves:  Cut one each: Emerald Envy, Always Artichoke, Delightful Dijon, Cajun Craze.
~Small individual Leaves:  Cut one each in Cajun Craze and Delightful Dijon
~Stamp and Cut.  Stamp Tree Leaves on Whisper White Twice – once in Garden Green ink and once in Daffodil Delight ink.  Cut out with the Tree Leave Framlit.
~Cut 7 apples from Real Red card stock.
2.  Stamp your Season names on the Soft Sky card stock about 1/4″ from the bottom (or top).  It is easy to center your stamping with the Photopolymer stamps.
-2-1/4″ x 4″ for Spring,
~2-3/4″ x 4″ for Summer,
~4″ x 5-1/4″ for Autumn and Winter.  Lay out your Autumn Tree with the 3 Tree Leaves and stamp Autumn in the center under the tree.  Stamp Winter centered in the small space left.  Put your Winter side in the Softly Falling embossing Folder with the Autumn side sticking out and run through your Big Shot.  It does not matter if part of the snow is on the Autumn part of the card stock.
3.  Attach your Soft Sky pieces to your card base in the coordinating sections.
4.  Spring.  Attach a Soft Suede Tree to the Spring section not adding glue to about 1/2″ on each side of the branches so you do not glue the card open.  😉  Attach the Garden Green stamped and cut Tree Leaves.  Cut 5 "flowers" from the Daffodil Delight Stamped and cut Tree leaves.  Glue The Tree Leaves on not adding glue to the 1/2″ on each side.
5.  Summer.  Attach a Soft Suede Tree to the Summer section centering the trunk and not gluing about 1/4″ on each side of the branches.  Attach the Emerald Envy Tree Leaves making sure the right side is just to the left of the fold line.  Bend the card between Spring and Summer and trim off the right side of the Summer branches and Emerald Envy Tree Leaves so the fold line shows.  Now lay the card flat with the Spring Tree Leaves overlapping the Summer Tree Leaves.  Trim more if necessary to have your card lay flat.
6.  Autumn.  Glue your Always Artichoke, Delightful Dijon, and Cajun Craze Tree Leaves together as shown.  Glue to Early Espresso Tree.  Now Glue so the Left side of the Tree Leaves almost touch the fold on the left by Summer.  Add extra single leaves beside Autumn if desired.
7.  Winter.  Trim your last Early Espresso Tree to fit in the space left beside Autumn.  Glue on.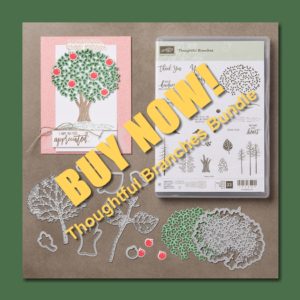 Enjoy making your own Thoughtful Branches Bundle Four Seasons Card!