Do you need a quick gift?  Use a battery-operated Tea Light, a sheet of Designer Series Paper, and your Floral Framelits Dies to make these fun, decorative Tea Lights to help brighten someone's day.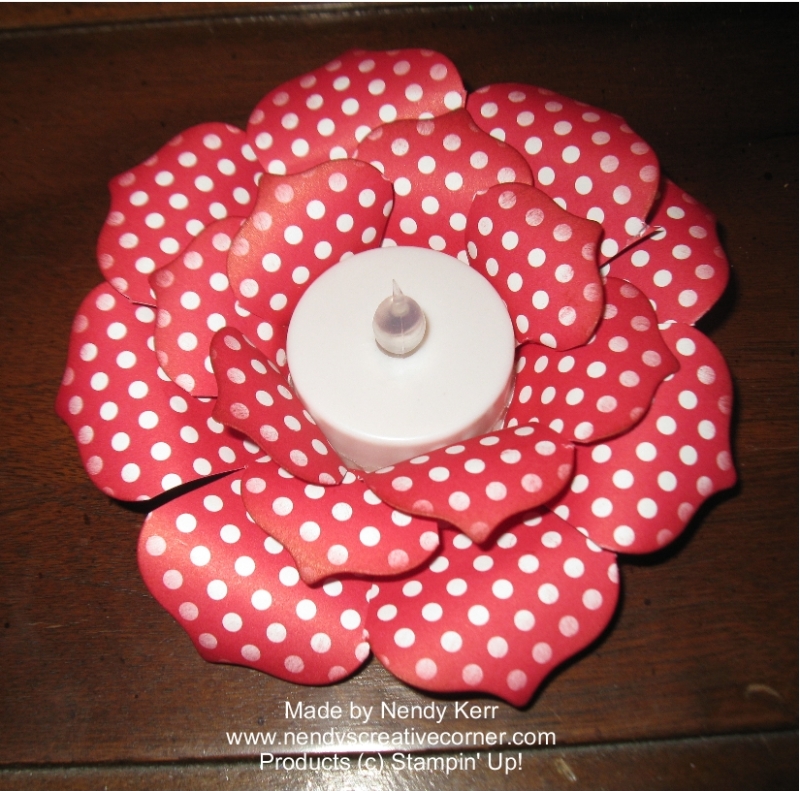 SUPPLIES:
Paper:  Your choice of 12 x 12 patterned paper.  I used the retired Polka Dot Parade in Real Red.
Ink:  Cherry Cobbler
Big Shot:  Floral Frames Framelits #127012
Circles Collection Framelits  #130911
Magnetic Platform (optional)
Other:  Stamping Sponge wedge
Bone Folder
Sticky Strip
Glue Dots
Paper Snips or Scissors
Battery Operated Tea Light from your local store
INSTRUCTIONS:
Note:  You can cut two sheets of paper at the same time with your Framelits which makes it easy to make a set of two.
1.  Choose your patterned paper making sure there is a pattern on both sides.  I have also used Vellum to make this flower.  Cut your Designer Series Paper at 6″ x 12″.
2.  Measure the bottom of your Framelit with the Circle Framelits to find the correct size for the bottom.  Note:  I skipped this step on the first one I made so you could not turn the Tea Light on and off because it was covered with paper.  😉
3.  Choose the two largest Floral Frames Framelits to make your project.  Lay out one Floral Frame Framelit on your paper and Magnetic Platform (or Multipurpose Platform with all Tabs closed), then center the Circle Framelit.  Add your top cutting plate and cut out.  Repeat with the other Floral Frames Framelit and the Circle Framelit.
4.  Sponge the edges of the petals if desired.  Cut down about 1″ between each petal on both flowers.  Curl about 1/2″ to 3/4″ of the end of each petal using your Bone Folder.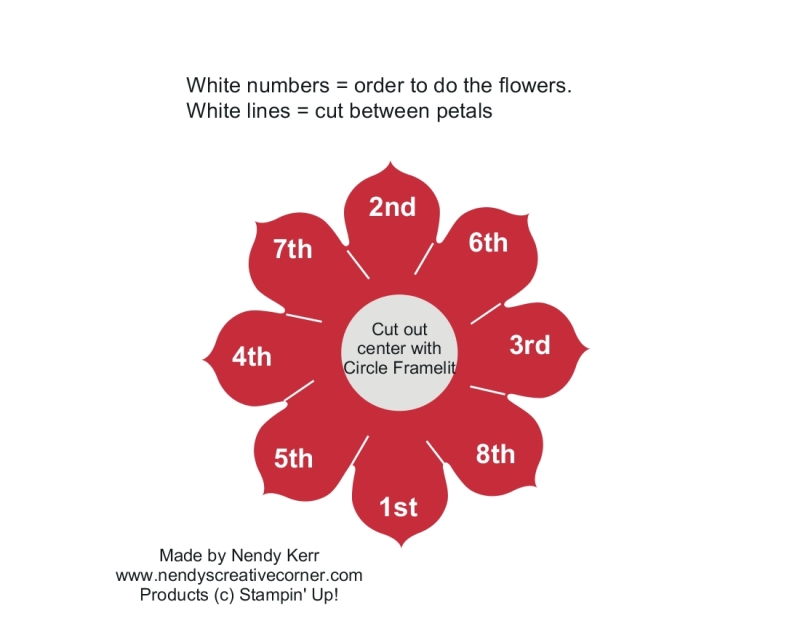 5.  Put Sticky Strip around the bottom edge of the side of your Tealight.  Put the smaller flower on first, then add the larger.  Attaching the paper flowers to the Tealight is not an exact process.  It requires some crunching and perhaps tearing between a petal or two of the flower to get it onto the Tealight.  Use Glue Dots to attach these overlapping pieces.  Follow the diagram for attaching the Petals to the Tealight.  Now put Sticky Strip along the bottom edge of your paper flower pressing the paper and the Sticky Strip as flat as possible.
6.  Now add your Larger Flower to the Tealight following the same process as before.
7.  Optional:  You can add Dazzling Details, cut paper (using the same Circle Framelit) with a hole punched for the "flame", or Glitter to add an extra touch to the top of your Tealight.
Happy Gift-Making!
Nendy Kerr