I have been working on the computer a lot the last few days. If you will notice there is a new Newsletter Sign-up box in my sidebar!  I have even tested it out and it works!  I am always really happy when something finally works-especially technological stuff!  So if you haven't already subscribed to my Newsletter, please test-drive my form and let me know if it works (or doesn't work) either by commenting or emailing me.  You will be directed to a page with a form asking you to choose your user name and password which you will need to get to the members-only My Newsletter Project Pages.  My Newsletter Project Pages has all the projects and templates I have given to my Newsletter Subscribers.  I am still working on separate links for some of the projects, but those instructions are included in the Newsletter Links.
So finally, here is my post for today.  I have started making Valentine's cards.  We will be making this at my class next week.  It does use the new Hearts Collection Framelits from the Occasions Mini catalog.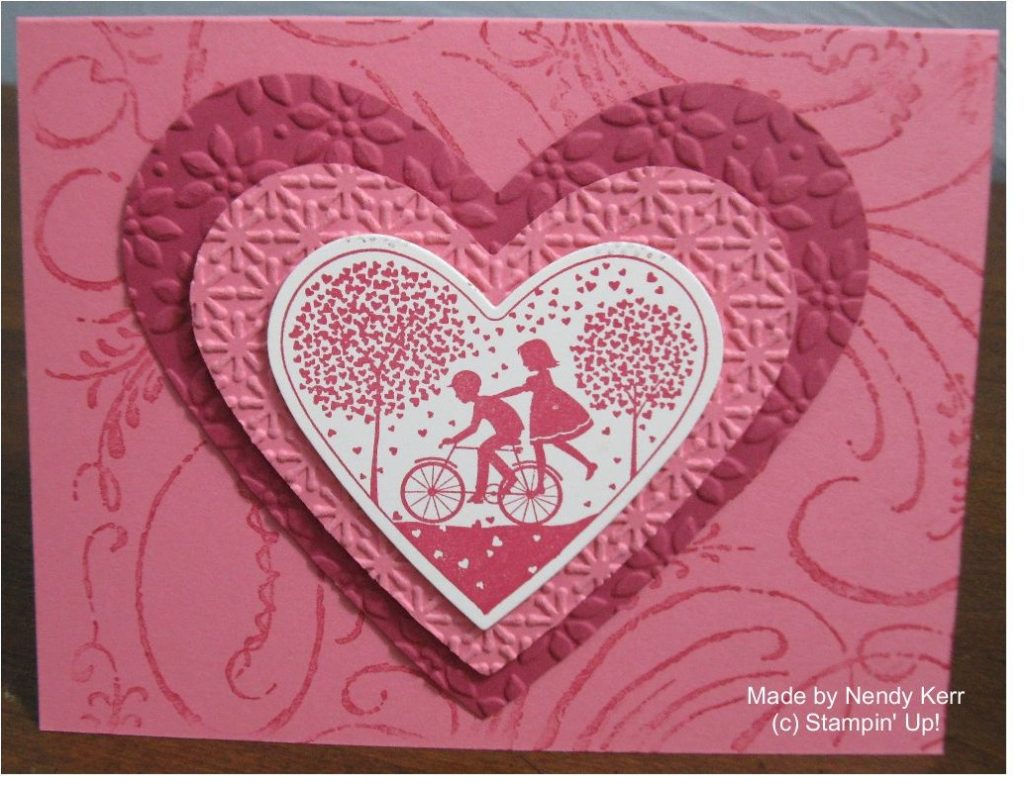 SUPPLIES:
Stamps:  Take It to Heart  (Occasions Mini) page 14  w#125520  c#125522
French Filigree page 151 #113742
Ink:  Rose Red
Card Stock:  Regal Rose
Rose Red
Whisper White
Big Shot:  Hearts Collection Framelits  (Occasions Mini) page 6  #125599
Petals a Plenty Embossing Folder  page 219  #116824
Snow Burst Embossing Folder (still available) #124096
Other:  Dimensionals
Dotto OR blue painter's tape
DIRECTIONS:
1.  Cut Regal Rose card base:  5-1/2″ x 8-1/2″.  Score and fold at 4-1/4″.
2.  Ink up French Filigree stamp with Rose Red ink.  Lay stamp on table with inked rubber facing up.  Lay folded card base on top of rubber in desired position.  Use a Clear Block or wood part of a stamp to rub card stock.  When finished, lift card base off stamp.
3.  Stamp Bicycle image on Whisper White card stock with Rose Red ink.
4.  I have had trouble with the Framelit moving when I put the top cutting pad on.  So I have come up with a couple of options to keep the Framelit in place.
Option 1:  Run a line of Dotto on the card stock where you are going to place your Framelit.  This should hopefully keep your Framelit in place while running it through the Big Shot.
Option 2:  Place your Framelit on the card stock where you want it.  Tear off a piece of blue painter's tape about 1″ or so.  Tape it to your jeans once or twice to remove a lot of the adhesive.  Now tape it to your Framelit and card stock-keeping the tape away from the center of the Framelit.  Run through your Big Shot.
Big Shot Sandwich:  (top to bottom)
Cutting pad
Framelit and card stock
Cutting pad
Multipurpose Platform Tab 2 (both tabs closed)
5.  Now let's get out our Big Shot and try out the Heart Framelits.  Let's practice on our plain card stock first.  Choose the 3 Heart Framelits you will be using.  Choose the largest of the 3 and cut a Rose Red card stock heart.  (Remember-Option 1 OR Option 2 and your Big Shot Sandwich.)  Use the middle sized Heart Framelit and cut it out of Regal Rose card stock.  Now get your stamped bicycle image.  Choose the Heart that fits over it best.  (Use either Option 1 or Option 2.)  Now run it through your Big Shot.
6.  Take your Large Rose Red Heart and emboss it using the Petals a Plenty Embossing Folder.  Emboss your Regal Rose Heart with the Snow Burst Embossing Folder.
7.  Layer the 3 Hearts together using Dimensionals.  Use Dimensionals to attach the Layered Hearts to the card base.
8.  Admire your pretty Valentine.  Who will you give it to?
Happy Stamping!
Nendy