I made this Birthday Card for my Grandson's birthday and wanted to add a Bookmark as he is enjoying Chapter books lately.  I went with a Star theme as I had the Champagne Glimmer Star left over from another project and wanted to use it.  So choose three colors of paper and a contrasting ink and make a Bookmark card today!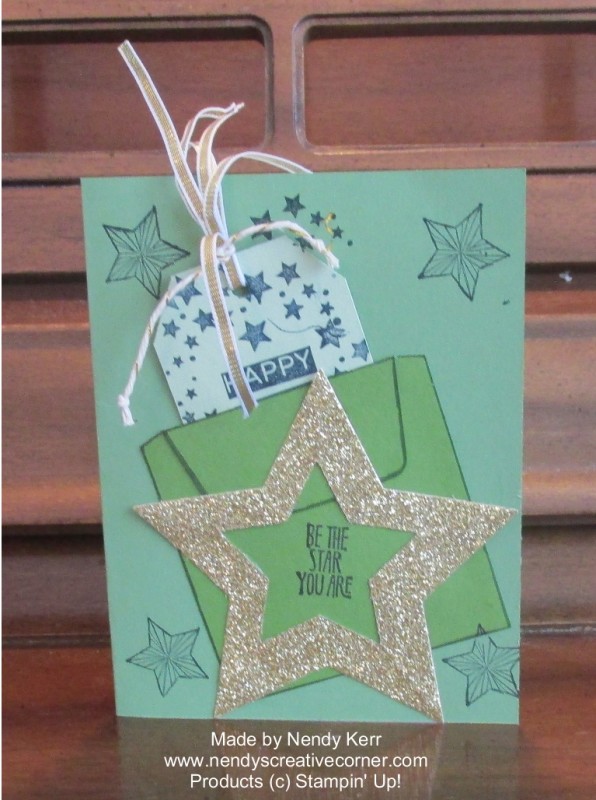 SUPPLIES:
Stamps:  Amazing Birthday wood #134225  clear #134228
Be The Star  wood #135731  clear #135734
Ink:  Midnight Muse (retired)
Gumball Green (retired)
Garden Green Marker
Card Stock:  Wild Wasabi (Medium color)
Gumball Green (Retired) (Darker or Brighter color)
Pistachio Pudding (Light Color)
Champagne Glimmer Paper #127885
Big Shot Framelits:   Stars #133723
Envelope Liners #132172
Punch: Angled Tag Topper #133323
Other:  Gold 1/8″ Ribbon #134583
Gold Baker's Twine  #132975
Paper Trimmer with Scoring Blade
Glue Dots
Tombow Multipurpose Liquid Glue #110755
INSTRUCTIONS:
Note:  Since this card is for a child, I used Tombow Glue to assemble the card so he can enjoy it and it will stay together.  You might want to use Dimensionals under the flap and Glimmer Paper Star.
1.  Cut your Wild Wasabi card base at 5-1/2″ x 8-1/2″.  Score and fold at 4-1/4″.  Watch this video for more detailed instructions.
2.  Cut the smallest Envelope Liner Framelit from Gumball Green to make your Bookmark Pouch.  Line up the edges at the bottom of the flap with the cutting groove and use the Scoring Blade to score along this line so you can fold over the flap.  Use your Garden Green Marker to color the edges including the folded top and flap.  Glue the flap down with Tombow (or use Dimensionals).
3.  Make your Bookmark.  Cut two pieces of Pistachio Pudding card stock at 2″ x 4″.  Stamp "Make Today ridiculously Amazing" on one, and "Happy Happy Happy Happy Birthday to You" on the other one.  Use the Angled Topper Punch on the top of both of them.  Glue them together.  This will make a much sturdier bookmark that just using a single piece of card stock.
4.  Put the Ribbon in your Bookmark.  Cut three 6″ pieces of Ribbon.  This Gold 1/8″ Ribbon is slippery.  I inserted it in my normal way and it was coming out just laying there within 5 minutes, so I tried another tactic.  I put a Glue Dot at the 3″ mark on one Ribbon and attached the next one on top.  I put a Glue Dot on the 3″ mark of the second Ribbon and attached the third ribbon.  I then threaded the Ribbons through the punched hole.  Tie the Ribbon in place with about 6″ of Gold Baker's Twine.  You should probably tie a knot in each end as the Gold likes to separate.
5.  Cut your Star from the Champagne Glimmer Paper using the 2nd and 4th Star Framelits (there are five so you can count either way).  Place both Framelits on the Sparkly side of the Glimmer Paper and arrange them to make the Star the way you want it and cut them out with your Big Shot.
6.  Now that you have all the pieces made you can assemble your card.  Lay the Bookmark, Bookmark Pouch, and Glimmer Paper Star in the desired positions.  You can use either Tombow Glue or Sticky Strip around the 3 outside edges of your Bookmark Pouch, leaving the top adhesive-free so the bookmark will slide in.  Attach your Glimmer Paper Star with either Tombow Glue or Dimensionals.  Slide your Bookmark in to test it.
7.  Remove your Bookmark while you stamp.  Now stamp on some Stars in the corners of the card front.  Stamp a small sentiment in the center of your Glimmer Star.  Stamp the small Star cluster in the center top of your card front.
8.  Now you have given a card and a Bookmark to a Reader, which makes two gifts!
9.  You can stamp Stars and Star Clusters on your envelope so the receiver knows something special is inside.  If you are sending this card through the postal service (instead of hand-delivering) I would put a 4-1/4″ x 5-1/2″ sheet of card stock on top of the card to help hold the ribbon in place after folding it on top of the bookmark.
Happy Birthday Card Making!
Nendy Kerr