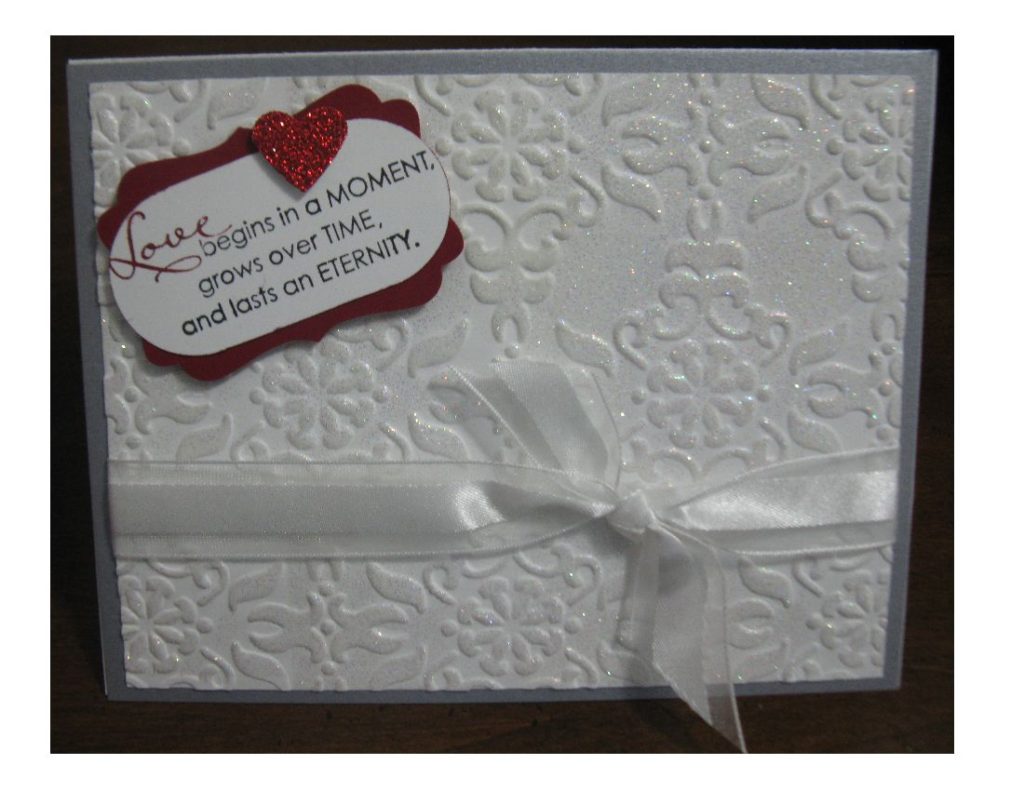 Several of my friends have children getting married-some in the recent past and 2 this weekend.  So I have made some wedding cards.
SUPPLIES:
Papers & Cardstock:
Whisper White page 180 #100730
Cardbase:  8-1/2″x5-1/2″ scored at 4-1/4″;  Card Front:  5-1/4″x4″;
scrap for sentiment which is punched with Petal Card Double Punch
Brushed Silver page  181  #100712  cut at 4-1/4″x5-1/2″
Cherry Cobbler page 179  #119685  scrap to be punched
with Decorative Label Punch
Red Glimmer paper  page  181  #121790  Small Heart punch
Markers:
Cherry Cobbler  page 179  #119681
Basic Black  page 180  #100082
Ink:  VersaMark  page 203  #102283
Punches:
Petal Card Double Punch  page 212  #119273
Decorative Label punch  page 209  #120907
Small Heart punch  page 210  #117193
Big Shot:
Vintage Wall Embossing Folder  page 219  #120175
Other:
Iridescent Ice Embossing Powder  page 201  #101930
Heat Tool  page 201  #100005
5/8″ White Organza Ribbon  page 195  #114319
Adhesives:
Snail  page 206  #104332  Refill #104331
Dimensionals  page 206  #104430
DIRECTIONS
1.  Cut Whisper White card front.  Run through Big Shot using Vintage Wallpaper embossing folder.
2.  Lightly tap VersaMark ink pad on the raised areas of the embossed Whisper White.  Don't worry if you get some on the lower areas.  Cover with Iridescent Ice Embossing powder.  Set with Heat tool.  Test to make sure all the embossing powder is melted.
3.  Wrap Organza Ribbon aound card front.  Tie a knot.  Slide to the position you like.  Trim ribbon ends.
4.  Put Snail gently on the back of the card front so you don't unemboss it.  Attach to Brushed Silver mat.  Attach to cardbase.
5.  Punch out Card Petal Double punch with Whisper White cardstock.  Ink stamp with markers using Cherry Cobbler on the word "Love" and Basic Black on the rest of the words.  Breathe on the stamp to remoisten the ink and stamp image.  Trim the extra flaps from the Petal Card punched shape.
6.  Use the Decorative Label Punch on the Cherry Cobbler cardstock.  Attach stamped image with Snail.  Punch out the Small Heart from the Red Glimmer paper.  Attach it to stamped image with a Dimensional.
7.  Put Dimensionals on the back of your stamped and punched label and attach as desired to card front.
8.  Admire your card.