This fun Hexabon Window Box Thinlit and stamp set will be available on January 4, 2017 in the NEW Occasions Catalog.  It is simple to make and decorate.  AND it has tabs to hold it closed!!  There are LOTS of options for dressing it up!  Sale-a-bration also starts on January 4th so if you buy the Window Shopping Bundle you can choose 1 FREE Sale-a-bration product!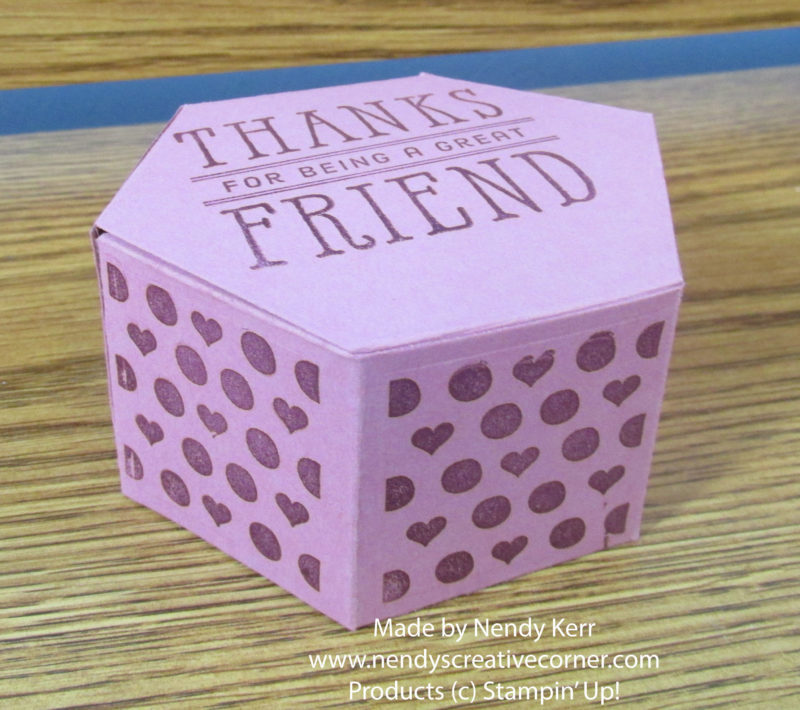 SUPPLIES:
*Bundle:  Window Shopping stamp set + Window Box Thinlits  Wood #144742, Clear #144743 (Bundle pricing only available until May 31, 2017)
Stamps:  *Window Shopping  Wood #142920, Clear #143265
Ink:  Rich Razzleberry
Card Stock: Sweet Sugarplum
Big Shot:  *Window Box Thinlits #142762
Adhesive:  Tear & Tape
INSTRUCTIONS:
1.  Cut your Sweet Sugarplum card stock into two 5-1/2″ x 8-1/2″ pieces.  Use your Window Box Thinlit to cut out each piece.  Make sure and line up the Thinlit so the outside Tab cutting lines hang just over the edge of the card stock.
2.  Stamp box top and sides.
Piece 1-Box Top
~Stamp the words with the 3 side  pieces above the box top.
~Stamp the sides with the image upside-down.
Piece 2-Box Bottom
~Leave the box bottom blank.
~Have the sides closest to you and stamp the images right side up (opposite direction you stamped Piece 1).
3.  Cut the two side tabs off Piece 1.  Add Tear & Tape to all side and bottom tabs.  Put NO Tape on any of the upper box tabs!!  Start by attaching one side Tab to a side where you cut off the tab.  Move around attaching the Box Bottom and sides until you have formed the Hexagon Box shape.  There will be tabs around the top of the box and the box lid.  DO NOT put tape on these tabs!
4.  Fill up the inside of the box and close the tabs.  Your box is finished.
I will show you more variations of this box later.  So come back for more.
Happy Window Box Making!