The Santa's Sleigh Bundle is really fun to use!  I also used the NEW Emerald Envy Glitter Embossing Powder and the NEW Real Red Glitter Embossing Powder to add some sparkle.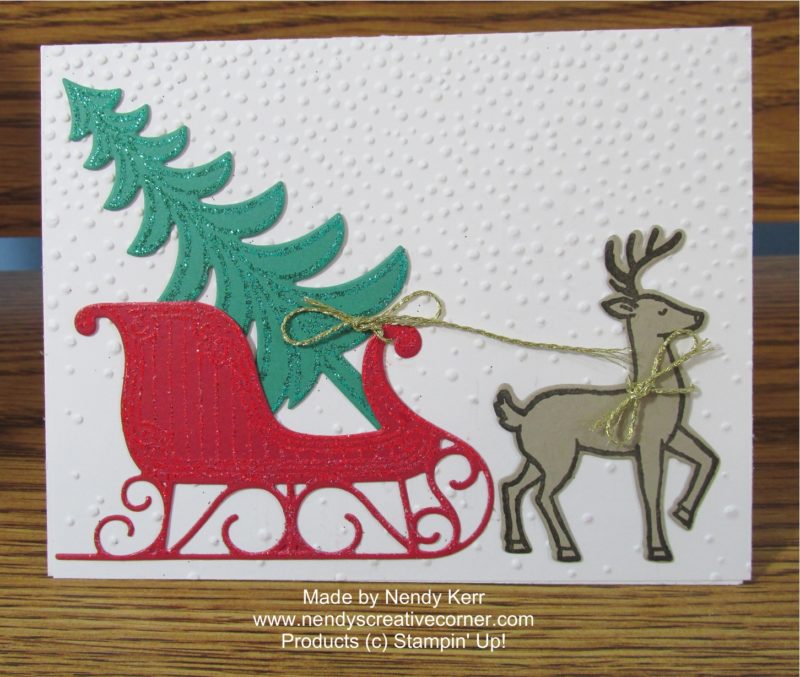 SUPPLIES:
Bundle:  Santa's Sleigh photopolymer stamp set + Santa's Sleigh Thinlits #143499
Ink:  VersaMark
Early Espresso
Card Stock:  Thick Whisper White (card base)
Whisper White
Crumb Cake
Real Red
Emerald Envy
Big Shot:  Softly Falling embossing folder #139672
Trim:  Baker's Twine Trio #141999  (Gold Baker's Twine)
Adhesive:  Tombow Glue or Fine Tip Glue Pen
Other:  Heat Tool
at least two sheets of printer paper (can be scratch paper as you will throw it away)
INSTRUCTIONS:
1.  Stamp your Sleigh with VersaMark ink on Real Red card stock.  Lay your card stock on the printer paper and cover well with the Real Red Glitter embossing powder.  Remove excess from your card stock and melt with your heat tool.  Put excess embossing powder back into jar.  Fold and throw away your printer paper to prevent glitter from going everywhere.  Repeat this process for your Tree using Emerald Envy card stock, VersaMark ink, and Emerald Envy Glitter embossing powder.
NOTE:  When using Glitter Embossing Powder with the Heat Tool:  make sure it all gets melted by holding under a good light and angling your card stock so you can see when the embossing powder flattens out.  It will also change color slightly.  After it cools a bit rub your finger over it to make sure it is all smooth and melted.  If there is any part that feels powdery still, melt that part with your Heat Tool.
2.  Stamp your Reindeer on Crumb Cake card stock with Early Espresso ink.
3.  Cut your Sleigh, Tree, and Reindeer out with the coordinating dies and your Big Shot.  The Sleigh and Reindeer need to be lined up exactly.  Use a Post-it Note to hold them in place if necessary.
4.  Cut your Whisper White card stock at 4-1/4″ x 5-1/2″.  Run through your Big Shot with the Softly Falling embossing folder making sure to get the heavier snow in the position you want.  Glue to your 5-1/2″ x 8-1/2″ Thick Whisper White card base which you have SCORED and folded at 4-1/4″.
5.  Lay out your sleigh, reindeer, and tree in the positions you want them.
~Glue the Tree on first.
~Tie a bow as shown on the Sleigh leaving the Twine on the left about 2-1/2″ long so you can attach it behind the Reindeer.
~Then glue the sleigh in place covering up the tree properly.
~Tie a bow around the Reindeer's neck.  I put a bit of SNAIL on the back of his neck to keep it in place.  Put Glue on the back of your Reindeer and position on your card front making sure to attach the Baker's Twine so he can pull the Sleigh.
Happy Winter and Merry Christmas!