Make this Wedding Card with the Rose Wonder Bundle and Vellum.  This week's posts will feature the Rose Wonder Bundle which included the Rose Wonder Photopolymer stamp set and the Rose Garden Thinlits.  Today's card features the Rose Garden Thinlits and Glimmer Paper.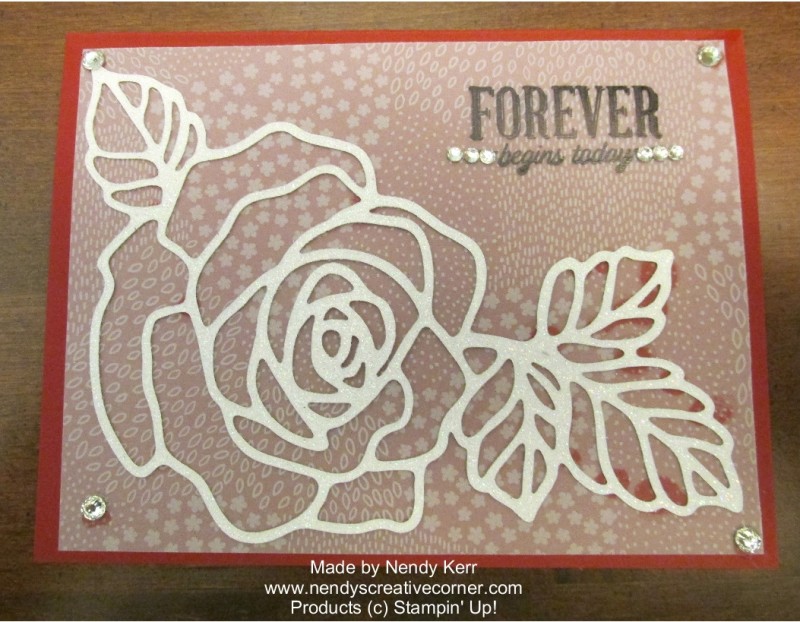 SUPPLIES:
Rose Wonder Bundle #140804
Stamps:  Suite Sayings  Wood #140709, Clear #140712
Ink:  Tuxedo Black Memento
Card Stock:  Cherry Cobbler
Botanical Gardens Vellum #  (FREE Sale-a-bration item available until March 31, 2016)
Dazzling Diamonds Glimmer Paper #
Big Shot:  Rose Garden Thinlits #140619 (See Bundle above)
Multipurpose Platform OR Magnetic Platform
Precision Base Plate #139684
Other:  Rhinestones Basic Jewels
Fine Tip Glue Pen
Glue Dots
INSTRUCTIONS:
1.  Cut your Cherry Cobbler card base at 5-1/2″ x 8-1/2″.  Score and fold at 4-1/4″.
2.  Cut your Large Rose using the Thinlit and Dazzling Diamonds Glimmer Paper.  It is recommended that you put the Sparkly side down and the Thinlit against the paper backing.  The sandwich I used was:  Magnetic Platform, Precision Base Plate, Glimmer Paper sparkly side touching the Precision Base Plate, Rose Thinlit, FLAT cutting plate.  The FLAT cutting plate is very important so all the thin lines and details get cut properly.  I found most of the pieces just fell out.  You can use the Big Shot Die Brush if your pieces need help coming out quickly.
3.  Cut your Vellum card front at 4″ x 5-1/4″.  Set aside.
Use small dots of the Fine Tip Glue Pen along all the thin lines of your Rose.  Too much glue will bleed out and stain your Vellum.  Attach to your Vellum piece.
4.  Stamp your saying using the Tuxedo Memento Black ink.
5.  Attaching your Vellum to the card base can be tricky.  I dotted a few places under the Rose and I just used 4 Glue Dots at the corners.  Apparently some of my Fine Tip Glue Pen dots were too big and bled to stain the card stock.  I also used Glue Dots at the corners and covered them with Rhinestones.
6.  If desired, cut a piece of 4″ x 5-1/4″ Whisper White to put in the inside of your card to write on.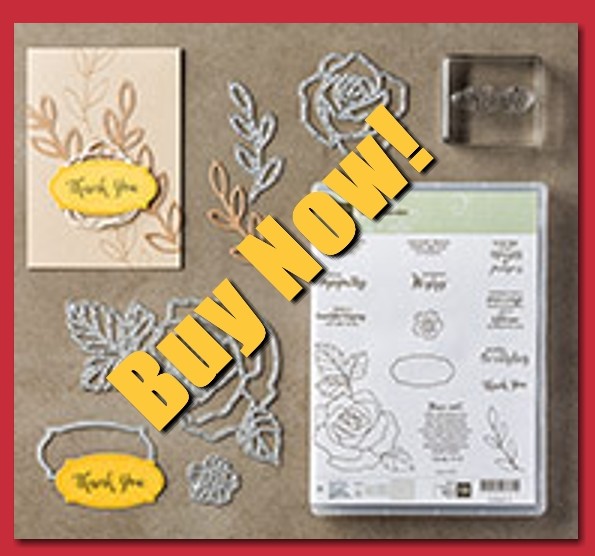 Happy Card Making!
Nendy Kerr