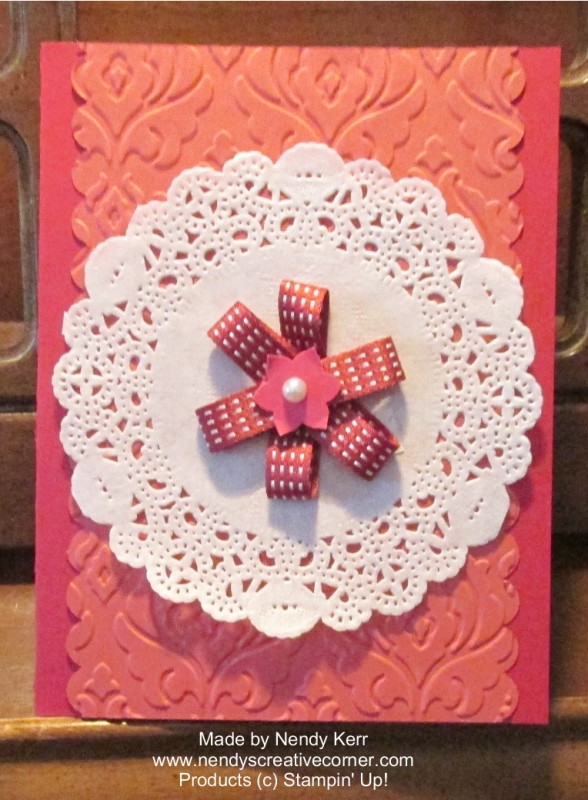 This Raspberry Ripple and Primrose Petals card uses two of the retiring In Colors.  The other retiring In Colors are Gumball Green, Summer Starfruit, and Midnight Muse.  Have fun using your Retiring In Colors!  If you want to stock up on them (card stock, ink refills, ribbons, Dahllias, candy dots, etc), do it NOW BEFORE the Retiring List comes out April 21st.  These usually run out quickly-some are gone the day the list comes out!
You can choose any color combination you want for this card.  You can use any embossing folder, border punch or Edgelit for the center panel.  You can use any Framelit, or the Delicate Doilies Sizzlit to substitute for the Tea Lace Doily.  Use any ribbon to make the flower.  It would be interesting to make a flower with one of the Ruffled Ribbons.
SUPPLIES:
Card Stock:  Raspberry Ripple
Primrose Petals
Big Shot:  Beautifully Baroque Embossing Folder #130917
Punch:  Scallop Edge Border Punch  #119882
Boho Blossoms #119858
Other:  Tea Lace Paper Doilies #129399
Raspberry Ripple  3/8″ Stitched Satin Ribbon  #126845
Basic Pearls #119247
Tombow Multipurpose Liquid Glue
SNAIL Adhesive
Glue Dots
INSTRUCTIONS:
1.  Cut your Raspberry Ripple card base at 5-1/2″ x 8-1/2″.  Score and fold at 4-1/4″.
2.  Cut your Primrose Petals card stock at 4-1/4″ x 5-1/2″.  Use your Scallop Edge Border Punch to punch down each 5-1/2″ side.
3.  Run your punched Primrose Petals card stock through your Big Shot using your Beautifully Baroque embossing folder.  Adhere to your card front using Tombow Glue.  Using Embossing Folders video 1
4.  Use SNAIL Adhesive on the back of the solid part of your Tea Lace Paper Doily and adhere it to your layered card front.
5.  Cut three 4″ pieces of Ribbon.  Adhere the ends of each 4″ piece together with a Glue Dot.  Put a Glue Dot in the center of the Ribbon circle and press down.  Repeat with the other two pieces of Ribbon.  Lay out the Ribbon Loops by overlapping them to form a "flower".  Adhere the pieces together in the centers with Glue Dots.  Adhere to the Tea Lace Paper Doily with a Glue Dot in the center of the flower and towards the end of each "petal" loop.
6.  Punch a large Boho Blossom flower.  I used a Melon Mambo flower left over from another project.  Adhere it to the center of your flower with a Glue Dot.  Adhere a Basic Pearl to the center of your Boho Blossom Flower.
7.  If desired, you can add a 4″ x 5-1/4″ piece of either Primrose Petals or Whisper White card stock to the inside of your card to write or stamp your message.
8.  You can also emboss the flap of your envelope with the Beautifully Baroque embossing folder.  Learn How with THIS Video.
Happy Card Making!
Nendy Kerr