This Pop n' Cut Dress card was really fun to make!  It is NOT Quick.  It does have a lot of steps that are easy though.  Try making one yourself!  I will give you the supply list and some basic steps, but won't go into all the details because it would be a super-long post.  It took my class members 45-60 minutes to make it.  They did everything so they can duplicate it at home.  They each said it was worth the effort!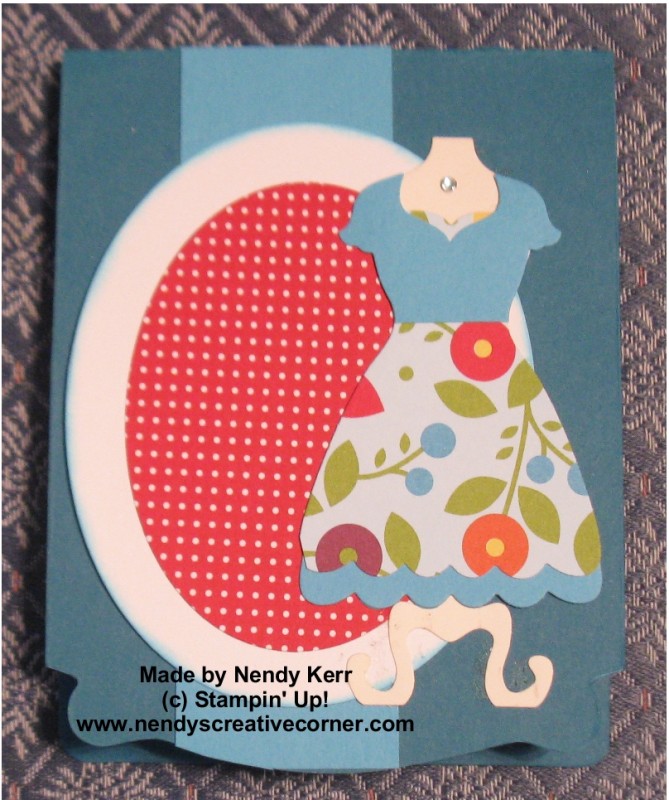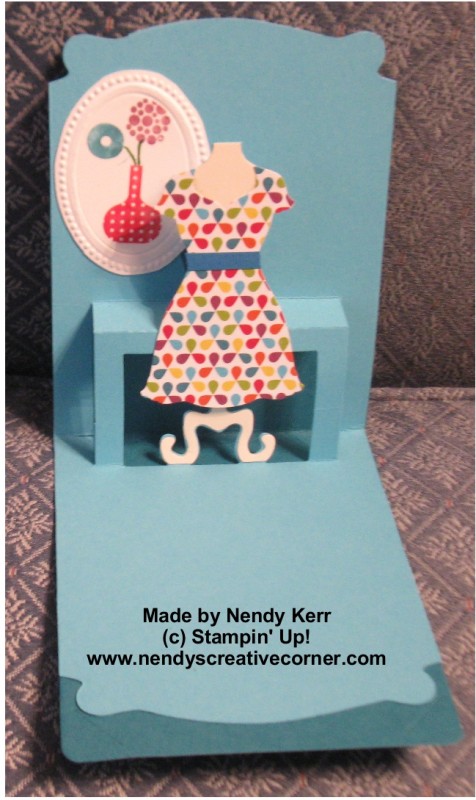 SUPPLIES:
Stamps:  Bright Blossoms w#125495  c#125497
Ink:  Tempting Turquoise
Card Stock:  Island Indigo
Tempting Turquoise
Whisper White
Very Vanilla
Summer Smooches Designer Series Paper or DSP of your choice
Big Shot:  Card Base Pop n' Cuts  #130099
Dress Form Pop n' Cuts  #130100
Dress Up Framelits #130101
Designer Frames Embossing Folder  #123130
Ovals Collection Framelits #129381
Punch:  Extra Large Oval
Other:  Rhinestone
Tombow Multipurpose Liquid Glue
INSTRUCTIONS:
1.  Cut Base.  Cut your Island Indigo and Tempting Turquoise card stock at 4-1/4″ x 11″.  Insert into Pop n' Cuts Card Base (without insert) making sure all cut lines are covered.  (Yes, put both pieces in at the same time.)  Run through your Big Shot.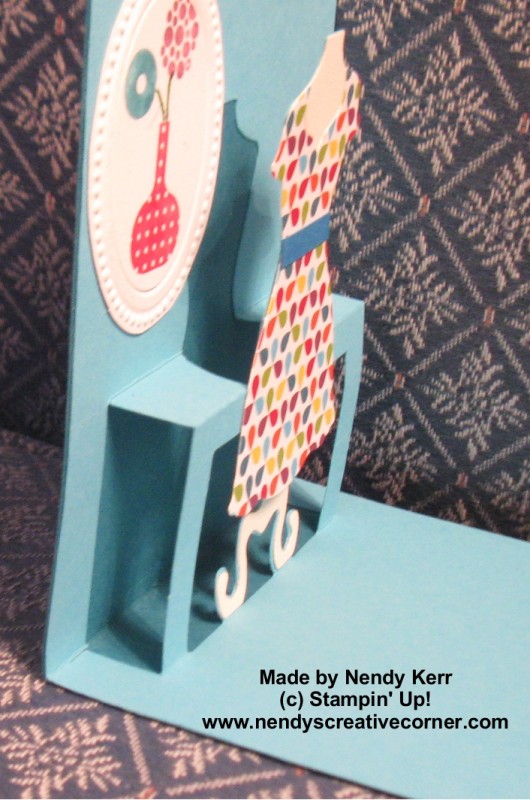 2.  Inside Pop-Up.  Put Dress Form Pop n' Cuts into the Card Base lining up the center lines.  Put Tempting Turquoise card base in so the curvy top part is just above the slits at the bottom of the card base.  Run through your Big Shot.  Take your Bone Folder to help you fold the bottom score line and the bottom of the dress form stand.  Fold as shown in side view photo.  When finished folding close card and rub your Bone Folder over it a few times to flatten it out.
(Note:  Be very careful when gluing the card bases together.  Also be careful gluing the dress to the dress form.  Use a thin sparse line of glue along the edges.  It can get very messy if glue oozes out and can ruin your project.  The  Adhesive Remover didn't do it's usual great job on this project.)
3.  Glue.  Pay attention to the part of the Die Cut that is supposed to Pop-Up.  Put Tombow Glue on the back of the Tempting Turquoise EXCEPT for the part that is supposed to Pop-Up.  Make sure you only put a thin line of glue around the Pop-Up parts because you don't want any glue oozing out and gluing your Pop-Up down.
4.  Cut Dress Forms & Dresses.  Cut two Very Vanilla Dress Forms from the Dress Up Framelits.  Cut two dresses and optional Jacket and hem ruffle.  Assemble outfits on Dress Forms as desired.  Choose which will go on the front and which will go on the inside of the card.
5.  Ovals.  Cut 1 Whisper White larger Oval and sponge edge with Tempting Turquoise ink if desired.  Cut 1 DSP Oval that is smaller.  Glue together.
6.  Card Front.  Cut a strip of Tempting Turquoise 1-5/8″ x 5-1/2″.  Glue in desired position on card front matching the straight edge at the fold line.  Trim the bottom part that hangs over the edge.  Lay out the Ovals and the Dress on the Dress Form in the desired Positions.  Now glue down.
7.  Card Inside.  Carefully glue down the Dress and Dress Form over the Pop-Up Dress Form.  Emboss a Whisper White Oval Designer Frame.  Stamp the vase and flowers on a scrap of Whisper White.  Punch out with the Extra Large Oval Punch.  Glue into center of Frame.  Glue on the "back wall" behind the Dress and Dress Form.
8.  Open and close your card several times and enjoy!
Happy Pop n' Cut and Dress Designing!
Nendy