This Thank You card was made for a wonderful lady at Church who was head of the Women's organization for many years.  We passed it around and everyone signed it.  Do you know someone special who deserves an extra-large Thank You?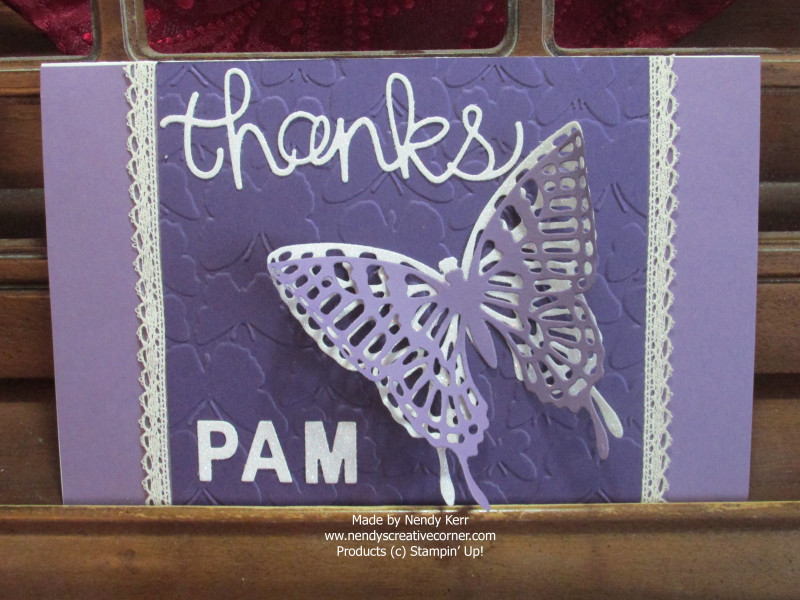 SUPPLIES:
Card Stock:  Perfect Plum
Elegant Eggplant
Dazzling Diamonds Glimmer Paper #135315
Thick Whisper White #140272
Big Shot:  Butterfly Thinlits #137360
Hello You Thinlits #137363
Little Letters Thinlits #133730
Fluttering Embossing Folder #139304
Other:  Venetian Crochet Trim #134581
Parchment or Wax Paper from your Grocery Store
Glue Dots
Tombow Glue
INSTRUCTIONS:
1.  This card uses a full sheet of 8-1/2″ x 11″ Thick Whisper White card stock for the card base.  It really does need to be scored (at 5-1/2″) before folding.  Use your Bone Folder to make a crisp crease line.
2.  Cut your Elegant Eggplant card stock at 5-1/2″ x 6″.  Position it inside the Fluttering Embossing Folder so the Butterflies will be in the correct position for putting them on your card front.  Attach this embossed piece to your 5-1/2″ x 8-1/2″ Perfect Plum card front with Tombow Glue.
3.  Use your Butterfly Thinlits to cut out two large Butterflies:  one from Perfect Plum card stock, and one from Glimmer Paper.  I like to put a piece of Parchment Paper between the Thinlit and the card stock/Glimmer Paper.  You will need to run the Glimmer Paper Butterfly through the Big Shot 4-5 times to get all the parts to completely cut.  Watch this Video for more details.
4.  Now cut out the "Thanks" and the name from your Thinlits.  Use Parchment Paper between the Glimmer Paper and the Thinlit.  I think I just ran these through once or twice.
5.  Use Tombow Glue to attach the Butterflies bodies together.  I put the Perfect Plum Butterfly slightly lower than the Dazzling Diamonds Glimmer Paper Butterfly.  You will need to hold them together for a bit to make sure they stay stuck together.
6.  Attach the Venetian Crochet Trim to the card.  There are several options:
~Run a line of Fast Fuse OR Snail Adhesive where you want the Ribbon
~Put the Adhesive on the back of the card stock and attach the ends of the Ribbon only on the back
~You can also use a few Glue Dots placed under the Ribbon:  one at each end and several in between.
7.  Arrange the Butterflies, Thanks, and Name in the desired Positions on your card front.  Attach with Tombow Glue.
Notes:
~This card held together perfectly even after being passed around the room and having lots of ladies sign it.
~You will need to make your own envelope using the Envelope Punch Board since this card is 5-1/2″ x 8-1/2″.  I did not make an envelope as it was presented to her with a quilt made by another lady.
Happy Card Making!
Nendy Kerr