A fun little treat box dressed up with a Scallop Trim Border Punch belly band.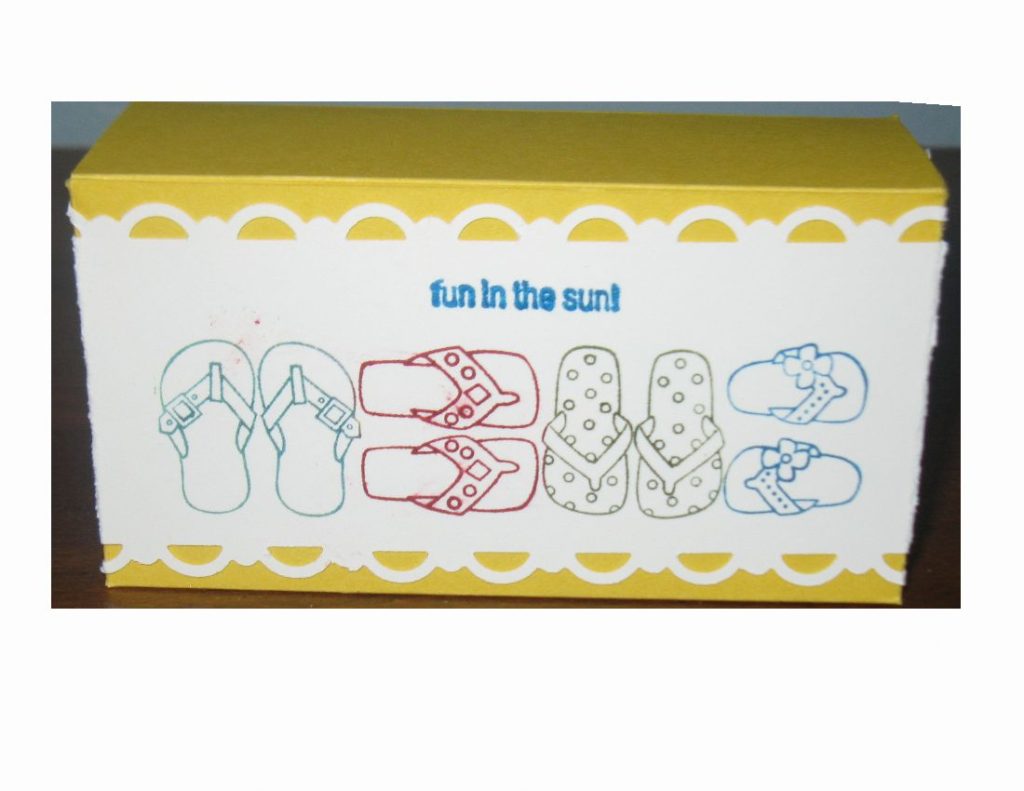 SUPPLIES
Stamps:  Sunny Fun  Summer Mini #123040
Card Stock:  Daffodil Delight  page 177  #119683
Whisper White page 180  #100730
Markers:  Marina Mist  page 178  #119679
Cherry Cobbler page 179  #119681
Garden Green  page179  #100080
Tempting Turquoise  page 177  #100058
Punch:  Scallop Trim Border punch page 211  #118402
Big Shot:  Box #2 die  page 221  #114518
Directions:
1.  Cut Daffodil Delight card stock 6″x11″.  Run through Big Shot using Box #2 die.  Score and fold, but do not assemble yet.
2.  Cut Whisper White card stock 1-3/4″ x 11″.  Use the Scallop Trim punch on both 11″ sides.  Adhere to flat box.  Fold on score lines.
3.  Color 4 pairs of the Flip-Flops with Markers.  Remoisten with your breath then stamp on the front side of the Scallop Trim punched Whisper White card stock.  Stamp the sentiment if desired.
4.   Put sticky strip on the tab at the side.  Adhere box together at Tab.  Fold up bottom flaps in this order:  indented, sides, tabbed flap.
5.  Fill with treats or small gift.
6.  Admire the fun box you have just made!