This fun new Hexagon Hive Thinlit is a fun background for this Valentine card.  Use a Multipurpose Adhesive Sheet to turn your Hexagon Hive Thinlit or any die cut into a sticker!  Video is at the bottom of this blog post.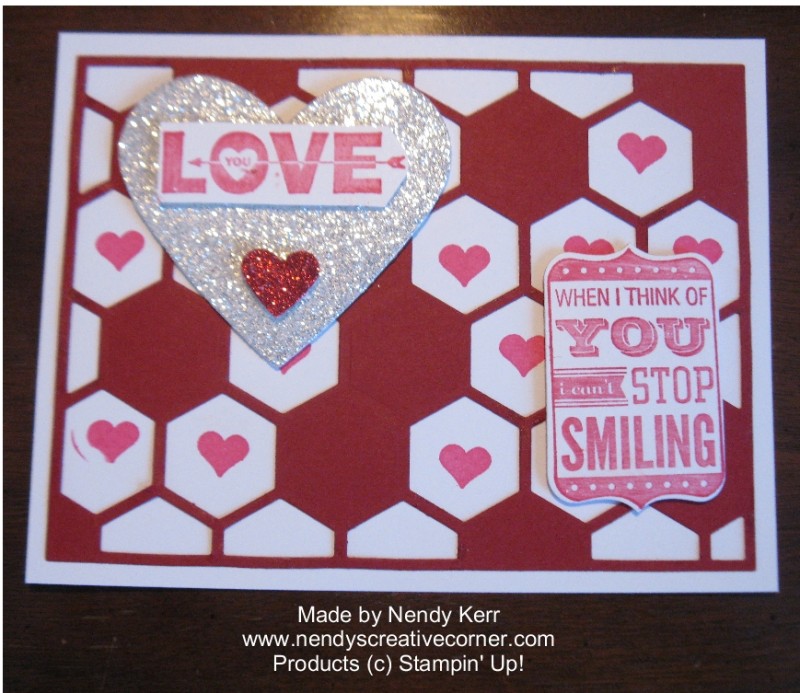 SUPPLIES:
* = Occasions 2014 Catalog available Janaury 3, 2014 – May 31, 2014
** = Sale-a-bration 2014 Catalog Available January 28-March 31, 2014 as a Sale-a-bration item FREE with $50 merchandise purchase.
Stamps:  Love You to the Moon  w#133140  c#133143
Banner Blast  w#133551  c#133554
Ink:  Melon Mambo
Rose Red
Card Stock:  Whisper White
Cherry Cobbler
Silver Glimmer Paper
Red Glimmer Paper
Big Shot:  Hexagon Hive Thinlit #132965
Hearts Collection Framelits #125599
Chalk Talk Framelits #129983
Other:  Big Shot Multipurpose Adhesive Sheets #120805
Dimensionals
INSTRUCTIONS:
1.  Cut Your Whisper White card base at 5-1/2″ x 8-1/2″.  Score and fold at 4-1/4″.
*2.  Watch the Video below for this step.  Cut your Cherry Cobbler card stock at 4-1/4″ x 5-1/2″.  Cut a piece of Multipurpose Adhesive sheet the same size. Peel off the words on the Adhesive Sheet and adhere it to your Cherry Cobbler card stock.  Run though your Big Shot using this sandwich:  Magnetic OR Multipurpose Platform (all tabs closed), cutting plate, card stock with adhesive side touching cutting plate, Wax Paper, Hexagon Hive Thinlit, and your top cutting plate.  Poke out the hexagons that are cut.  Not all of them will come out-they are not supposed to!  Set aside the hexagon stickers for another project.  Peel off the adhesive backing and adhere to your card front.
3.  Stamp your Banner Blast Hearts in Real Red ink inside each full hexagon.  Use your Stamp-a-ma-jig if you want them perfectly placed, or just try to stamp in the center like I did.
4.  Stamp your "Love" and "When I thing of YOU I can't STOP SMILING" sentiments in Real Red in on Whisper White card stock.  Cut out the "SMILING" sentiment with the coordinating Chalk Talk Framelit.  Hand cut your "Love" .  Put Dimensionals on the back of both sentiments.
5.  Cut your Silver Glimmer Paper Heart out with the desired size Heart Framelit.  I used the third one from the center.  Use your Small Heart Punch to punch out your Red Glimmer Paper Heart.  Put Dimensionals on the back of both Hearts.
6.  Position the "LOVE" and Small Red Glimmer Paper Heart on top of the Silver Glimmer Paper Heart.  Adhere in the desired positions with the Dimensionals.  Position your Silver Glimmer Paper Heart and your "Smiling" sentiment in the desired positions on your card front.  Adhere.
7.  You can use some of the Hexagon Stickers you made to decorate the corners inside your card and on the outside of your envelope.  I have not yet tested to see how well they make it through the mail on the outside of an envelope.
Happy Valentine's Day!
Nendy Kerr