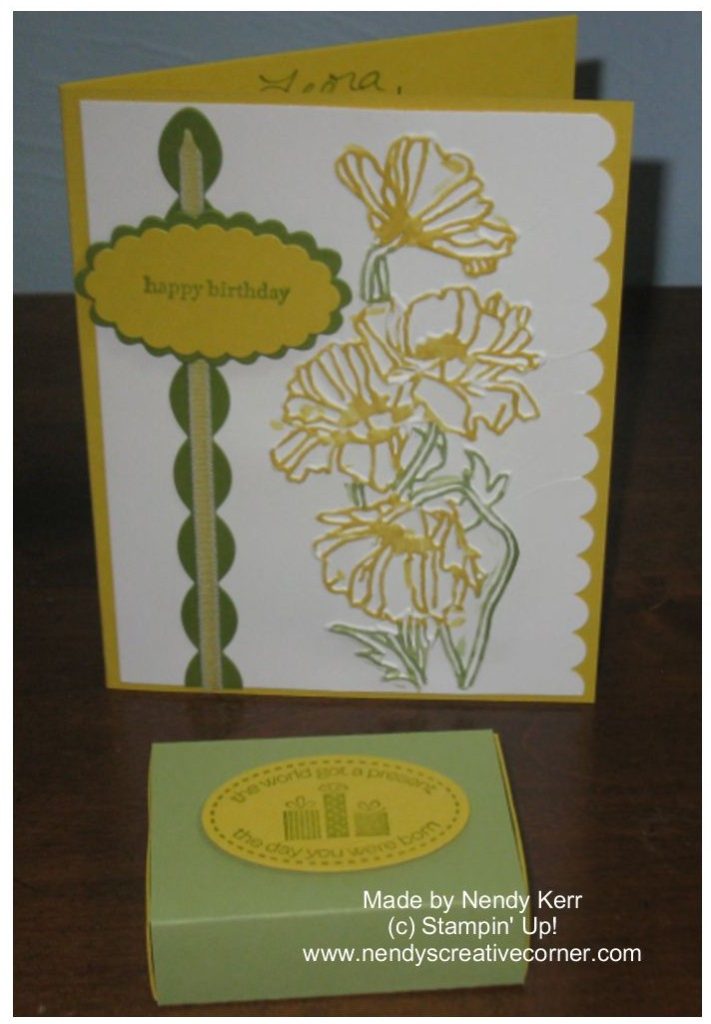 Here is a fun Birthday card I made.  It reminds me of Spring flowers during this hot summer weather.
SUPPLIES:
Stamps:  Teeny Tiny Wishes page 157 #114370 wood only
Big Shot:  Movers & Shapers Curly Label XL Bigz die page 221  #114506
Movers & Shapers Punch Windows page 221 #115953 (large scallop oval
Flower Garden Textured Impression Embossing Folder
page219 #123113
Tasteful Trim Bigz XL die  page 221 #120893
Punches:  Scallop Oval Punch page 210 #119856
Scallop Edge Border Punch  page 210-211  #119882
Markers:  Daffodil Delight page 177 #19677
Pear Pizzazz page 176 #123001
Ribbon:  1/8″ Daffodil Delight Taffeta ribbon page 195 #119254
Ink:  Old Olive page 177 #119693
Card Stock:  Pear Pizzazz page 176 #119795
Daffodil Delight page 177 #119683
Whisper White page 180 #100730
CONSTRUCTION TIPS:
1.  Daffodil Delight card base:  8-1/2″ x 5-1/2″ scored at 4-1/4″
2.  Whisper White card front:  5-1/4″ x 4-1/4″  Use Scallop Edge Border Punch along one 5-1/4″ edge.  Then position Flower Garden Embossing Folder on card front and run through Big Shot.  Color the raised edges of the flowers with the side of the brush tip of the Daffodil Delight marker.  Color the stems with the Pear Pizzazz marker in the same manner.
3.  Using the Movers & Shapers platform and the Scallop Oval from the Movers & Shapers Punch Windows, cut a scallop oval out with Pear Pizzazz (2-1/2″ x1-1/2″ scrap) card stock.
4.  Cut a 3/4″ x 5-1/2″ piece of Pear Pizzazz using the Tasteful Trim die.  Adhere to card front.   Cut a 5-1/8″ piece of the Daffodil Delight 1/8″ Taffeta Ribbon.  Cut one end to form a tip.  Glue to Pear Pizzazz Tasteful Trim piece.
5.  Punch a Scallop Oval out of Daffodil Delight cardstock. Stamp "Happy Birthday" or other greeting with the "Teeny Tiny Wishes" in Old Olive ink. Adhere the Daffodil Delight Scalloped Oval to the Pear Pizzazz Scallop Ovla with Snail. Place Stampin' Dimensionals on the back of Pear Pizzazz Scallop Oval.  Position Scallop Ovals over the Tasteful Trim and Ribbon piece.
6.  Adhere your embossed and decorated Card Front to Daffodil Delight Card Base.
Admire your beautiful Creation!