Add a diagonal twist to your card front and top it off with a Flower Medallion sentiment.  This card uses the Eastern Palace Premiere Bundle available May 1-31, 2017.  It is a pretty quick card to make.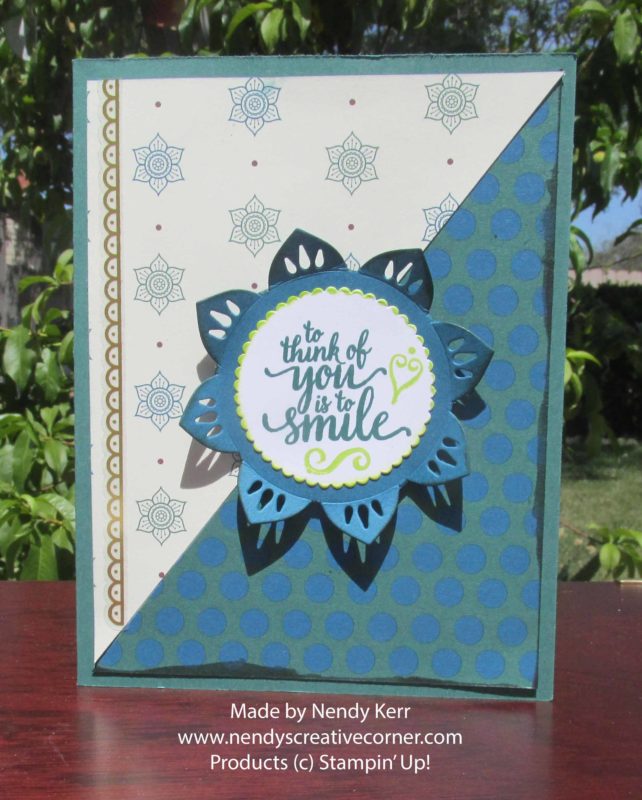 I hope you enjoy the scenic background of my parents' yard.
SUPPLIES:
*Eastern Palace Premiere Bundle #147207
Stamps:  *Eastern Beauty Photopolymer Stamp Set  #143675
Inks:  *Tranquil Tide #144085
*Lemon Lime Twist #144086
Card Stock:  *Eastern Palace Card Stock Pack #144148-Tranquil Tide & Dapper Denim
Whisper White
*Eastern Palace Specialty Designer Series Paper  #144147
Big Shot:  *Eastern Medallions Thinlits #143725
Layering Circles Framelits  #141705
Other:  *Eastern Vinyl Stickers #144150
Stamping Sponge Wedges
Fast Fuse or SNAIL Adhesive
Stampin' Dimensionals
INSTRUCTIONS:
1.  Cut your Tranquil Tide card base at 5-1/2″ x 8-1/2″.  Score and fold at 4-1/4″.
2.  Cut 2 pieces of patterned paper at 4″ x 5-1/4″.  Cut the first piece diagonally.  For the second piece:
~Put it with the other side up.
~Hold one of the first cut diagonal pieces next to it to help you decide which way to cut it diagonally.  Cut.
~Do you want to sponge around the edge?  If you do, do it now.  (I am out of town and forgot my sponges.  I miss them!!!)
~Lay one of each pattern on your card front.  Attach the bottom/right side first.  Then attach the top/left side.  Mine overlapped a little along the diagonal center to get it straight.
~Add a border sticker to the one edge if desired.
~Repeat with the other two diagonal pieces.  I put these on a Dapper Denim card base.  See Wednesday's post for this card.
3.  Cut the Flower Medallion from Dapper Denim card stock.  It will not cut completely out.  You will need to put your paper snips or scissors in between the petals and cut it off the card stock.  Fold the petals up along the score lines.
4.  Stamp your sentiment on Whisper White card stock.  Cut out with a Scallop Layering Circle making sure it will fit inside the Flower Medallion center.  Sponge around the edges with Lemon Lime Twist ink.  Stamp smaller images in Lemon Lime Twist ink around the sentiment if desired.  Attach to inside of Flower Medallion.  Attach Flower Medallion to card front with Stampin' Dimensionals.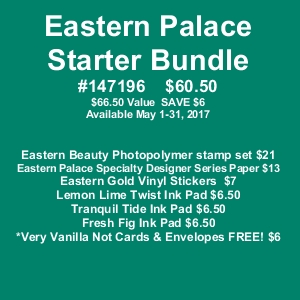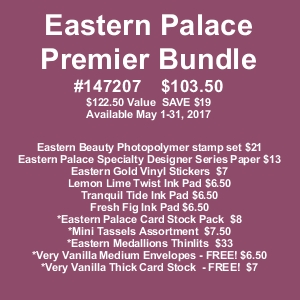 Get your card making and paper crafting supplies at My Online Store.