I had a bunch of Autumn Accents leaves left over from my Fall Banner.  I also had a So Saffron card base laying on my table.  So I used them to make this card with lots of leaves for the background.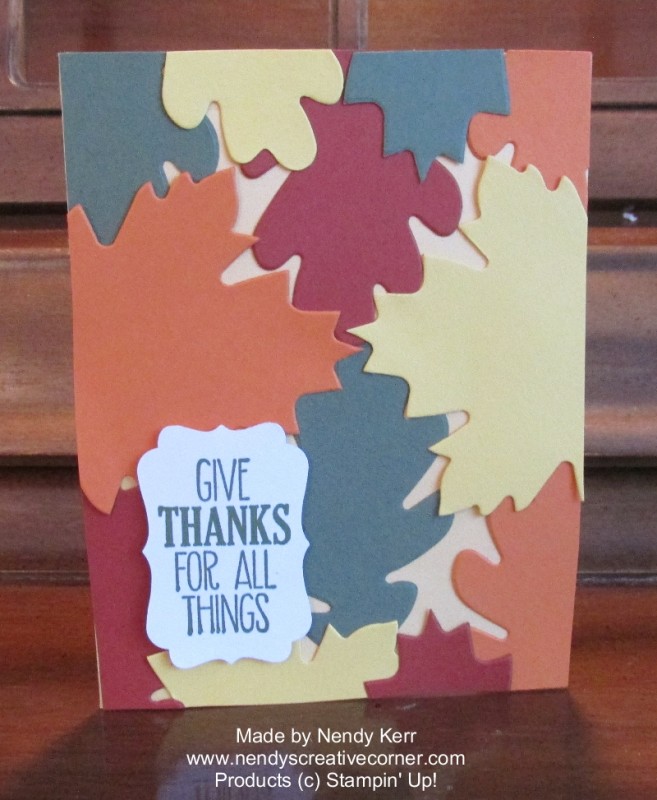 SUPPLIES:
Stamps:  For All Things  w#135152  c#135155  French #136985
Ink:  Mossy Meadow
Card Stock:  So Saffron card base
Mossy Meadow
Cajun Craze
Crushed Curry
Tangerine Tango
Whisper White
Big Shot:  Autumn Accents Bigz Die #127812
Punch:  Decorative Label #120907
Other:  Tombow Glue
Dimensionals
Scissors
INSTRUCTIONS:
1.  Cut your So Saffron card base at 5-1/2″ x 8-1/2″.  Score and fold at 4-1/4″.
2.  Cut out your leaves with your Big Shot.  I used card stock cut at about 3-1/2″ x 6″.  I cut 4 sheets at a time.  The BIG advantage of Bigz and Originals Dies!  I used a total of 3 Mossy Meadow, 3 Tangerine Tango, 3 Crushed Curry, and 3 Cajun Craze.  (Totally unplanned!)  Lay them out in the desired positions to cover up as much of the So Saffron card base as possible.  I started with tow of the long curvy leaves going up and down the center (Mossy Meadow and Cajun Craze).  Then lined the sides using all 4 colors.  Then use two of the pointed leaves (Crushed Curry and Tangerine Tango) horizontally in the center with the points meeting in about the center of the card.  I filled in the rest of the spaces with the other leaves trying not to have any of the same color close to each other.  Yes, the outside leaves do hand over the edges, some quite a bit.
3.  Now glue your leaves into place, going over and under other leaves as necessary.
4.  Trim the excess card stock leaves from around the card base.  I find it easier to cut with the card base showing so my cut line is straighter.
5.  Stamp your sentiment in Mossy Meadow on Whisper White card stock.  Punch out with the Decorative Label Punch.  Attach to your card front with Dimensionals.
6.  You now have a nice Fall Card!
Happy Card Making!
Nendy Kerr