Do need packaging for a gift or treat that is too large for the Kraft Gift Box and too small for the Extra Large Gift Box?  Then you will need the NEW Take Out Box available August 28th when the Holiday 2014 Catalog goes live!  It is quick and easy to decorate using the Festive Designer Kraft Paper Rolls, also in the upcoming Holiday Catalog.  This should take you less than 10 minutes to put together if you have all your supplies gathered.  🙂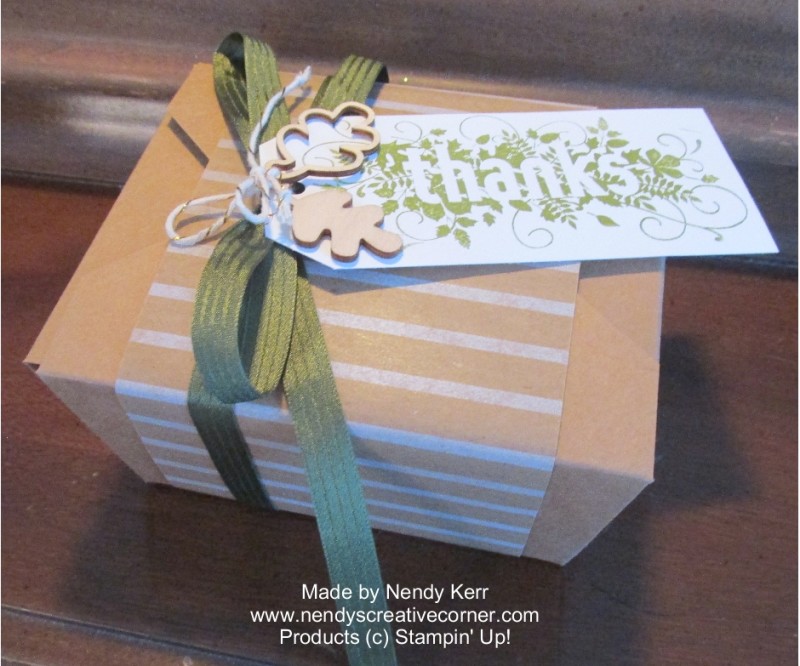 SUPPLIES:
*=available August 28, 2014 in Holiday Catalog
Box:  *Takeout Boxes #135827
Stamps:  *Seasonally Scattered  w#135020  c#135023
Ink:  Old Olive
Paper:  *Festive Designer Kraft Paper Rolls #135828
Whisper White  card stock
Punch:  Tag Topper Angled Punch #133323
Other:  *Autumn Wood Elements #135846
Gold Baker's Twine #132975
Mossy Meadow 3/8″ Satin Stitched Ribbon #133670
SNAIL Adhesive
Glue Dots
INSTRUCTIONS:
1.  Fill and assemble box
2.  Cut a 3-1/2″ x 21 piece of Festive Designer Kraft Paper from one of the rolls.  Wrap it around the box for use as the Belly Band.  Leave it loose enough remove.
3.  Tie your Mossy Meadow Satin Stitched Ribbon around your Belly Band.  Again, leave it loose enough to remove.
4.  Cut your Whisper White card stock at 2″ x 4-1/2″.  Stamp the desired stamp in Old Olive ink.  Tie onto your Mossy Meadow bow with the Gold Baker's Twine, tying a knot.  Now add the Leaf outline Autumn Wooden Element onto the Baker's Twine and tie a bow.  Add the solid Leaf Autumn Wooden Element to your Tag with a couple of Glue Dots.
5.  Your package is now ready to give!
Happy Gift Giving!
Nendy Kerr