This is a quick way to dress up the Tag a Box and use as Christmas packaging or Treat Giving!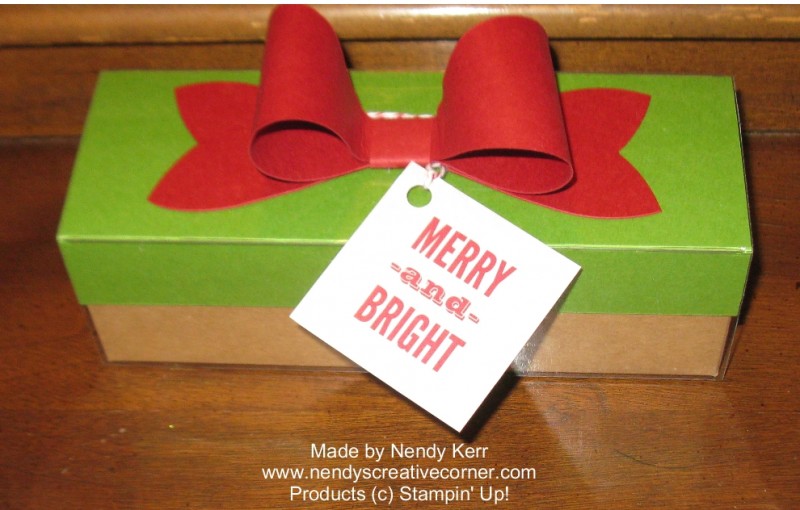 SUPPLIES:
Tag A Box #130927
Gumball Green card stock  4-3/8″ x 6-7/8″
Cherry Cobbler card stock 5-1/2″ x 8-1/2″
Glue Dots
Simply Scored Tool #122334 OR Paper Trimmer with Scoring Blade #126889
Bone Folder
Big Shot:  Gift Bow Bigz L Die #129977
INSTRUCTIONS:
1.  Score 1″ on each long side of your Gumball Green card stock.  Fold your score lines and fit it inside your Clear Box Cover to make sure it fits.  Put a Glue Dot in the very center of the card stock top and attach it inside the top of your Clear Box Cover.  Don't worry, the bow will hide the Glue Dot.
2.  Cut your Bow out using your Cherry Cobbler card stock, Big Shot, and Gift Bow Die.  Use your Bone Folder to add roundness to your two Bow parts of the long Bow piece.  Attach the ends to the center of the Bow with Glue Dots.  Next attach the two Bow Ends with Glue Dots.  Now attach the center strip around the whole center of the Bow.  Attach to the top Clear Box Cover in the center.
3.  Make a Tag or use one from the Season of Style Journalling Tags.  You can attach your tag with Baker's Twine or 1/8″ Ribbon.  These boxes are also food safe so you can deliver Christmas Goodies and Treats in them.
Merry Christmas Gift Giving!
Nendy Kerr