We had my Tin of Card Class this past Wednesday.  I previously made 1 of each card following the directions.  I worked along side the others at class finishing the rest of my cards.  I tried to make them all different.  Here are the first two using the Whisper White card base and the gold striped card layer.  The only thing used not included in the Kit is a Gold Metallic Sharpie used to color the clear Epoxy Star Stickers included in the Kit.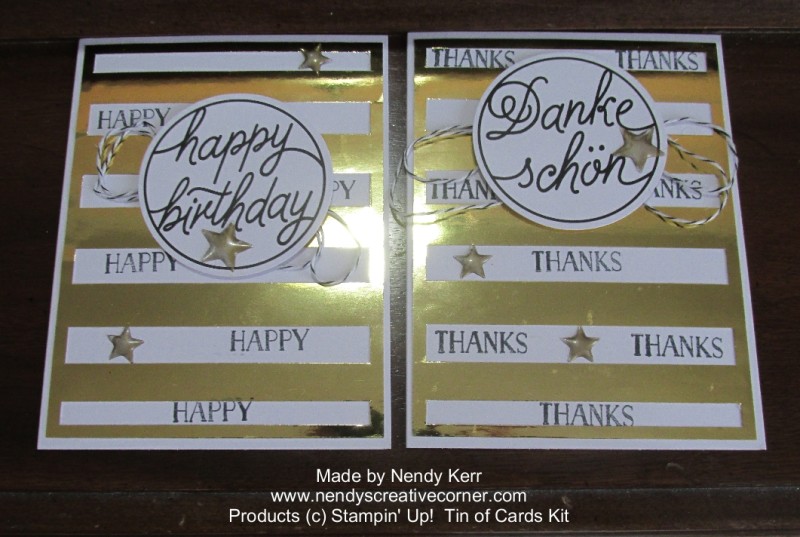 I have a son going to school in Germany so I chose one of the German sayings.  If anyone out there can translate the other two German sayings, please email me.  I will appreciate you greatly!  The sayings are:  Gruss zum Geburtstag, Herzlichen Glu(umlaut)ckwunsch.  Thank you!  Sorry I don't know how to type some of the German letters.
SUPPLIES:
Tin of Cards Project Kit #138378
Tin of Cards stamp set  Photopolymer #138946
Memento Black ink
Tombow Glue
Snail Adhesive (optional)
Glue Dots (optional)
Dimensionals
Scissors
Gold Metallic Sharpie Marker
Clear Block
INSTRUCTIONS:
1.  Choose the round, printed saying you want.  There are quite a few to choose from in English, German, and French.
2.  Choose your other stamp from the Stamp Set to coordinate with the saying you chose in Step 1.
3.  Remove the strips from the Gold Foil sheet.  You might need some paper snips for some of the corners.  Attach to the Whisper White card base with either Tombow Glue or Snail adhesive.
4.  Stamp your word randomly in between the Gold stripes.
5.  Cut two 10″ pieces of the Baker's Twine from the Kit.  You can attach with either a Glue Dot or Dimensional.  I put a Glue Dot on each side of the back of the words.  Make loops with the Baker's Twine until you are happy with it.  Repeat on the other side.  Put a Dimensional over each Glue Dot and add at least two more to the back and attach to your card front.
6.  Color the Clear Epoxy Star Stickers with the Gold Metallic Sharpie Marker.  Attach 1 large one and two small ones in the desired positions on your card.
7.  Enjoy giving them to someone special.
Happy Card Making!
Nendy Kerr